Welcome Back, Conour
William Conour loves to teach, whether he's in the courtroom or out
Published in 2009 Indiana Super Lawyers magazine on February 17, 2009
Updated on February 5, 2021
William Conour wasn't buying it. The defense was offering $50,000 in "nuisance" damages to a roofer who fell to the ground while building a fire station in a small Indiana town. Conour wasn't about to accept such a small sum, especially since his client had sustained lifelong injuries that would prevent him from ever working again.
During mediation, Conour painstakingly showed how the fall protection system came unhooked as the roofer moved around the job site. The general contractor ended up settling for just under $1 million. "That's a case where knowing the technology was more important than knowing the law," says the 61-year-old founder of Conour Law Firm in Indianapolis.
In his 35 years of practice, Conour—whom colleagues refer to as patient, poised and refined, with a sense of humor that can catch you off guard—has snared a number of record verdicts in personal injury and wrongful-death cases. He represents ironworkers, carpenters and other trade workers seriously injured on the job. And he wins.
Conour has worked on cases that have transformed state laws that previously barred employees from seeking damages from general contractors who failed to enforce safety standards. Plus, as an authorized instructor for the Occupational Safety and Health Administration (OSHA), he has testified before the Indiana General Assembly about work-related construction site injuries.
Thomas Hays, a trial lawyer at Lewis Wagner in Indianapolis, has known—and faced off in court with—Conour for about 30 years. When it comes to construction law expertise, Hays says, Conour "is second to none. … He's developed a broad admiration among the bar in Indianapolis and in the entire state for that matter. He's probably the top construction litigator in the state on the plaintiff's side."
"Bill owns that area of law," says Timothy Devereux, who joined Conour's firm in early 2008. "The first time I was with Bill in court, we were arguing a motion for summary judgment. And I was taken aback when the defense counsel got up and conceded to the judge that almost all of the leading appellate cases in the area of construction law are Bill's cases.
"If Bill says, 'This is what the law is' on construction," Devereux says, "you can pretty much bet that that's what it is."
An Indianapolis native who grew up on the city's east side, Conour showed an aptitude for persuasive speaking in high school. In a rare feat, he earned the National Forensic League's fifth degree, the highest level, after just one year on the debate team. He was a thoughtful, focused leader, especially in small groups. "That's kind of how I look at jury trials, as a small group activity where you try to be the leader," he says. "In larger groups, I tend to just sit back and listen."
The summer he turned 17, Conour lived with a German family as part of a foreign-study program at Indiana University, where he later majored in European history and minored in philosophy, German and French. (In 1968, he dropped out to work for a year on Eugene McCarthy's anti-Vietnam War presidential campaign.) Torn between becoming an attorney or a history professor, Conour applied to his university's law school and the graduate program at the University of California at Los Angeles; upon being accepted into both, he chose the former simply because "I was already working here, and it was just easier not to move."
Rather than join an established firm, Conour, an only child and a self-starter, hung out his shingle in 1974 in a one-room office he shared with Wayne Davis, a friend from law school. He worked afternoons; Davis worked mornings. "When you're off on your own like that, you don't have a senior partner to run something by," he says. "You just read a lot and work to find what you need to do."
In those early days Conour handled "everything that came in the door." In 1976, he served on the commission that rewrote the state's criminal law study code and was subsequently hired to teach members of the Indiana Prosecuting Attorneys Council. He is low-key about his role as special deputy prosecutor in the landmark 1978 case against Ford Motor Co. after three girls died in a Pinto explosion. Visitors to his office will find the Ford trial artist's rendering of the prosecution team hanging on his wall.
It wasn't until the 1980s that he tackled his first construction case. Representing the widow and child of a young man killed at the Caterpillar plant in Lafayette when a 12-ton concrete slab fell and buried him in the dirt, Conour carefully studied the dynamics of the soil, the tilt of the slab and other contributing factors in the collapse. He secured an undisclosed settlement for the family. After that, other attorneys began sending construction cases to Conour, who discovered a natural affinity for a specialty few wanted to tackle. "I've always been interested in architecture and construction technology," he says. "I designed the house I have. I laid it out on quarter-inch graph paper and then took it to an architect to do building plans from it. So construction injury was just kind of a melding of a lot of different things I had an interest in."
Today, at least 90 percent of Conour's business—he's deliberately whittled down a booming personal injury practice to construction liability cases involving serious injury or death—comes from referrals. "A lot of the lawyers who call me on the phone start out by saying, 'Well, Bill, we've looked at this case and we really don't think there's anything there, but we thought we'd just run it by you,'" he says.
Such was the case of an ironworker who died when he fell through a skylight at a job site. Three times that morning the man had been told to hook up to the fall protection system provided by the employer, and each time he'd disconnected it when it got in the way. Blaming the ironworker, his employer refused to pay workers' compensation benefits to his dependents. In the lawsuit, Conour argued that the building owner was negligent when he failed to cover the skylight with a steel guard and that the general contractor had supplied an inadequate fall protection device. Despite the apparent difficulties of the case, Conour won a confidential six-figure settlement.
Thanks to Conour, in 1994 a jury awarded the largest sum in the history of Allen County, Ohio, to the family of a steel erection crew foreman who died at a BP chemical plant in Lima. The man, who was blind in one eye, was walking four stories above the ground when he misstepped and fell. Conour sued the general contractor for failure to provide fall protection. "The previous high verdict in that county was like $150,000," Conour recalls. "The insurance company only offered $100,000 to settle the case because it was sure no jury would award such money." The company was wrong. Using visual aids, Conour showed that the contractor hadn't complied with the contract. The verdict: $1.9 million.
In the courtroom, says Hays, his adversary "represents his clients fiercely but he's collegial. He's smooth and juries like him. He's aggressive but he's not offensive."
Conour is particularly adept at re-creating an accident scene in minute detail, from the plaintiff's clothing to the weather conditions. "When other lawyers were using chalkboards to do final argument," says Hays, "he was using the most advanced technology."
"I'm very prepared, but my approach in a jury trial is more of a soft sell," Conour says. "I'm not a drum beater. Really, I approach it like a teacher. I think that's what a lawyer is in a courtroom. Most judges have never tried a construction case before, so they're not familiar with the law in this area. And so I look at my job as helping them learn this area of law, and then teach the jury what the problems were and what the safety violations are and how they could have been avoided." Conour is so knowledgeable, in fact, that an insurance company once hired him to testify as a construction safety expert.
"In many cases when we go against the other side they'll cite an expert in OSHA," says Devereux. "Most of the time Bill is more qualified than their expert. When we're in a deposition and their safety expert tries to bend the rules, stretch what is or isn't permissible, Bill is like, 'Uh-uh, no, that's not going to fly.'"
Conour also knows how to communicate well with the people who come to him for help. "Because of the kinds of cases we handle, our clients are typically construction workers," says Devereux. "Many of them are not sophisticated people. A lot of them don't even have high school educations. And Bill can sit and put them at ease and talk to them as comfortably and as confidently as he can with the Indiana Supreme Court. It's amazing."
Conour has taught both sixth grade and college and is in great demand as a lecturer at legal seminars. "Teaching is just another aspect of learning," he says. "The collective wisdom of your audience is always going to be greater than yours, just like the collective wisdom of a jury is always greater than the lawyers'. I'm happy to impart what little knowledge I have, if that helps somebody."
Life, for Conour, is a grand learning experience—which is one reason he took a sabbatical from his law firm in 2006 to earn a master's degree in theology at Scotland's University of Edinburgh. "I was getting a little burnt out and needed to just take a break," he says. "So I said, 'Well, OK, but I've got to do something. I can't just sit,' so I thought this would be a good time because I've always liked philosophy and theology." Unlike his 20-something classmates, Conour says, "I was just there on a lark, and it was fun." He has since taught an evening course on John Calvin and the fundamentals of Christian theology at his church.
A devoted family man, Conour has five girls and one boy ranging in age from 8 to 41; his wife, Jennifer, is the mother of the youngest two. "Every time the nest was empty, I just filled it again," he says with a laugh. He took up horseback riding 35 years ago, as a way to spend time with his oldest daughter, Tonja. "At the time, there weren't a lot of girls' [athletic] activities like there are now. There was no softball, there was no soccer, there was nothing that father and daughter could do. I've always liked animals so we started taking riding lessons. She quit, but I kept riding until about five years ago." Conour's youngest daughter, Elise, on the other hand, "has been on a horse since she could barely stand and she's really going to be a horse fanatic." The Conours now own a horse farm where Jennifer raises and trains the animals for competitive dressage.
Conour looks upon success the way he looks upon learning. "I see being successful as a continuing thing, not an end result. I don't think you reach that point, and if you do, I think you've stopped yourself short. It's almost like that unreachable star. You're always moving toward a goal that is in some sense really unattainable, but the closer you get, the better it is."
Other Featured Articles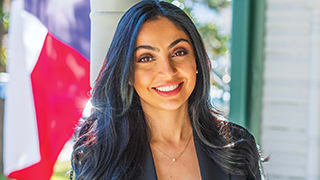 Belonging Somewhere
After many years, Rasha Zeyadeh Thompson has found a place in her country Featuring Rasha Zeyadeh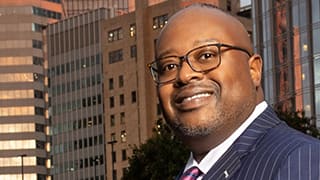 Working Within
In a polarized world, Michael Greene finds his way by focusing on the facts Featuring Michael J. Greene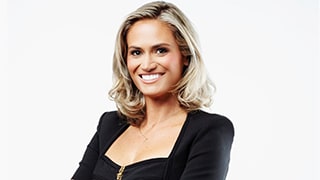 A Gun in the Courtroom and the Attorney Who Sounded the Alarm
Talking with Lauren Varnado about the much-publicized ordeal Featuring Lauren Varnado