Aiming High: How The Affluent Consumer Chooses An Attorney
Super Lawyers Consumer Report
When it comes to finding an attorney, deliberate decision making is the name of the game for high-income consumers.
At the end of the day, these consumers are interested in an accomplished and specific lawyer for the job. And they are willing to search longer and take more time on their attorney search than the typical legal consumer.
Because of their deliberate approach, marketing to high-income legal consumers needs a thoughtful strategy. Surface level information and general appeals will miss the mark. However, just like the typical legal consumer, they're still coming to you with a problem to solve. They are facing complex legal issues and they want legal information and representation that fits their exact issue. The method to reach them is different, but the result is the same.
Download this Super Lawyers consumer report to learn more about reaching this sophisticated group, including:
Managing Your Online Reputation
Showcasing Your Expertise
Leveraging Attorney Directories
Touting Your Accomplishments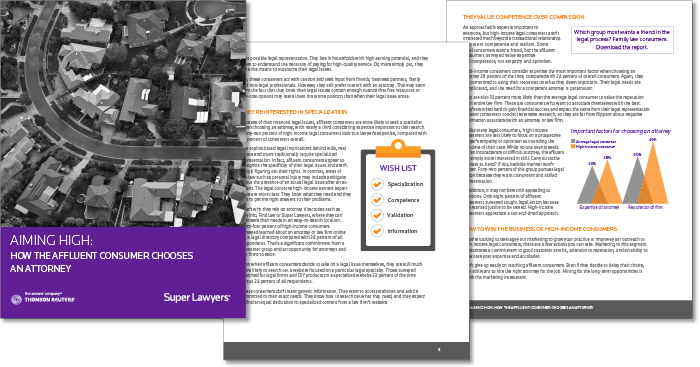 Get Your Free Copy of the Aiming High: How The Affluent Consumer Chooses An Attorney Consumer Report.