Building Real Trust in a Virtual World
Super Lawyers Playbook
Building trust in the legal arena faces new obstacles. You only get a short period of time to make your case through the limitations of the online world, which makes it difficult to stand out with credibility and faith.
In a setting where getting in front of and keeping the legal consumer's attention has never been more difficult, you need to do everything in your power to be the go-to attorney. Building Real Trust in a Virtual World: An Attorney's Guide will shed light on the role of trust in converting a prospect to a client and guide you through four simple steps to convey your trustworthiness in an online world.
Download this playbook to learn more about:
Embracing Online Reviews
Being Where Prospects Validate
Letting the Experts Praise You
Focusing on Simple Language in Client Relations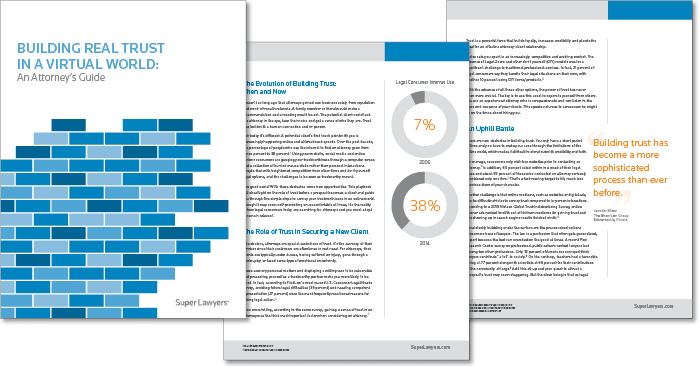 Get Your Free Copy of the Building Real Trust in a Virtual World Playbook.