How Top Attorneys Can Use Instagram to Connect with Potential Clients
Super Lawyers Playbook
Selfies. Foodies. Sunsets. And celebrities. Lots of them.
Maybe that's the stuff you think about when it comes to Instagram. It's a fair point when considering the platform's appeal to the vanity of humanity. But don't immediately write off Instagram as a piece of your law firm's marketing mix because of its reputation. In fact, the very reasons people like Instagram are the same reasons your firm can benefit from it.
As a Super Lawyers or Rising Stars selectee, you might find Instagram the ideal place to put your best foot forward, letting potential clients in on your personality and displaying the values of your firm. It's the chance to build trust and to show instead of tell when it comes to your accolades and reputation.
The thought of adding another platform to your social media strategy may appear daunting. This guide will help you get started. It will first explain why Instagram is such a beneficial tool for firms like yours and then go into how you can use it.
Download the latest Super Lawyers playbook today and learn how to make Instagram work for your firm.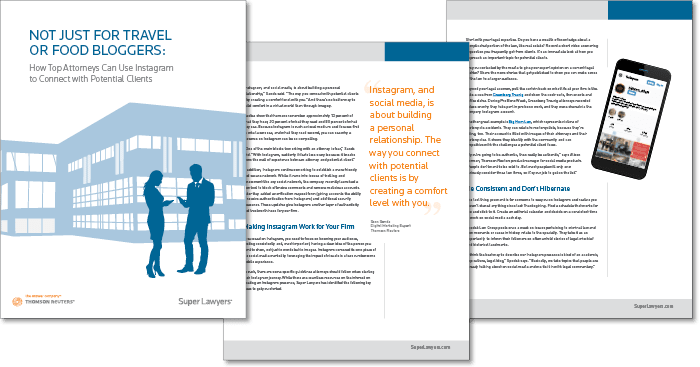 Get Your Free Copy of the How Top Attorneys Can Use Instagram to Connect with Potential Clients Playbook.