When Does Taxation Need Legal Representation?
When a Massachusetts business needs a tax attorney
on November 17, 2021

You've launched your business and hired a CPA, so you don't need a tax attorney unless the IRS comes calling, right?
Not necessarily. Waiting for a problem to arise might mean you're waiting too long.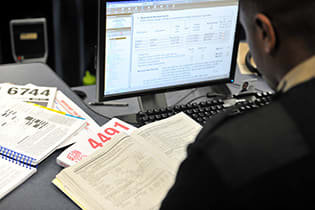 "The time to bring in a tax attorney is early on in the discussion," says Andrew Hochberg, who manages tax, probate and estate planning at Tamkin & Hochberg in Newton. "If you're setting up an executive compensation program, you want your tax attorney to analyze and to structure that tax efficiently. In a corporate transaction, if you're buying or selling your business, same thing. You definitely want to have tax counsel at your side to make sure that you're not missing anything and being smart about the tax plan."
One of the biggest misconceptions about handling business taxes is that a CPA can do it all. Although some accountants offer proactive advice, many are paid to simply crunch numbers and complete tax returns. Tax attorneys, on the other hand, can draft legal documents and keep you out of hot water with the IRS. Some attorneys are primarily transactional, updating business owners on changing laws and helping them avoid costly mistakes. Others, like Sean McMahon, a tax attorney at McMahon & Tivnan in Boston and a former counsel for the IRS, focus on defending clients against IRS audits and enforcement. 
One particular area that causes headaches is the complexity of tax regulations when doing business internationally, says McMahon. "We frequently see businesses get into trouble for account reporting and foreign asset reporting if they may not be familiar with IRS foreign reporting requirements."
Ideally, your tax attorney and CPA work together to give you the best protection against unwanted surprises. "No one's practicing in a vacuum," says Hochberg. "The tax attorney may come up with a great strategy, but the CPA may actually plug some numbers in and say, 'Well, the economics just don't justify structuring it like that.' So the collaboration between the CPA and the tax attorney, I think, is very valuable."
To find the right tax attorney for your business, ask for referrals just as you would for any other professional. Experience, preferably in your specific industry, is key. If you're facing a potential battle with the IRS, you'll need a savvy litigator who knows their way around tax court.
Hochberg recently helped a client come up with a detailed plan for deferred compensation. "It's an area that's filled with traps," he says. "There's no room for error because the IRS wants to challenge what you've done. They'll pick your plan apart."
Right now, the IRS is investigating employment taxes with increased scrutiny, McMahon says. "Generally, I think that businesses are better prepared having someone who specializes in representing taxpayers before the IRS who can understand why the taxpayer got selected for audit and what's needed to resolve the examination and get the taxpayer through in the least amount of time for the least amount of money."
When it comes to defending yourself against the IRS, a skilled tax attorney can mean the difference between a manageable outcome and a devastating one. Last year, McMahon represented a business owner slammed with a bill for a whopping $25 million in additional estate taxes based on the alleged value of the company. At an IRS appeals hearing, McMahon carefully described the case his team would make at tax court, including testimony from an evaluation expert. "And we ended up resolving the case by agreement for just under $5 million," he says. "We saved the taxpayer over $20 million."