Hanging Out Their Own Shingle
Meet five lawyers who decided to hire themselves  
Published in 2008 New Jersey Super Lawyers Magazine — April 2008

on September 14, 2015
Opening your own firm is no simple task. There are phones to set up, business cards to order, clients to wrangle. It's a lot of work. Yet all of these lawyers say it was the best move they ever made.
Daniel Kelley: No Mental Health Days
Daniel Kelley eased into his new practice. He'd been handling medical malpractice cases for Shivers, Gosnay, and Greatrex when one of the partners asked him to expunge something from a client's criminal record. "I started a Web site [ExpungeMyNJrecord.com] while I was with that firm," he says. "No one else really had an interest or a desire to learn [expungement], so I would handle the cases and receive a fee. I was bringing in probably 50 cases a year."
When he decided to launch Kelley Law Offices three years ago, he kept the Web site, and the transition was seamless. He didn't even have to find a new office, subleasing space from his old firm in Cherry Hill instead. "I started out sharing their copier until we got too busy and had to get our own," he says. "The computer I had when I worked for them I kept for a while. I'm still sitting at the desk that I used when I worked for them."
In March 2008, he purchased an office condo. The new office amplifies what he sees as one of the main differences of being on his own. "If there's a problem," he says, "the buck stops here. You can't just throw things in someone's lap and say, 'Hey, I'm sick. You go figure it out.' ... If there's a problem, it doesn't matter if you're sick or whatever, you must find a way to address it. You can't really take a mental health day."
But he can decide when to put the time in. He has a wife and two toddlers and tries to spend as much time as possible with them. "I like to work," he says, "but when I want to do it: in the evening, early in the morning, not so much 9 to 5. The nice thing about owning a business is that you can work any 80 hours per week that you like."
David Bahuriak: One Case at a Time
In a few years with the Camden public defender's office, David Bahuriak handled more court cases than some attorneys handle in a lifetime. It was great experience, but he wanted to give more time to individual clients. So six years ago he decided to open his own shop, the Bahuriak Law Group in Westmont.
"There is this stranglehold of volume that you have to deal with as a public defender," he says. "I would show up in court with 10 or 15 files on a Monday; today, I can show up with one file. That's a big advantage."
As a public defender, Bahuriak was assigned to one county, one courthouse, one judge. Now he argues cases in three states: New Jersey, Pennsylvania and Virginia. "I was very surprised to see in states like Pennsylvania how different the rules are from Philadelphia County to Bucks County to Montgomery County," he says. "Not only that, but local judges can be provincial. They're very protective of their local bar, local rules, and they can sometimes make it tough to practice, and before you have a chance to earn their respect, sometimes you can be treated with hostility just by showing up. That's something I hadn't anticipated."
Bahuriak tells others not to make the jump if their sole reason is a bigger paycheck. "Forget about money," he says. "Go with what you like doing. As long as you like what you do, you'll be good at what you do. Once you're good at what you do, money will follow."
He enjoys the quality time he gets to spend with clients. "As a private attorney," he says, "you're picking your clients and the clients are picking you because they want your help. It's the difference between walking into the emergency room and just kind of getting whatever doctor you get—and that doctor may be a great doctor, but you're one of a number of people waiting to see that doctor—or walking into your own doctor's private office and getting an appointment and getting his individual attention."
Richard J. Nocella: Law from Soup to Nuts
In 2003, Richard J. Nocella was doing corporate tax work for Pricewaterhouse Coopers when he decided to take the leap and order his own letterhead. "It's something I always thought about doing," he says, "and that was the time to do it. I was young. I had a lot of time where I could go out and start to build a practice and generate business."
He purchased an old brick building in downtown Marlton, the town where he grew up, and patterned his practice, the Law Office of Richard J. Nocella, after a small firm in Medford—Almeida  & Hunt—where he clerked during law school.
"The approach we took there, I take the same approach here," he says. "Being out on my own I'm handling the file from soup to nuts, so I know it intimately and I get to know my clients very well. I feel much closer with them, more in tune to their needs and what they expect. I try to counsel them as well, as opposed to just being their lawyer."
Nocella says he works as hard as, if not harder than, he did before, just on different things. "A lot of times, people think you don't have stress because you're your own boss, but you do," he says. "A lot of it is business-related: making sure you have the clientele, making sure work gets out timely, making sure work is correct, making sure all your admin i's are dotted and t's are crossed, making sure that the practice is moving forward. It's not the type of thing where you just move in one weekend, and come Monday morning you're ready to go."
Maria Cestone: Hit the Books First
When Maria Cestone's firm started asking her to generate business, she experienced an entrepreneurial thrill. "I really liked the direct connection that my colleagues and bosses had with clients, and that's what really gave me the ability to say, 'You know, I really can do this on my own,'" she says.
She still waited a couple of years before taking the leap. "I wanted to make sure that, professionally and business-wise, I was at a level where it would be a smooth transition from a firm to private practice. Practicing law was the easy part. It was getting used to running a business that was more of a challenge."
She turned to the ABA's book, How to Start and Build a Law Practice, where she learned about malpractice insurance, attorney trust accounts and commercial insurance. "Those were all new concepts to me," she says. "When you work for a firm, it's so compartmentalized. You just go to accounting and they do what they need to do. Here, you're on your own."
The actual legal work she now performs at the Law Offices of Maria A. Cestone in West Orange is the same as before—tax, trusts and estate planning—but her decision process for taking cases is different. With a recent client who wasn't liquid enough to pay lawyer fees, Cestone made the executive decision to cut her some slack. "She's on a generous payment plan," Cestone says. "I wanted this woman to stay in her house more than I wanted to get paid at that moment. I was going to be able to come into work the next morning and still pay the rent, but she needed to keep paying her mortgage and stay in her house. And that, to me, was very satisfying."
Melissa Cipriano: The Pros and Cons of Getting a Credit Card Machine
Melissa Cipriano was working for an insurance defense firm in Florham Park when a friend asked her to help him gain custody of his child. She won his case and discovered she enjoyed family law. "I went to the partners and asked them if we could open up a matrimonial department," she says, "and they said no. That's what really did it. ... I said, OK, I'm going to take the plunge. It was one of those close your eyes, hold your nose, jump off into the deep end and hope that there's water when you land."
She maintained a good relationship with her previous employer, so when she started up Cipriano Law Offices in West Caldwell she called the office administrator for advice on phone plans, computers and so on. She called former opponents as well. "I polled everybody," she says. "A perfect example is credit card machines. I didn't know whether or not I should have a credit card machine. ... I went to my contacts and called people that had been adversaries and just started asking questions. And you know what, not one call went unanswered. ... I've had the credit card machine for about two years. I love it, and every attorney who I spoke with said the same thing."
Even with all the advice, Cipriano experienced her share of difficulties. "I had a receptionist show up for one hour. She was busy," Cipriano says sarcastically. "She had to go home. I hired another woman who claimed she was a computer guru; she erased my calendar. Imagine that! But when there are scary moments like that, it's all on me. When the calendar isn't up and running, when I have to be in court and somebody doesn't show up in the office, it's all on me. Somebody has to be here to answer the phones and it's up to me to make sure that happens. It's a lot, but I wouldn't trade it for the world."
Other Featured Articles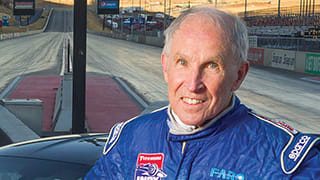 Driven
Jim Gilbert's crusade for victims of unsafe vehiclesFeaturing James L. Gilbert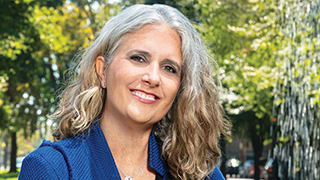 'A Presence You Can't Learn'
Jennifer Moore is eloquent, charismatic—and takes no prisonersFeaturing Jennifer A. Moore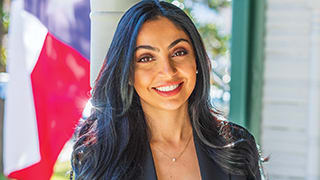 Belonging Somewhere
After many years, Rasha Zeyadeh Thompson has found a place in her countryFeaturing Rasha Zeyadeh Thompson