The Adoption Option
Florida attorney Erica Healey on opening your home to a child
By Beth Taylor | Reviewed by Canaan Suitt, J.D. | Last updated on May 1, 2023 Featuring practical insights from contributing attorney Erica Tate Healey
Use these links to jump to different sections:
The COVID-19 pandemic has left its mark in many ways, and that is true even when it comes to adopting a child.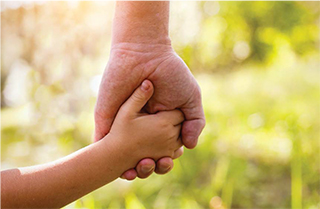 "Births globally are decreasing," explains Erica Tate Healey, a board-certified adoption attorney at Jeanne T. Tate PA's Tampa office. "A lot of agencies aren't accepting new families right now, as there is a surplus of families that would like to adopt."
That situation could change, and it doesn't mean anyone should give up on adoption; it just might take longer. Or possibly not—especially if you're willing to consider a child who's no longer an infant.
"Most adoptive parents prefer to adopt babies or age five and younger," says Healey. "But there are a considerable number of older children who need to be adopted and not enough families that want to adopt them, unfortunately. The same is true with special-needs children, who yearn for a permanent home."
For advice on how the process works and what steps to take, it's a good idea to consult an experienced attorney early on.
Florida's Private Adoption Process
Contact a licensed adoption agency or board-certified adoption attorney.
Undergo a home study and classes.
Wait for a potential match.
Check out the birth parent's background.
Get signed consent form from the birth mom.
File Petition for Termination of Parental Rights.
Approximately three months of supervision and mentoring with the child in your home.
Finalize adoption.
If You Want to Adopt
The first thing to do is contact a licensed child-placement and adoption services agency or an adoption attorney. Under Florida law, attorneys can act as adoption entities. Jeanne Tate, the owner of Healey's firm, owns her own adoption agency, Heart of Adoptions Inc., which is one of the largest in the state.
If you use an attorney, Healey advises making sure the lawyer is board-certified in adoption. She says her firm has been hired many times to fix adoptions that went wrong. She suggests looking on the Florida Bar website to find board-certified attorneys. You can use the Super Lawyers directory to find top-rated adoption lawyers in Florida.
Once you're on an adoption waiting list, a home study of the adoptive family will be conducted by an adoption agency or other licensed professional and training will be required. The home study usually takes six to eight weeks, but Healey says it is not something to fear.
"The state wants to ensure that you do not have a disqualifying criminal history or any child-abuse incidents and you financially can support a child," she says. "It's not meant to weed people out; rather, the home study is designed to ensure that prospective adoptive parents meet the state's minimum requirements to adopt a child. Home studies are not required if the adoption involves a close relative."
Making a Match
Then it's a matter of creating a profile and being matched with a child or expectant mother. That can take anywhere from a few months to a few years, depending how selective the adoptive family—and the birth mother—are.
"The expectant mother has an opportunity to choose the perfect family for her child, if she wants, and we will ask her what types of qualities she's looking for in an adoptive family. We then try to find adoptive family profiles on our waitlist that match up with her expectations," Healey says. "She will have the opportunity to review these profiles and select the family she likes best."
With infant adoption, if the birth mother opts not to choose, the agency usually looks at who's been waiting the longest. Then the adoptive parents usually have the opportunity to speak with the mother and review her medical and social history.
The more things the adoptive family is are open to, the sooner they're likely to get matched. If, for instance, a family is not open to drug or alcohol use in pregnancy, "that will generally take a longer time to match," says Healey.
The Adoption Contract
Once a match is made, a contract is created, typically allowing the birth parents to receive updates until age 18. Some also involve in-person contact if both parties agree. In Florida, the biological mother can sign her consent 48 hours after birth or the day she's discharged from the hospital. State laws vary, but in Florida, a birth parent placing a child under the age of six months cannot revoke her consent, unless fraud or duress are proven.
"The legal process after that is relatively quick," Healey says. "Adoptive parents are required to have 90 days of first-placement supervision. But once your child is placed in their home, adoptive parents can normally finalize their adoption after three months."
Alternatively, some families locate an expectant mother on their own who wants them to adopt her child. They can then retain an adoption attorney to prepare the paperwork, file the termination of parental rights, which takes an average of three to four months to complete assuming it is uncontested, and finalize the adoption.
And when that finalization takes place, it's not just the adoptive family who's happy.
"There are few areas of law where you're helping to build families," Healey says. "Especially seeing children that we help get adopted out of foster care, who are older, who have never had a birthday party before or never had a family before … just generally, everybody is happy. A lot of times, the judge, the JA [judicial assistant], I, and the family will all be crying tears of joy."
For more information, see our adoption law overview.
What do I do next?
Enter your location below to get connected with a qualified attorney today.
Related topics
Attorney directory searches
Helpful links
Find top lawyers with confidence
The Super Lawyers patented selection process is peer influenced and research driven, selecting the top 5% of attorneys to the Super Lawyers lists each year. We know lawyers and make it easy to connect with them.
Find a lawyer near you