Can You Establish Trusts for Animals When You Pass Away?
How to plan for the care of a pet in California
By Super Lawyers staff | Reviewed by Canaan Suitt, J.D. | Last updated on May 2, 2023 Featuring practical insights from contributing attorney Bruce A. Wagman
Use these links to jump to different sections:
Americans are pet lovers. According to a survey conducted by the American Pet Products Association (APPA), $123.6 billion was spent on pet care in 2021 alone. For many people, their animals become true family members and best friends—meaning they should be addressed as part of a comprehensive estate plan.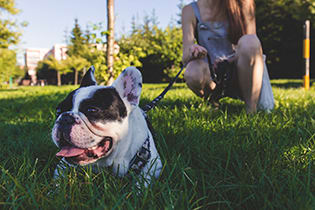 If you want to make sure that your pet is properly cared for regardless of what happens to you, there are estate planning options available. Indeed, California state law allows people to establish animal trusts. In this article, you will find an overview of the key things that you need to know about pet trusts in California.
California Law: Pet Trusts
An animal trust is a specialized type of estate planning vehicle. Under California law, you can leave instructions and funds to provide for the care of the pet. This type of trust will remain active for the rest of that animal's life—as long as there are remaining funds held within the trust. To be effective, the person setting up the trust (the trustor) should appoint a trustee who can make sure that the trustor's pet is cared for, in accordance with specific instructions outlined in the trust documents.
Three Benefits of Using an Animal Trust to Care for Pets
"If you try to designate money for your pets, it most likely won't work, especially if it is challenged," says Bruce A. Wagman, an animal law attorney at Riley Safer Holmes & Cancila in San Francisco. "Basically, without the availability and use of the pet trust statute in California, any attempt to provide for your pet could be ruled invalid under the law."
Some of the key advantages of establishing a pet trust include:
Immediate Effect: First and foremost, a pet trust becomes effective upon the owner's death. There is no transition period and, if properly funded, the assets held within the trust are spared from the California probate process.
Controlled Distributions: In California, you can use a pet trust to control the flow of future distributions. This will provide far more financial security for your pet, as you will not be required to rely on anyone's judgment for controlling your pet's funds. The money will be better protected from misuse.
Remaining Funds Can Be Controlled: In many cases, pet trusts will have some money left over at the end of the pet's life. As trustor, you can also direct and control what will happen to these remaining funds. The remaining funds can be given to a designated individual or they can be donated to a charity.
How a California Estate Planning Attorney Can Help
Under California law, pet owners can use animal trusts to provide instructions and funds for the well-being and care of your pet. With help from a qualified legal advisor, this provides peace of mind.
It is crucial that setting up a pet's trust is done the right way—otherwise, the trust may be subject to a legal dispute after your passing. When creating a pet trust, it is best to seek professional guidance.
Wagman, however, says the trusts shouldn't be difficult for any California estate planning attorney. He himself had a lawyer help set up a trust for his and his wife's companion animals. "The way our trust is set up, any pet living in the house at the time of our death is covered, and the trust is set up to take care of all of them until their deaths," he says. "Just directing the trust to care for any pet alive at the time of your death is the way to do it. Otherwise, every time you get a new pet, you've got to go back to the lawyer and say, 'Put in Fluffy's name instead of Rover's.'"
If you have any specific questions about setting up a pet trust, an experienced estate planning or animal law attorney can help provide legal advice. Some questions you may want to ask an attorney include:
When a pet owner dies, who oversees the care of the animals?
What amount of money should I include in a pet trust?
How do I provide for my pet's future medical care?
Am I able to appoint a new owner or caregiver for my pet?
How do I ensure that my pet is placed in a good home?
For more information on this area of law, see our overviews of animal law and estate planning, or reach out to a law firm.
What do I do next?
Enter your location below to get connected with a qualified attorney today.
Additional Animal Law articles
Attorney directory searches
Helpful links
Find top lawyers with confidence
The Super Lawyers patented selection process is peer influenced and research driven, selecting the top 5% of attorneys to the Super Lawyers lists each year. We know lawyers and make it easy to connect with them.
Find a lawyer near you