What to Know About New York's Anti-Price-Gouging Laws
And the steps New Yorkers can take to fight price gouging in a crisis
By Trevor Kupfer | Reviewed by Canaan Suitt, J.D. | Last updated on November 3, 2023 Featuring practical insights from contributing attorneys Gregory Asciolla and Joseph P. Guglielmo
Use these links to jump to different sections:
On Jan. 31, in response to the COVID-19 pandemic, the U.S. Secretary of Health and Human Services declared a national public health emergency. This emergency declaration subsequently triggered Section 396-R, the New York price gouging statute that protects goods and services vital for consumers' health, safety, and welfare. Additionally, on March 16, the NYC Department of Consumer and Worker Protection enacted an emergency rule that made price gouging illegal for products needed to prevent the spread of the virus.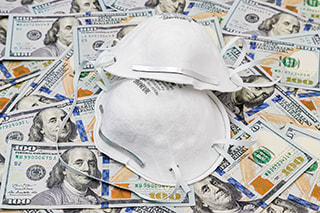 But that didn't stop wrongdoers:
A Manhattan hardware store was cited for charging $80 for hand sanitizer;
A Queens grocer got in trouble for charging $15 for disinfectant spray; and
An Upper East Side pharmacy was cited for selling 20 face masks for $200.
By March 25, the city had issued more than 1,000 violations related to COVID-19 crisis price gouging.
"Simply put, price gouging is an unconscionable, unethical act," says Gregory Asciolla, a partner at DiCello Levitt. "It involves taking advantage of the most vulnerable during a crisis—like a natural disaster or a public health emergency such as COVID-19—in order to make a quick, excessive profit by selling essential products and services at exorbitant prices."
More often than not, price gouging is obvious, Asciolla adds. You just need to look at the most necessary products during an emergency—disinfectants, face masks, and hand sanitizer, in this case—and watch prices skyrocket. "If they walk into a store and see a roll of toilet paper for $14, a consumer is going to say, 'Wait a second. This should've been 75 cents. That's what I paid before this emergency,'" he says.
State Laws on Market Pricing & Price-Gouging Complaints
Price gouging is under state jurisdiction in New York, "so if somebody sees or experiences price gouging activity, whether they're 100 percent certain or not, they would want to report that to the attorney general. The office will investigate and prosecute any price gouging that they see," Asciolla says.
Then there's price fixing, which falls under antitrust laws and involves collaboration among competitors. This one is usually less obvious.
"The prices don't necessarily go up thousands of percent," Asciolla says. "At times, there is evidence, and consumers may notice that every six months, the price goes up by all the manufacturers by the exact same amount. And they say, 'This is suspicious.' Price-fixing conspiracies are more nuanced, more difficult to find because, with a conspiracy, the whole purpose is to keep it secret."
Do I Go to the State Attorney General's Office or a Law Firm?
In these cases, you can seek out the AG or a private attorney to look into it. "The issue is whether or not you can establish an unfair or deceptive trade practice. Was the pricing extreme or artificial?" says Joseph P. Guglielmo, an attorney at Scott+Scott Attorneys at Law. "You have to look into the specific party and whether or not the pricing is out of whack compared to demand or supply."
As part of an investigation, Guglielmo says an attorney might look at supply and demand data and pricing fluctuations for both the product and its raw materials. "In a time like this," he says, "there are going to be price increases for products in scarce supply. The question is: Did manufacturers or suppliers or other involved entities take advantage of the situation to create shortages or supply-and-demand issues?"
So how does all that apply to the coronavirus pandemic? In a past case, Guglielmo's firm alleged that aluminum suppliers created an artificial demand by restricting output. "That's an example of what to look at today," Guglielmo says.
Here's another example: "N95 masks used to cost $1 or $2, say, and you could find them almost anywhere," he says. "So if you're a hospital or consumer trying to buy them during COVID-19, then maybe the demand has raised the price to $4. But are there people selling them at $20 or $200? Are they rationing them and creating black markets?"
Find an Experienced Attorney
Whether it's price gouging or fixing, consumers are the ones who pay and who, in the case of COVID-19, are put at further risk. The good news is there's help. "If you're a business or consumer and suspect something is going on with pricing, especially if you think it's systemic and not an isolated incident, go to an attorney and see if they think it's worth looking into," Guglielmo says. 
Visit the Super Lawyers directory to find an experienced antitrust litigation attorney. For more information on this area of law, see our overview of antitrust litigation.
What do I do next?
Enter your location below to get connected with a qualified attorney today.
Attorney directory searches
Helpful links
Find top lawyers with confidence
The Super Lawyers patented selection process is peer influenced and research driven, selecting the top 5% of attorneys to the Super Lawyers lists each year. We know lawyers and make it easy to connect with them.
Find a lawyer near you