How Do You Prove Bad Faith in a California Homeowners Insurance Lawsuit?
Showing that your insurance company unreasonably withheld benefits
By Super Lawyers staff | Reviewed by Canaan Suitt, J.D. | Last updated on October 26, 2023 Featuring practical insights from contributing attorney Richard T. Collins
Use these links to jump to different sections:
Homeowners insurance typically provides two types of coverage: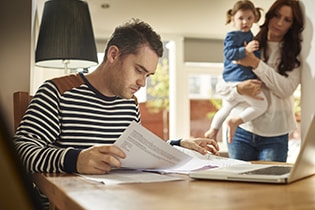 The first is for damages to your home and any personal property contained within it.
The second is for liability to third parties who are injured on your property.
In either case, your insurance company has a legal obligation to act in good faith when it comes to investigating and paying out a claim.
So what happens when the insurer does not uphold its duty of good faith and acts in bad faith? Under California state law, you may be able to sue the insurer for damages. And we are not just talking about the value of the improperly denied claim: You may also be entitled to legal fees and damages for the emotional distress caused by the insurer's actions.
Examples of Bad Faith Insurance Practices
It is important to understand that an insurer does not act in bad faith simply because it denies a claim, even if you insist it was a legitimate claim—a common misconception, according to California insurance coverage attorney Richard T. Collins. "Only if the insurer acts unreasonably, without justification, in bad faith may you recover tort damages—emotional distress, financial distress, attorney's fees to recover the policy benefits, or punitive damages," he says.
Remember, homeowners insurance policies are complex contracts. Insurance companies draft these insurance contracts in such a way as to protect themselves as much as possible. Yet it is possible to go too far and stray into bad faith territory. While not an exhaustive list, here are just some examples of the types of behaviors that constitute bad faith practices under California insurance law:
The insurer unreasonably delays or refuses to pay a valid claim;
The insurer fails to promptly investigate a claim;
The insurer fails to maintain or follow reasonable standards when investigating a claim;
The insurer fails to communicate with you, as the policyholder, with respect to the status of a claim;
The insurer intentionally misrepresents basic facts about a homeowners insurance policy, including the available benefits or limits of coverage;
The insurer refuses to settle a valid claim with a third party or engages in unreasonable delays during settlement negotiations; or
The insurer fails to properly explain its reasons for denying a claim.
"The biggest bad faith tactic when it comes to property claims—apart from wrongful coverage denials due to an overly restrictive interpretation of a coverage grant or an expansive interpretation of an exclusion—is the oppressive delay in resolution of a claim," says Collins.
"Insurers will often make a quick inspection, determination, and payment of an undisputed amount that is usually far less than what is needed to repair the damage. This forces the insured to fight for supplemental payments that may drip, drip, drip from the insurer's spigot—or result in countless inspections by contractors, engineers, and other experts, bid comparisons, depreciation holdbacks, and arm wrestling for further payments of additional living expenses as the battle drags on."
How Can a Policyholder Prove a Bad Faith Insurance Claim?
If you know or suspect that your insurance company has denied a homeowners policy claim in bad faith, what should you do? First, contact an experienced California insurance attorney who can review the particular facts of your case and give you specific legal guidance for the claims process. Many attorneys will provide free consultations to learn about your case and give legal advice.
But in general, you should know that proving bad faith basically requires you to establish two things:
The insurer has withheld a benefit provided for in your policy;
This decision to withhold was unreasonable or otherwise lacked proper cause under the terms of the policy or California law.
Gather and Preserve Evidence
If you anticipate filing a bad faith lawsuit, it is imperative that you document any and all evidence of your dealings with your insurance company.
You should keep records of any correspondence, too, says Collins, that can help in reconstructing an accurate timeline of events. "There are so many verbal communications, from the report of the loss to the inspection of damage to the seemingly hundreds of phone calls with adjusters and vendors," he says. "All of those communications should be recorded in a diary or calendar that will allow the attorney to begin piecing together the most important document in a bad faith case: the timeline."
Find an Experienced Bad Faith Insurance Lawyer
"It's important to have a lawyer who has experience with bad faith claims and a deep understanding of the insurance industry—how insurance companies operate, the industry guidelines, statutes and regulations that govern their conduct, and the vast body of insurance law," Collins continues.
"A qualified insurance bad faith attorney can help the insured investigate the claim, evaluate and calculate the benefits owed, and determine whether the insurer is abiding by its contractual duties under the policy and its extra-contractual duties imposed by the implied covenant of good faith and fair dealing. This way, the insured can make a fully informed decision about suing a multibillion-dollar insurance company."
Visit the Super Lawyers directory to find an experienced bad faith insurance lawyer in your area. If you'd like to learn more about this area of the law, please see our insurance coverage overview.
What do I do next?
Enter your location below to get connected with a qualified attorney today.
Related topics
Attorney directory searches
Find top lawyers with confidence
The Super Lawyers patented selection process is peer influenced and research driven, selecting the top 5% of attorneys to the Super Lawyers lists each year. We know lawyers and make it easy to connect with them.
Find a lawyer near you