When and How to Declare Bankruptcy
California lawyer Michael Malter explains your options
By Beth Taylor | Last updated on January 10, 2023
Use these links to jump to different sections:
When the pandemic arrived, bringing a massive threat not only to health but also emp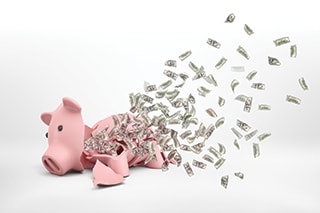 loyment, bankruptcy lawyers expected their phone lines to light up. The good news? That didn't happen, thanks to pandemic-relief legislation such as enhanced unemployment compensation and eviction moratoriums. "It is the talk of the bankruptcy world that we were expecting not a wave of cases, but a tsunami of cases—and it did not happen," says
Michael Malter
, a bankruptcy attorney at law firm
Binder & Malter
in Santa Clara, California. "In fact, bankruptcy filings are down very significantly." The bad news? The assistance can't last forever. "With the money that has been flooded into the system through the [federal] relief act, people are able, at the moment, to keep their noses above water," says Malter. "It's set to end at the end of September; whether it gets extended to the end of the year, who knows? … But at the point at which the assistance ends, and folks then start defaulting on payments, it takes about 120 to 150 days before that translates into lawsuits and the kind of collection actions that are going to force bankruptcy filings. "If I had to guess, if the unemployment funds and such stop in September," he says, "we may be looking at a serious wave [of bankruptcies] late winter, early spring. I don't think it's going to happen before then." Although eviction moratoriums prevented tenants from being kicked out for not paying rent due to pandemic-related issues, the amount owed to landlords still has to be paid when the moratoriums are lifted. Some states, including California, are making plans to help low-income tenants pay their past-due rent. But that might not help middle-income and commercial tenants. "These are great unknowns," Malter says. "Nobody knows how that's going to all play out. … Just as last year did not play out as everyone assumed it would, who knows how the next year will play out?"
When Should You Declare Bankruptcy?
For individuals and families who do find themselves sinking into debt, how do you know when it's time to declare bankruptcy? If creditors are starting to sue you for collections, Malter says it's definitely time. And for some, it might be even sooner. "There are many people who can be paralyzed with stress, knowing that they have unpaid creditors," Malter says. "They haven't slept in weeks because they've been so stressed out about the debt that they owe." For those people, he suggests at least consulting with an
experienced bankruptcy attorney
to find out their options and hopefully relieve some stress. Typically, he says, the initial consultation will be free. Some bankruptcy attorneys give a 15-minute consult at no charge; others, including Malter, give an hour.
The Bankruptcy Process
Meet with a bankruptcy attorney to learn your options
Complete forms provided by the attorney
Attorney e-files the forms, and you are immediately in bankruptcy
Creditors must end lawsuits/evictions/repossessions
Attend initial bankruptcy hearing—or risk dismissal
Chapter 7—Wait 60 days; if no contest to bankruptcy, case is discharged
Chapter 13—Case is discharged after 5-year payment plan complete
How to Choose an Attorney
When deciding which attorney to call, Malter suggests getting a referral or looking for a certified bankruptcy specialist in states like California that offer such certification. "Go with an attorney who can demonstrate a track record of successful bankruptcies," he says. "Somebody who just dabbles in bankruptcy can get themselves and their clients in a lot of trouble. You want somebody who eats and breathes this stuff." To get the most out of your consultation, bring a list of all your creditors, amounts owed, and a list of your major assets and their values.
Time to Decide
After speaking with an attorney, it's time to decide whether to declare bankruptcy. The downside, of course, is that it affects your credit rating. A Chapter 7 filing remains on your credit report for nine years and nine months; a Chapter 13 for two years less. "It's a long stretch," says Malter. "It's not to say that the individuals can't reestablish credit sooner than that. But there is a mark on the credit report they have to tough their way around." The upside? It's your constitutional right to wipe the slate clean and make a fresh start. And for the vast majority, it will be a once-in-a-lifetime necessity. "It's not available in many other countries," Malter says. "We believe that people have the right to rehabilitation."
Chapter 7 or 13?
With Chapter 7 bankruptcy, almost all debt is wiped out, no payments are owed, and the process can be over in about four months. Exceptions are tax debt and some other types—such as child/spousal support and debt due to drunk driving—which cannot be eliminated. Certain assets can be protected, depending on the state where you live. In California, protected assets include your house and car. The protection of equity in a residence is through the homestead exemption; in California, you can protect $300,000-$600,000 of equity in your residence. If you don't own a home, a California resident filing bankruptcy can protect $30,000 worth of anything that is not already protected. However, if you have more assets than the amount your state allows you to protect under Chapter 7, you might want to file Chapter 13, which sets up a five-year payment plan but ends penalties and interest on your debts. An attorney will try to negotiate reduced paybacks with unsecured debtors such as credit card companies, depending on your income and assets. With both Chapters 7 and 13, all assets in 401K plans are protected—except against federal tax debt. "We all know from high school history that this country in large part was founded as a response to debtors' prisons," Malter says. "How can you possibly earn the money to pay the debts if you're locked up? Debtors' prisons don't make sense. "My view is that people feel imprisoned by their debt without being physically constrained," he adds. "This is your "Get Out of Jail Free" card … Any good bankruptcy attorney is going to say, if you can avoid filing bankruptcy, you should. But for those who need that relief, that's why it's there." For general information on bankruptcy law, bankruptcy cases, bankruptcy court, bankruptcy code, Chapter 13 bankruptcy, California bankruptcy, repayment plans, and foreclosures, see our
bankruptcy overview
.
What do I do next?
Enter your location below to get connected with a qualified attorney today.
Attorney directory searches
Helpful links
Find top lawyers with confidence
The Super Lawyers patented selection process is peer influenced and research driven, selecting the top 5% of attorneys to the Super Lawyers lists each year. We know lawyers and make it easy to connect with them.
Find a lawyer near you