The First Meeting With a Bankruptcy Attorney
What gets discussed during the initial interaction?
By Trevor Kupfer | Last updated on January 10, 2023
Use these links to jump to different sections:
David P. Leibowitz
 has some good news.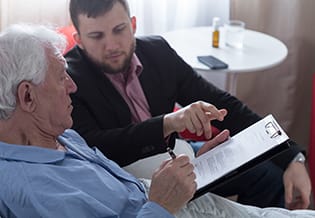 "It's a scary event. … But you don't have to walk through life with a scarlet letter on your head. It's going to alleviate a lot of your distress," he says. "I understand that clients come to us at a point of desperation and fear, but a really good lawyer will help you overcome that. While a creditor has rights, you have remedies to help you go on with your life." In addition to the questions an attorney will ask you during an initial consultation, Leibowitz says a lot of your questions will be answered, too. "Most are concerned, 'Am I going to lose my house? Lose my car? Is the trustee going to take property inside my house? Is this going to be reported on the credit bureaus? Can I be fired for this?' They have many questions, and we go through the answers." (Quickly: Your house and car might be exempt, it's rare but possible to seize other property, other creditors will stop harassing you about debts, and you cannot be fired but an employer might ask about it if you seek a new job.) "There are a lot of things that have to be done to get from point A to point Z, but our job is to break the process down in a step-by-step basis, so you're not afraid of it and understand what's happening every step of the way," Leibowitz adds.
Do You Have a Bankruptcy Case?
To ascertain if you have a case, a bankruptcy attorney will get to know you and your story. "We talk about where they live, their marital status, and determine if they've been in a place long enough to be able to
file bankruptcy
in the first place," Leibowitz says. Bankruptcy requires a lot of paperwork, but this isn't like filing your taxes. As such, "before you can properly advise a person about what kind of chapter to file, you have to find out a lot about that person's income, assets and types of debt." Your assets will dictate what exemptions are possible and might persuade you toward which chapter to file.
What Will Your Case Be?
"Every lawyer has got an obligation to inform the prospective client of the available chapters under which they might file," says Leibowitz. "Those chapters are Chapter 7, Chapter 11, Chapter 13 and Chapter 12. Those are the four chapters that would be relevant to a person or family, and we have to at least mention each to the client so they can make an informed decision." Your income and circumstances will very likely narrow your choices automatically. The means test, as it's called, is a few forms that, when completed, will tell you where you fall. "You can't necessarily do all of this at the first meeting, but you can generally get a rough idea as to whether you'll fall into one pile or another," says Leibowitz. He summarizes the chapters like this: "Chapter 7 bankruptcy is typically for someone who makes relatively little income or has relatively little assets. Chapter 11 is for almost nobody, because it's for people who have debts in excess of the amounts allowed for Chapter 13. Chapter 13 bankruptcy is usually for people who have income over the median, or have assets they'd like to protect from a Chapter 7 trustee. Chapter 12 is for family farmers." Similar to the obligation to inform you of your chapter options, attorneys must advise you to take credit counseling before filing the case, as well as a financial management course after filing the case. "And, under the law, we have to give them a fee agreement the first time we meet with them," Leibowitz says. "After we meet, we can more or less tell the client what their case is going to cost."
What is the Cost?
In terms of the meeting itself, Leibowitz says, most lawyers don't charge anything for the initial consultation. But a rare few do. Bankruptcy filings are typically done as a flat fee, as opposed to hourly. For a Chapter 13, most districts dictate a presumed reasonable filing fee and that typically ranges from $3,000 to $5,000. For example, Leibowitz says, in Chicago in 2018, it's $4,000. Other chapters vary, but University of Maine law professor Lois Lupica did a study in 2012 that gives a good idea of costs around the country, and how much they've increased in the past decade due to the Bankruptcy Abuse Prevention Consumer Protection Act (BAPCPA). As a result of BAPCPA, lawyers are required to take more steps than ever before. How much time this will take is another valid concern, and it varies from chapter to chapter and place to place. Some require more documentation than others, and the deadlines vary. But
an experienced attorney
can walk you through this seemingly overwhelming process one step at a time. "All of the warnings and preliminary hurdles are designed to make bankruptcy scary, which benefits creditors and gives them more time to collect debts," Leibowitz says. "It's the job of the lawyer to explain it in not-scary terms, and describe the process in a step-by-step sort of way." For more information on this area of law, see our
bankruptcy overview
or reach out to a law firm for legal advice on bankruptcy law and the best fresh start for you.
What do I do next?
Enter your location below to get connected with a qualified attorney today.
Additional Bankruptcy articles
Attorney directory searches
Helpful links
Find top lawyers with confidence
The Super Lawyers patented selection process is peer influenced and research driven, selecting the top 5% of attorneys to the Super Lawyers lists each year. We know lawyers and make it easy to connect with them.
Find a lawyer near you