What Happens to Your Property When You File for Bankruptcy?
Breaking down New York personal filings
By Nancy Henderson | Last updated on August 4, 2022
Use these links to jump to different sections:
Long Island attorney Heath Berger recently got a call from a panicked homeowner asking for help. The man had filed for bankruptcy two years prior with the help of a different attorney, but now the mortgage company was trying to dismiss the bankruptcy status that was supposed to protect the man from losing his home.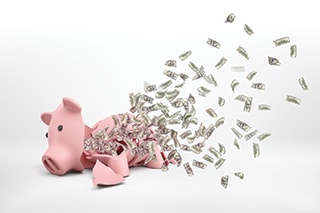 Such headaches can be avoided if the order is filed properly, says the partner at Berger, Fischoff, Shumer, Wexler & Goodman, who has handled more than 10,000 bankruptcy petitions for clients over the years. And if it's done the right way, Berger adds, you shouldn't lose your property: "In most cases, especially in New York, you end up keeping your house, all your retirement money, your cars. You get to keep 99.99%. There are very few cases in a Chapter 7 where an attorney, at least a competent attorney, is going to say, 'OK, you're going to lose everything you own.'"
The Type of Bankruptcy Case
In order to qualify for a Chapter 7 bankruptcy—also known as a liquidation—the person who's behind in their payments to creditors must fall below a certain income level and be willing to relinquish certain property in exchange for walking away debt-free. The good news is they can keep any property the law deems "exempt," including a certain amount of equity in the home and car, and most personal items. Berger estimates that 80% of the state's bankruptcies are Chapter 7s involving minimal or no assets.
A Chapter 13 bankruptcy closely resembles a Chapter 11 reorganization, often used by businesses. It allows someone with substantial assets to protect them in exchange for making the required payments to creditors over three or five years, depending on income.
In New York, someone filing for Chapter 7 can choose between federal and state exemptions; the latter tend to be more liberal and allow you to keep more of what you own. But it can be tricky. "If you don't know the exemptions and you don't know which one benefits you, and you take the wrong one, you could end up losing a substantial amount of money or having your house taken from you," Berger says.
Liquidation and Bankruptcy Exemptions
The term "liquidation," as used by the courts to define a Chapter 7, is actually misleading, says Barbie Lieber, a bankruptcy attorney in New York City. "It's very, very rare that people will file a Chapter 7 and have their assets liquidated," she says. "The reason for that is because, if you have a good lawyer, that lawyer is familiar with exemptions and will determine whether you should be filing for Chapter 7 or 13."
Lieber gives an example of a married couple who, under Chapter 7, can claim the standard New York homestead exemption of $341,650 ($170,825 for each spouse). A recent court ruling likewise protects rent-stabilized or rent-controlled apartments, as long as renters are current on the rent. Federal exemptions extend other options, Lieber adds. "Let's pretend an individual has $2,500 in the bank, will receive $3,000 from an income tax refund, and has another $1,000 in stock," she says. "The total right to receive will be $6,500, and the $13,900 'wild card' exemption can be used to protect that. In addition, their car worth $6,000 will be covered for $4,000, so $2,000 is exposed, but that also can be covered under that wild card. And that wild card amount is doubled if that person is married."
No matter the circumstances, those filing for bankruptcy are required to provide a great deal of documentation, such as pay stubs, tax returns and bills.
File Bankruptcy with the Aid of a Bankruptcy Lawyer
Although you can legally file for bankruptcy on your own, the nuances can be complicated. 
"It is perhaps the biggest mistake anybody can make to attempt to file Chapter 7 or 13 by himself or herself," Lieber says. "People don't realize that the bankruptcy code is literally a few inches thick. It is very, very complex. Every case is individualized, so there is no way that anybody could understand the exemptions themselves and how to best utilize them. A trustee told me fairly recently that 99.9% of his Chapter 13 cases that are filed pro se [via self-representation] failed."
Berger has seen a steep rise in bankruptcy filings due to pandemic-related hardships. Still, he says, "It's important that people understand that … a Chapter 7 is basically a four-month process. They walk away debt-free. It shouldn't be a scary proposition." 
What do I do next?
Enter your location below to get connected with a qualified attorney today.
Additional Bankruptcy articles
Attorney directory searches
Helpful links
Find top lawyers with confidence
The Super Lawyers patented selection process is peer influenced and research driven, selecting the top 5% of attorneys to the Super Lawyers lists each year. We know lawyers and make it easy to connect with them.
Find a lawyer near you