Does My Student Loan Debt Go Away After Bankruptcy?
Walking you through the options in North Carolina
By Super Lawyers staff | Reviewed by Canaan Suitt, J.D. | Last updated on May 3, 2023 Featuring practical insights from contributing attorney Heather W. Culp
Use these links to jump to different sections:
If you are dealing with the overwhelming financial burden of student loan debt, you are not alone. According to the U.S. Chamber of Commerce, student loan debt in the United States currently stands at a record high of $1.75 trillion. You may be wondering: Can I file for bankruptcy to get rid of my federal student loan (federal loans) debt?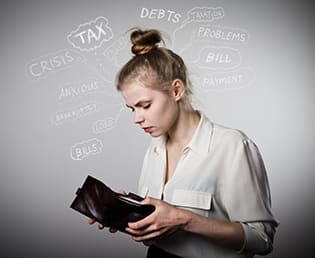 With limited exceptions, the answer is "no"—federally guaranteed student loans are not dischargeable in bankruptcy. "The bankruptcy code has a specific section of the types of debt that don't go away in a bankruptcy," explains Heather Culp, a bankruptcy attorney at Essex Richards in Charlotte. "It's a pretty narrow group, but this is one of them."
That being said, there are other repayment options available for student loan borrowers. In this article, you will find an overview of the most important things to know about student loan debt and bankruptcy in North Carolina.
Student Loans and Bankruptcy: Explained
Most types of consumer debt—such as credit card debt, medical debt, and personal loans—can be discharged in bankruptcy. However, federal law has an exception for student loans. The overwhelming majority of student loans are federally guaranteed. These loans cannot be discharged through a standard bankruptcy filing. Instead, student loans can only be discharged in bankruptcy in very limited circumstances.
As explained by the National Consumer Bankruptcy Rights Center (NCBRC), someone who files for bankruptcy protection will only be able to get rid of student loan debt if they can satisfy an extraordinarily harsh legal standard called the "Brunner Test." Essentially, the debtor has to prove three things:
They cannot maintain a minimal standard of living if they have to repay the loans.
Circumstances exist that indicate their situation will not change for a significant part of the length of the loan.
They have made a good faith effort to repay the loans and that no other debt relief alternative is adequate.
The unfortunate reality is that it is a nearly impossible standard for most borrowers to satisfy, even if you are really struggling with your student loan debt. "One of the things that makes it particularly difficult is that there are a lot of flexible repayment options, particularly for U.S. Department of Education loans," Culp says. "There's an income-based repayment plan, and your payment can be as low as $0 if you can't afford it. And that seems to cut the legs out from under a lot of people's arguments."
Bankruptcy Can Still be a Useful Tool for Relief
No matter your current student loan situation, there are always options available. Even though your student loans most likely cannot be discharged in bankruptcy, it could still make sense to file if you have a lot of other unsecured debt as well, such as credit card debt or medical debt.
"Oftentimes, people who come to see me are working really hard to pay down their credit card debt," Culp says. "They're throwing every extra penny at that. And that doesn't really make any sense, because credit card debt goes away in bankruptcy, and student loan debt does not."
If you have private student loans and can't pay them, a private lender might sue you to try to collect. Bankruptcy can stop that process and give struggling borrowers some breathing room, Culp says.
For borrowers who have a co-signer or guarantor on their student loan debts, bankruptcy may be able to relieve pressure being put on co-debtors. "There's a particular provision in the Chapter 13 part of the Bankruptcy Code called the co-debtor stay," Culp says. "It prohibits the creditor from contacting co-debtors on student loan debt. So that can be a big, big help right there."
And, if your loan is not a qualified education loan as described by statute, it can be discharged through bankruptcy. Some examples might be loans for a for-profit school that closed while you were a student, or some types of trade schools.
Other Student Loan Debt Relief Options are Available
Bankruptcy courts will take your student loan obligations into account when reviewing your overall financial situation. Further, the United States Department of Education explains that there are several student loan relief options available, including:
Graduated repayment plans.
Extended repayment plans.
Revised Pay As You Earn Repayment Plan (REPAYE).
Pay As You Earn Repayment Plan (PAYE).
Income-Based Repayment Plan (IBR).
Income-Contingent Repayment Plan (ICR).
Deferment and forbearance are also options. Depending on your financial circumstances, you may be able to get your monthly student loan payments delayed or reduced to a small fraction of the current amount.
When to Contact a Bankruptcy Lawyer
If you have questions about student loans and debt relief, contact an experienced North Carolina bankruptcy lawyer for guidance and support. A bankruptcy attorney will be able to review your specific financial situation and help you determine the best course of action.
When should you contact a lawyer? Some red flags would be if your loan company has sued you, your wages are being garnished, or the government is taking your tax refund for student loan debt. But often, it's not just student loans that will lead you to an attorney. "It's usually something else that pushes them in to call me for a bankruptcy consultation, and, of course, we wind up talking about the student loans at the same time, because they're a piece of the puzzle."
The cost of getting help with bankruptcy will vary depending on the type of bankruptcy you're seeking and the complexity of your case. Most bankruptcy lawyers will do a Chapter 7 bankruptcy for a flat fee. "I think just about the cheapest I've seen is probably $900 to $1,200 flat attorney fee, and that's at the really, really, really low end," Culp says.
For a Chapter 13, the Western District of North Carolina has set a presumptively reasonable attorney's fee of $4,500. A lawyer can charge more, but only if they can demonstrate to the court that it is necessary. Most lawyers, Culp says, will allow Chapter 13 clients to start with a down payment and pay the balance in monthly payments.
Many struggling borrowers often wonder if the cost is worth it. "Whether it's a $1,000 attorney fee, a $5,000 attorney fee, a $20,000 attorney fee, it's my job to help you find the best way out of a bad situation," Culp says. "And if you wind up finding that your best way out is paying a $3,500 attorney fee to discharge $150,000 worth of credit card debt and medical debt, that's a good day, all day, every day. That's a good deal, and it makes sense to do it."
For general information on Chapter 13 bankruptcy, bankruptcy discharge, bankruptcy proceedings, student loan bankruptcy, see our overview on bankruptcy law.
What do I do next?
Enter your location below to get connected with a qualified attorney today.
Attorney directory searches
Helpful links
Find top lawyers with confidence
The Super Lawyers patented selection process is peer influenced and research driven, selecting the top 5% of attorneys to the Super Lawyers lists each year. We know lawyers and make it easy to connect with them.
Find a lawyer near you