How Do I Know If My Baby's Injury Was Due to Negligence?
What Texas attorneys look for in medical malpractice cases
By Super Lawyers staff | Reviewed by Canaan Suitt, J.D. | Last updated on October 10, 2023 Featuring practical insights from contributing attorney Glenn W. Cunningham
Use these links to jump to different sections:
When a child suffers a serious birth injury, parents rightfully want to know what went wrong. In some cases, the injury may not have been preventable. But there are situations where medical negligence on the part of the doctor, or another medical professional, may have played a critical role.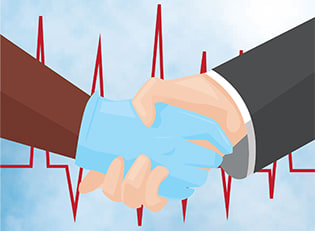 The truth is that there are thousands of preventable birth injuries that occur in the U.S. each year. Some of these common birth injuries prove to be minor, and the child goes on to live a normal, healthy life. Unfortunately, some birth injuries prove to be more serious and result either in premature death or permanent damage or disability to the child.
Glenn W. Cunningham, a lawyer in San Antonio, says the difficulty starts with Chapter 74 of the Texas Health & Safety Code. "This law was passed in response to a so-called 'insurance crisis' in Texas – a crisis that is now known to have been manufactured to create the impetus for tort reform in Texas," he says.
"Chapter 74 is a draconian piece of legislation, weighted heavily in favor of the medical community. Significantly, it limits the recovery of noneconomic damages to a maximum of $250,000. So, the monetary value of a horribly impaired and disfigured brain-damaged baby, who will spend its life in constant pain and mental torment, is only $250,000 in Texas. Even if a jury awarded $10,000,000 in fair and just compensation for the baby's lifetime of pain and suffering… the trial judge must reduce the noneconomic damage award to a maximum of $250,000."
The other difficult thing about birth injuries is that some are immediately apparent, while others may not reveal themselves for months or years after the child is born. There are, in fact, many types of birth injuries a baby may sustain during the delivery process. Here are some of the more common injury types that can lead to medical malpractice lawsuits.
Brain Damage
When a child is in the womb, it breathes through its umbilical cord, receiving oxygenated blood directly from the mother. After a normal birth, the baby cries as it takes its first breath with its own lungs. But if the child experiences a lack of oxygen at any point during this transition process, they can suffer permanent brain damage.
Oxygen deprivation (asphyxia) can occur during delivery if the umbilical cord wraps itself around the baby's head or throat. A trained physician is supposed to take prompt action to release the baby from this situation before it can produce permanent damage. Doctors must also ensure there is proper blood flow to the baby at all times. Any failure to act in these situations can lead to a catastrophic outcome.
"For injuries that occur during labor and delivery, health care providers are only liable if they acted in a grossly negligent manner. If they were merely negligent, they are immune from liability and are not accountable for the injuries and damages their actions caused. Gross negligence is a heightened burden of proof—and virtually impossible to meet," Cunningham says.
"As gross negligence is defined in medical malpractice cases in Texas, the health care provider must have known that their actions were going to harm the baby but proceeded anyway with conscious disregard and with malice in his or her heart. It's virtually impossible to prove that a health care provider acted with malice in their heart, knowing full well that their actions were going to harm the child."
Brachial Palsy & Delivery Fractures
The brachial plexus is a cluster of nerves that controls the muscles in the shoulder, arm, forearm, hand, and fingers. During some deliveries, this nerve cluster can stretch and tear, particularly if the baby's shoulders struggle to fit through the mother's birth canal. This tearing is known as Erb's palsy, and it can lead to a loss of arm function and even paralysis.
Brachial palsy is often the result of malpractice. The doctor may have pulled or manipulated the baby too roughly while it was still in the birth canal. Or the provider may have been too forceful in using forceps or other instruments. Such handling can not only lead to brachial palsy but other types of delivery fractures, such as a broken clavicle or collarbone.
The Importance of Working with a Lawyer on a Medical Malpractice Claim
Cunningham notes that the statute of limitations for birth injury cases is unclear. He says: "Most med mal practitioners now believe it is safest to file birth injury cases within two years of delivery—and to definitely file suit prior to the child's 10th birthday.
"Birth injury baby cases are extremely complex medically, and are very expensive to prosecute," he continues. "It is usually necessary to retain expert witnesses from multiple specialties to prove that the injury resulted from the negligence of the health care provider, as opposed to genetic or other factors. A medical malpractice attorney can help by reviewing the child's medical records, and retaining one of more experts to see if the case is viable."
Many birth injury lawyers provide free consultations to learn about your claim and provide advice on taking legal action. For more information on this area of law, see our overviews of medical malpractice and birth injury.
What do I do next?
Enter your location below to get connected with a qualified attorney today.
Attorney directory searches
Helpful links
Find top lawyers with confidence
The Super Lawyers patented selection process is peer influenced and research driven, selecting the top 5% of attorneys to the Super Lawyers lists each year. We know lawyers and make it easy to connect with them.
Find a lawyer near you