To Mediate or Arbitrate, That is the Question
How alternatives to litigation can save businesses time, money and more
By Steph Weber | Last updated on August 29, 2022
Settling business disputes can be costly, especially if the case ends up buried in time-consuming litigation. But for those who have reached an impasse with a vendor, manufacturer or other commercial entity, alternative dispute resolution is an increasingly popular option.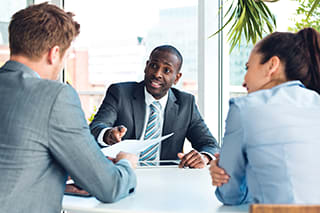 "If there's a dispute, many times business contracts call for the executives to discuss it and try to resolve it," says Zela Claiborne, a San Francisco-based attorney specializing in mediation and arbitration. "And then if they can't, they go to mediation. If that doesn't work, they go to arbitration. That's a very typical pattern for businesses [domestically] and internationally."
While mediation and arbitration have distinct differences, there are similarities. If it feels overwhelming to navigate, "Various law firms have lists of mediators and arbitrators that they trust," says Claiborne.
First, expect a joint mediation session, in which your counsel will deliver an opening statement. "Mercifully, it's not like putting on a case in court," says Stephanie Chow, an attorney and mediator in San Francisco. "[The attorneys] don't need to prove anything; they're educating the mediator about the underlying facts of the case, and why they see the position that they do."
After joint session, the mediator meets each of the disputing parties confidentially, which allows businesses to share any additional information they might not want to discuss across the table. From there, the mediator begins to construct settlement options and negotiate a resolution.
Mediation is usually just a one-day commitment and has a high success rate, says Claiborne. Plus, participants walk away at the end of the day with a binding agreement that settles the issue.
"Most people want finality, and we endeavor to give them that in terms of options for settlement," Chow says. "If we cannot reach a deal on strictly dollars because the delta seems too large, resist the temptation to walk away because that is when our work begins."
Chow notes if a settlement agreement can't be reached on one issue, "but we have touched fingertips on all other issues, one way to more effectively manage the process can be to have an arbitrator decide on that one issue in a one-day arbitration."
Should you ever bypass mediation and jump straight to arbitration? It's not unheard of.
"Examples of contracts where you would expect to see an arbitration clause are long-term sale and purchase agreements for commodities such as oil and gas, supply and distribution agreements for manufactured goods, construction contracts, technology licensing agreements, and merger and acquisition agreements," says Benjamin Jones, an attorney in San Francisco whose practice focuses on international arbitration.
Depending on the complexity of the case and the dollar amount at stake, there may be one arbitrator or a panel of three. The timeline for arbitration is longer than mediation because "it's like a trial, only private," says Claiborne, but generally takes significantly less time than traditional judicial proceedings.
Each party submits their affirmative case in writing, Jones says, then exchanges requests for document production. After, the parties make further submissions on the merits, and then the case goes to hearing.
"It's not like litigation in California or another U.S. jurisdiction in which effectively the document production request can be extremely broad," says Jones. "In arbitration, they have to be very narrowly tailored to either a specific document or a narrow category of documents. And the party requesting the documents has to demonstrate that the document is both relevant to the case and material to its outcome. It's a very high standard relative to litigation."
Next, a private oral hearing occurs, complete with opening statements, fact and expert witness testimonies, and cross-examination. After considering all the submitted materials and a presentation of evidence, the arbitrator issues an award.
The benefits of arbitration mirror those of mediation. "One principal benefit of arbitration is finality," says Jones. "It's not subject to appeal on the merits. You simply arbitrate the case once, and the award resolves the dispute for all time." Settlements are typically bound by confidentiality agreements, so businesses encounter less reputational harm than if they had undergone a public trial.
Businesses also have the flexibility to design a solution that fits their goals and needs as well as choose a mediator or arbitrator with experience in their industry—aspects that are not readily available through the court system, says Claiborne.
Jones agrees. "Lawyers who are chosen as arbitrators tend to be very focused on issues of commercial law, oftentimes in an industry context, such as energy or construction," he says. "They're bringing specialized experience to bear on the dispute and resolving the dispute in a way that's consistent with industry practice and perspectives."
What do I do next?
Enter your location below to get connected with a qualified attorney today.
Related topics
Attorney directory searches
Helpful links
Find top lawyers with confidence
The Super Lawyers patented selection process is peer influenced and research driven, selecting the top 5% of attorneys to the Super Lawyers lists each year. We know lawyers and make it easy to connect with them.
Find a lawyer near you