Factors that Can Make or Break an M&A Deal
Georgia mergers and acquisitions experts give tips
By Jessica Glynn | Last updated on February 6, 2023
Use these links to jump to different sections:
Erica Opitz once represented the owner of a chemical company who spent 30 years building his business. He was, she says, a "big picture guy." When he decided to sell, due diligence turned out to be a challenge.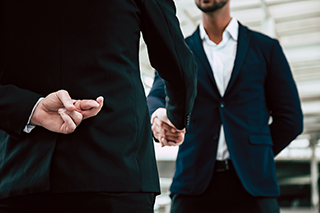 "He was not the most organized person," says Opitz, a mergers and acquisitions attorney at Chamberlain Hrdlicka in Atlanta. "Throughout the whole process, he'd be like, 'I visited my mom's house and found this box of contracts in the basement,' or 'Look, I found this permit in the glove box of my car.' He had a decent number of handshake contracts, but also a lot of legitimate written agreements that were just everywhere. I had to go up to their offices and search through piles of documents to find everything we needed. There were some permits that he didn't remember he had, so we ended up with an indemnification claim post-closing."
Opitz successfully defended the claim. Overall, she says the story illustrates a few important points about the M&A process.
The General Mergers and Acquisitions Process
The first is that investing in the details and documentation saves time and money down the road. "Having to defend that claim cost extra money," she says. "And when you have to pay your attorney's hourly rate to find documents for you, that increases the cost of the transaction."
The second point is about when to contact an M&A attorney.
For a small or family-owned business, Opitz says, "We typically recommend they get us involved when they first start thinking about taking offers and marketing the company, so we can help them clean up their corporate records and bookkeeping. We don't want anything to come up during due diligence that spooks the buyer."
For everyone else, including clients on the buy side, she recommends consulting an M&A attorney before the letter of intent (LOI) is signed.
"Although the LOI is nonbinding," Opitz says, "I've seen situations where nonbinding provisions that seemed innocuous create problems later. Let's say the purchase price language firmly states this will be the purchase price as opposed to making it subject to due diligence and other findings. If you get into due diligence, and there's a major issue, the other party can make the argument that this purchase price was agreed to."
How a Lawyer Could Help a Deal
M&A attorney Nicholas Flint of Flint, Connolly & Walker in Canton says the LOI generally determines not only purchase price but the structure of the deal, which has huge tax implications. "At that point it makes sense to bring in the legal and tax experts to opine on things likes structure," he says. "We'd rather be involved in that LOI negotiation phase because there are often some things that really are helpful to speed up and streamline the process if we can nail them down."
Once the LOI is signed, there are still red flags that could kill a deal. Flint is wary of buyers that try to rush closing as a way to pressure the other side. In one case, he uncovered a company had been taking out short-term bridge loans to keep itself afloat; he and his client walked.
"If you have a seller that says I have no contracts, I get a little worried," he says. "We need to dig a little more and ask more pointed questions. A lot of sellers will oversimplify in the due diligence process because we're trying to uncover some dirt they don't want us to know, but at the end of the day when we're buying their company we need to know what's under the hood."
Regulatory approvals and customer consent are also major considerations, especially with service-industry clients. "Lots of times it's a make-or-break factor in a deal," Flint says.
During due diligence, Opitz says customer names and sensitive pricing information should be redacted. "Deals can crater or be paused for things that are completely outside of your control," she says, giving the example of a client who was two hours from signing when the world stopped in March 2020. "It's important that you're being mindful: If this doesn't go through, am I giving anything to them that will give them an unfair competitive advantage?"
As for business owners who attempt the deal themselves and then need an M&A attorney to unwind a mess? Flint has worked with them, too. "But," he says, "they're paying three times as much to hire us as they would have to do the deal right the first time."
What do I do next?
Enter your location below to get connected with a qualified attorney today.
Additional business/corporate articles
Related topics
Attorney directory searches
Helpful links
Find top lawyers with confidence
The Super Lawyers patented selection process is peer influenced and research driven, selecting the top 5% of attorneys to the Super Lawyers lists each year. We know lawyers and make it easy to connect with them.
Find a lawyer near you