How Does a Firm Decide to Take a Case Pro Bono in Illinois?
And other frequently asked questions about discount legal assistance
Interview conducted and edited by Trevor Kupfer | Last updated on March 30, 2022
Super Lawyers: When and how do you decide to take a case pro bono or low bono—for free or at a discount? Is it clients coming to you, or do you work with specific pro bono programs?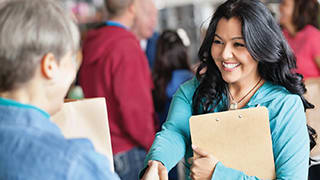 John E. Thies, a business litigator at Webber & Thies and past president of Illinois State Bar Association: It can happen in a number of ways. Sometimes it is an arrangement that's facilitated by a judge who has a case where they feel the client needs counsel. So we might have a contact from the courts. We have a wonderful Legal Aid organization in downstate Illinois called Land of Lincoln Legal Aid, which I was president of. They are also involved in making referrals, so that's another way. Other people just come in through our portal in our law firm, and we evaluate whether it's something we can help with.
SL: When you decide what to do, is it a case-by-case basis? Or do you kind of have like a sliding scale based on the client's means?
JT: I would say that we believe in incorporating pro bono cases into what we do. So there usually is a pro bono case that's in the mix of other things that we're doing. When we decide whether to take something, it depends on the current availability and the type of matter. The matter obviously has to be within our wheelhouse.
SL: Are there examples of things your firm has done, like entity formation?
JT: It might be. In terms of the kind of conventional business matters, it could be a not-for-profit. It's hard to be specific about what would cause us to do it on a pro bono basis. But we would consider all the circumstances in deciding if we were going to do it.
SL: If you have a startup, a small organization, or maybe even a single entrepreneur, what are their best avenues for help with legal issues?
JT: The best way for us to get involved in a matter is if they have been referred to us from someone else, so we have a little bit more background on them. The typical pro bono matters come to us via either Land of Lincoln, off the streets, or as a referral from a judge.
SL: Is it common to have a free initial consultation or screening?
JT: The way we would handle the intake is we have one of our staff would review the inquiry, whether it came in by phone or by our website portal. Then it would be distributed to several of us to look at and evaluate if it's the sort of thing we might be interested in doing. And that applies not just to pro bono cases, but any matter that comes to us. So that would be where we might decide if we would do it on a pro bono basis. Or in the case of a more traditional case, whether or not we need a retainer. If it's something where we think it's a good matter for someone else, we would evaluate the best place to refer it to.
SL: I think the common fear is "I can't afford an attorney," right?
JT: Agreed. But it can't hurt to ask.
SL: Are there certain things that they should be looking for in a firm when they're looking for pro bono legal services?
JT: A concentration in the particular area where they need help. And they should organize what information they have so they are able to articulate what it is that they're trying to accomplish, so when the firm fields the inquiry, they can efficiently analyze whether it's something they want to get involved in.
SL: Do you tend to take more straightforward cases pro bono, as opposed to in-depth litigation?
JT: It really depends. We've handled some very sophisticated cases on a pro bono basis. It just depends on whether it meets the criteria: Is it something that we can handle? Are we available to do it at that particular time? What's the source? We're running a nine-person law firm, so we've got to make sure that it sits with other things that we're doing at the time. But as I say, we've handled some matters on a pro bono basis that have been quite sophisticated.
SL: What else should people know about this?
JT: Lawyers care about playing a role in our system of justice. When lawyers participate, the system works better. So all of us have an innate interest in doing a certain amount of pro bono work. If they don't, they should. And so the kind of the work that is needed can make a difference to whether or not the lawyer will take the case, but it doesn't hurt to try to see if the firm will do it on that basis.
You can do it on a limited scope basis, too. So it could be narrowed. We have a vibrant, limited scope representation set of rules in Illinois that allow law firms to take discrete portions of a matter. And that can allow the firm to be involved in a more limited basis but accomplish a lot for the client.
There are different ways of describing this. One is unbundled legal services where there might be a number of different tasks associated. So if it's in litigation, it might be that you would be involved for preparation of a particular pleading like a motion to dismiss, or a complaint, but not beyond that. You know, the agreement might be that you're going to do this discreet job, and then the relationship will terminate. That's permissible. And our supreme court has facilitated that process. So that's a way that a consumer will have an easier time getting a firm involved. And even if it's not pro bono, it can be low bono, something that's less expensive and available for people.
The wherewithal of the client makes a difference in this. If people have the capacity to pay, then there should be that expectation.
SL: On the low bono side, are there a decent amount of firms that consider that and look at more of a sliding scale or flexible, low-income, kind of fee arrangement?
JT: Sure. I think a lot of firms would do that. I think it goes back to the criteria that I mentioned before. And, in the end, what's an appropriate fee for the circumstances? If it's a not-for-profit, or if it's somebody that needs a limited amount of help, there's a greater chance that the firm would get involved.
What do I do next?
Enter your location below to get connected with a qualified attorney today.
Additional Business Litigation articles
Attorney directory searches
Helpful links
Find top lawyers with confidence
The Super Lawyers patented selection process is peer influenced and research driven, selecting the top 5% of attorneys to the Super Lawyers lists each year. We know lawyers and make it easy to connect with them.
Find a lawyer near you