What Does Defamation Mean?
An Illinois attorney explains defamation-of-character laws and when it's appropriate to sue
By Super Lawyers staff | Reviewed by Canaan Suitt, J.D. | Last updated on May 3, 2023 Featuring practical insights from contributing attorney Peter S. Lubin
Use these links to jump to different sections:
A company's good name matters. A false or misleading statement can cause tangible financial damage to a business. While the definition of defamation varies by federal and state law, it is generally a false statement that injures a person's reputation. Libel is written defamation and slander is spoken defamation.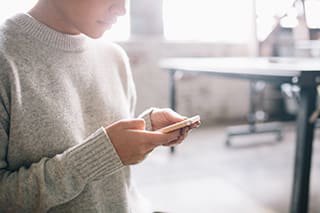 "It makes sense to file a libel claim when the business is being subjected to unrelenting and clearly false attacks that are fairly easily proven as defamation, and the business has little choice but to sue," says Peter S. Lubin, a business litigation attorney at Lubin Austermuehle in Oakbrook Terrace, Illinois. "You also need to be able to identify the assailant, as often, online, it is done anonymously."
Here, you will find an overview of defamation law and the key factors that a company should consider before filing a legal complaint.
Business Defamation: Understanding the Law
It is important to understand what defamation is and what it is not under the law. A nasty statement—even if wholly unreasonable—is not necessarily defamatory. While there are some variations from jurisdiction to jurisdiction, there are four key elements of a business defamation claim:
The defendant made a false statement that was presented as a fact.
The false statement was made available to third parties.
The defendant was negligent in making the false statement.
The business suffered actual financial harm as a consequence of the defamation.
Imagine that a customer left the following comment about a restaurant on Yelp: "I hated the food. Terrible experience." Could that type of statement constitute defamation? The answer is almost certainly no. The reason is that the negative comment, while possibly hyperbolic and completely unfair, is not a factual statement. It is an opinion. As such, it is covered by the First Amendment right to free speech, as the U.S. Supreme Court reasoned in the landmark case New York Times Co. v. Sullivan.
"A common misconception is that using blanket epitaphs such as 'You are a thief,' or 'You are a crook' gives rise to libel claims in most states," says Lubin. "In most states, such as Illinois, these statements—while extremely derogatory and hurtful—are opinions [protected by freedom of speech]. To make statements like this defamatory, they need to be accompanied by objectively false statements of fact—such as, 'You are a thief because you broke into my house and took my property.'"
When to Sue for Defamation
A company that has suffered losses as a consequence of a negligent, defamatory statement may file a defamation lawsuit to seek financial compensation for its damages. Whether or not it makes sense to file a claim depends on several factors. Among other things, businesses should consider:
Ability to Resolve the Matter Without a Defamation Suit: In some cases, the issue of defamation can be effectively resolved at a lower level. Through a professionally drafted demand letter, you may be able to get a defendant to delete, withdraw, or retract a false claim.
The Likelihood of Liability and Value: No company wants to get locked into an expensive, protracted dispute over defamatory statements that are ultimately not that meaningful. There may be times when filing a lawsuit offers little real benefit. A cost-benefit analysis is important. Consider that likelihood of liability and the value of the claim.
Reputational Effects of Litigation: Finally, it is always useful to consider the reputational effects of litigation. Primarily, defamation damages a business by undermining its good name and harming its reputation. An aggressive approach can sometimes cause additional harm—sometimes through the act of bringing more attention to the defamatory statement.
"The big risk in pursuing any libel claim is that you end up republishing the libel and giving it more publicity," says Lubin. "This is called the Barbara Streisand effect, for when she complained about photos of her home. The result was an explosion of photos of her home appearing all over the internet.
"The other risk is that the plaintiff puts their own reputation on trial, and can be subject to further attacks and investigation of their character and good name."
Business defamation matters should always be handled on a case-by-case basis. There is no one-size-fits-all approach for companies dealing with libel or slander. If you have any specific questions about your claim or the process of pursuing a defamation action, a business litigation attorney or law firm with experience handling defamation claims can help provide legal advice. For more information on that area of law, see our business litigation overview.
What do I do next?
Enter your location below to get connected with a qualified attorney today.
Additional Business Litigation articles
Attorney directory searches
Helpful links
Find top lawyers with confidence
The Super Lawyers patented selection process is peer influenced and research driven, selecting the top 5% of attorneys to the Super Lawyers lists each year. We know lawyers and make it easy to connect with them.
Find a lawyer near you