A Few Taxing Questions on Starting a Nonprofit in Georgia
What you need to know on a legal front
By Lauren Peck | Last updated on September 2, 2022
When clients wishing to start a nonprofit come to Jack Sawyer's office at Taylor English Duma in Atlanta, he first talks nomenclature. "There is some confusion in the public mind about the term nonprofit," he says. "It's really a state law concept."
Under Georgia law, a nonprofit is an organization set up for a purpose other than enriching shareholders. But most nonprofits are not automatically tax-exempt. That's a federal designation—such as a 501(c)(3)—and involves a different process.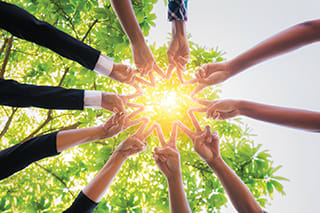 "Some of the requirements for tax-exempt status are things you should have filed at the state level but the state doesn't require you to do it," says David A. Wilson, who practices nonprofit law at The Wilson Firm in Douglasville. "You'll file at the state, go to the IRS, and they'll send you back to the state. That costs you time and money. … If you don't know both sides, you're going to get bounced back and forth like a Ping-Pong ball."
Even after opting to incorporate under, say, a 501(c)(3) designation, a new organization faces additional questions. Should you form it as a public charity, such as Habitat for Humanity, with outside donors supporting initiatives? Or do you go with a private foundation, with a single individual or business as the benefactor, as with The Coca-Cola Foundation?
Once your nonprofit is established, Sawyer—who has worked with everything from museums and hospitals to arts organizations—notes that there are "care and feeding aspects" to attend to. "Though a charitable organization is exempt from income tax, it's not exempt from filing tax returns," he says. "The IRS a few years back decided to start automatically revoking an organization's tax-exempt status if it failed to file tax returns."
In the same vein, Georgia requires nonprofits to file an annual registration form with the Secretary of State. "If you fail to do that for a number of years, in many cases, the state would revoke your status as an active corporation," Sawyer says.
Wilson works with founders, many of whom come from the corporate world, to help them understand the nonprofit nuances. "I'm really talking to them about their relationship with the organization," he says. "There [can be] a sense of entitlement or ownership within their organization."
Being a founder at a nonprofit doesn't guarantee a lifelong leadership role. "There are things that can affect the donors and the health of the organization," Wilson says, "and you can be removed or you can lose your tax-exempt status by not acting properly."
Lance Armstrong, for example, was pushed out of his namesake cancer foundation in 2012 after his doping scandal went public. Rebranded The Livestrong Foundation, the organization distanced itself from Armstrong.
Wilson has also seen this problem among small churches when operations become too entwined with a particular pastor. "There are some things that can go sideways inside of churches because they're more reliant on individuals as opposed to pure philanthropic or charitable deeds," he says.
A lot of potential issues arise, Sawyer adds, when a nonprofit wants to expand, restructure, collaborate or merge with another organization. Growth can mean revenue streams unrelated to the organization's charitable purpose. Wilson cites the hypothetical example of a downtown Atlanta hospital that rents out its parking lot—a revenue source that doesn't fall under the hospital's tax-exempt purpose. "That additional revenue has to be bifurcated or set aside and analyzed and taxed separately," he says.
Wilson recently worked with a church that was considering adding a daycare. "They wanted to know: How do we structure that? How it's going to be taxed? … They are other legal liability considerations," he says. "There is a lot to consider as a nonprofit begins to grow."
If you have questions or concerns about this area, seek out a Georgia attorney experienced in nonprofit organizations. And for general information on articles of incorporation, federal tax exemptions and state tax exemptions, nonprofit corporations, fundraising, and filing fees, see our overview on business organizations law.
What do I do next?
Enter your location below to get connected with a qualified attorney today.
Related topics
Attorney directory searches
Helpful links
Find top lawyers with confidence
The Super Lawyers patented selection process is peer influenced and research driven, selecting the top 5% of attorneys to the Super Lawyers lists each year. We know lawyers and make it easy to connect with them.
Find a lawyer near you