Can a Bank Work with a Cannabis Business Legally?
How to comply federally under the Bank Secrecy Act and Anti-Money Laundering regulations
on October 28, 2019
Updated on January 12, 2023
In recent years, many states have legalized the recreational use and/or medicinal use of marijuana and other cannabis products. In fact, the National Conference of State Legislatures (NCSL) reports that recreational marijuana legalization has been approved in eleven states—with medical marijuana use being permitted in nearly two dozen more U.S. jurisdictions.
In order to fill this new demand, a wide array of cannabis businesses have popped up all around the country. However, marijuana use remains prohibited at the federal level. One of the many consequences of this is that, under current federal law, banks face certain risks when working with legal marijuana industry companies.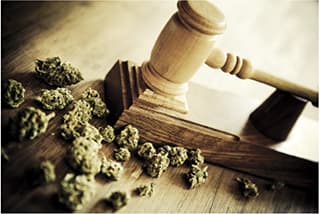 "Right now, banks are in a difficult position," says Whitt Steineker, of Bradley Arant Boult Cummings in Birmingham. "It is likely to be a violation of the money laundering statutes for a financial institution in the United States to accept the proceeds of the growth or sale of marijuana. If we were talking about hemp, for example, then, under certain circumstances, it would not be unlawful … and wouldn't implicate money laundering issues."
Cannabis Banking is Complicated—Many Banks Avoid It Altogether
Due to the fact that marijuana is still banned by the federal government, banking in the cannabis industry is highly complicated. Banks that work with marijuana-related businesses must be sure to comply with federal regulations, including the Bank Secrecy Act and anti-money laundering regulations. However, it is not always easy to know how to do so in the banking system. Indeed, the current position of the America Bankers Association is that any funds that can be traced back to marijuana businesses—even in states where those businesses are legally permitted at the local level— could be considered money laundering. As such, a bank could be exposed to substantial financial or legal risk.
In other words, marijuana and banking services currently sits in a fuzzy, gray area. Many banks simply opt-out of offering services to cannabis businesses. That being said, there are plenty of exceptions—the most recent data published by the Treasury Department's Financial Crimes Enforcement Network (FinCEN) showed that 375 banks and 111 credit unions allow marijuana industry accounts. Still, this means that less than 10 percent of U.S. banks offer services to legal cannabis businesses.
"There certainly are banks and credit unions in the United States that are accepting deposits from marijuana companies—we know that, anecdotally," Steineker says. "As far as I can tell, those financial institutions have just made a judgment call, that the benefits of providing those services and the revenue they generate from those services outweigh the risks that federal law will be enforced. The reality is that you don't hear many stories about banks being prosecuted for money laundering in states where it's legal—under state law—to grow or sell marijuana for some purpose."
Proposed Reforms: The House of Representatives Passed a Bill
How do banks that offer services to marijuana industry businesses comply with anti-money laundering regulations? It is simply not clear. Until federal law is reformed, banks must accept some level of risk when operating in this sector.
That being said, there is real movement to make banking easier for cannabis companies. On September 25th, 2019, the House of Representatives passed a bill by a vote of 321-103 that would give banks a clear green light to offer services to marijuana businesses in states where the industry has been legalized. Of course, the legislative process can be slow. Although the bill passed with significant bipartisan support in the house, it still has to get through Senate.
"I will say that it's passage in the Senate seems more likely than it did six months ago, or a year ago, and that would really fundamentally change this whole system," Steineker says. "Bu that's not the law yet, and even if it passes, there's probably some dead period where they would wait on the Treasury Department to issue guidance."
If you have any specific questions about banking regulations and cannabis, contact an experienced banking law attorney for immediate assistance.
For more information on this area of law, see our overview of cannabis law.