Don't Go Up in Smoke When You Enter Cannabis
Getting into the Illinois industry might not be as easy as you think
on February 9, 2020
Updated on January 12, 2023
The Illinois Cannabis Regulation and Tax Act, legalizing adult-use of recreational marijuana statewide, went into effect January 1, but cannabis attorney Bryna Dahlin has a word of caution for those considering opening a cannabis business: "Be prepared to expect the unexpected."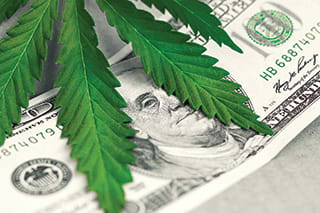 "This is an industry that is changing fast, day by day, week by week," says Dahlin, a partner at Chicago's Benesch Law. "So if you are someone that is more comfortable with certainties and with issues being black and white, then you might not have the fortitude for this space. There are a lot of challenges with operating a cannabis business."
Cost of Legal Cannabis Business
Expect to spend, too. The upfront costs just to hire all the professionals you'll need to sell cannabis products, from an architect to design a space that meets local building requirements to a security consultant to keep cash-carrying customers safe, can be exorbitant. Growers of cannabis plants, in particular, face steep financial outlays to get their facilities up and running. "It's not just some guy growing some plants under a grow light," says Andrew Scott, an attorney with the Dykema firm in Chicago. "These are very, very sophisticated facilities that require a lot of capital."
Because marijuana is still illegal on the federal level, traditional bankers and equity sources are often wary of granting loans and investing. Some landlords, too, refuse to rent storefronts to cannabis business owners. Distance and zoning restrictions can make things even more difficult by prohibiting cannabis dispensaries from locating within 1,500 feet of each other or near a school.
Most Illinois cities are embracing the new law—but not all. Says Scott: "When it comes to recreational [use], some municipalities such as Naperville and unincorporated DuPage County have said no."
Cannabis Companies Should Plan Ahead
Given all that, careful planning is a must. "It's sort of like deciding to get into the casino business. There's a lot of money to be made here, and there are a lot of sophisticated companies that are already in the space," Scott says. Would-be cannabis entrepreneurs he says, "should talk to somebody early on to get an idea of what they're going to confront, because it is a very expensive process to try to get your license."
Hiring the right experts is crucial. "Cannabis businesses have a lot of the same issues that every other business has, Dahlin, says. "But because there is this challenging overlay with cannabis being so state-by-state regulated with the federal challenges, I do think it's important to find out if [the attorney] really does have experience in this industry or the resources or access to whatever additional information they may need so that they can effectively represent you."
Dahlin gives the example of trademarks. "I've had clients come to me that had trademark attorneys attempt to obtain various trademarks for their businesses, but because they don't have an understanding of the cannabis space as it particularly relates to trademarks, they're filing these applications incorrectly and it's a waste of time," she says. "That's one I've seen over and over."
Given the booming nature of the cannabis industry, says Dahlin, newcomers may be tempted to jump in headfirst without a solid grasp of what lies ahead. "There's probably a misconception right now around the fact that, because the demand is so high for these products, because legalization is moving fast and furious across the states, people think that it's just an invitation to print money if you get one of these licenses to operate a cannabis business. The reality is that it is an incredible amount of work. There is a lot of red tape. There are a lot of regulatory hurdles. The tax implications can be very severe. And you can have challenges."
For more information on marijuana law, see our overview of cannabis law.
---
Did You Know?
CBD stores fall under a different regulatory framework. Cannabidiol comes from hemp, not marijuana, and is not illegal under federal law, which means there are fewer entrepreneurial obstacles.