What are the Rules for Student Protests and Walkouts?
How New York youths can exercise their First Amendment rights
By Amy White | Last updated on August 2, 2022
Use these links to jump to different sections: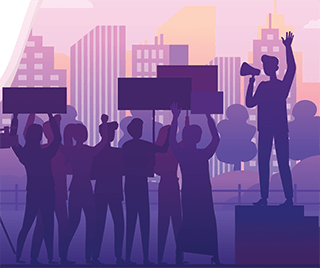 On March 14, 2018, at 10 a.m. local time, an estimated 1 million students from more than 3,000 schools across the country set down their books and walked out the doors. Some gathered with classmates on school grounds and observed 17 minutes of silence—one for every life taken in the Feb. 14 school shooting at Marjory Stoneman Douglas High School in Parkland, Florida. Others marched toward state capitols. 
Less than two weeks later, on March 24, the student-led demonstration March for Our Lives rallied for tighter gun control across the nation; it was one of the largest protests in American history. And on April 20, the 19th anniversary of the Columbine shooting, students from approximately 2,500 schools walked out of class.
"Change is coming from our youth," says Wylie Stecklow, a civil rights attorney who has worked on behalf of Occupy Wall Street protesters and, in 2012, advised college students as part of the Free Cooper Union movement, which protested tuition. "From Occupy Wall Street to Black Lives Matter to the movement to end gun violence, student protest is becoming a stronger part of the protest movement."
But can they get in trouble for leaving class? 
Students' Rights to Freedom of Speech
Stecklow cites Tinker v. Des Moines, a 1969 Supreme Court case that held that students don't forfeit their constitutional rights when they step onto school property—but that doesn't mean they shouldn't carefully examine their options when considering a protest like a student walkout. 
"If students are going to protest and walk out, they should avoid trespass laws by ensuring they're off school grounds," Stecklow says. "Get off the lawn, out of the parking lot and get to the sidewalk."
The school's sidewalks are fair game, he adds, thanks to Grayned v. City of Rockford, which was argued in 1972. "It ruled that First Amendment protection extended to loud marches on sidewalks around a school, by students and parents, so long as it doesn't involve behavior that 'materially disrupts classwork or involves substantial disorder or invasion of the rights of others.'"
Randolph McLaughlin, who, in the 1980s, handled cases for protesting university students at CUNY and Columbia, agrees that a student's best bet is to take the action off campus.
"If a student is protesting or demonstrating off school grounds, a school has no grounds for punishment," he says. "If the kid is peacefully protesting or even getting arrested off grounds, school officials have zero jurisdiction."
But in the age of Twitter and Instagram, schools can be privy to what their students do off grounds as well, and administrators might not always be pleased. So what about subtle punishments in school for off-ground behavior?
"That'd be a tough case to prove," McLaughlin says. "If the school in some fashion punishes a child for engaging in protected speech outside of the school, that's a First Amendment violation. But you'd have to show intent, which could be hard. I think I'd take that case, though."
Adds Stecklow, "Students have the right to be treated in their school the same as others without regard to the basis of your speech. Which means if you walk out of school to protest, the penalty should not be greater than missing school for any other unexcused reason."
Schools and education lawyer William Kang, of Keane & Beane in White Plains, agrees. "A school cannot punish a student more harshly for cutting class for a political protest than if the student had cut class for another reason," he says. 
Know Your Rights in the Schoolhouse
Inside the building, however, a school's student code of conduct is the rule. "High school students have less rights in the building than college students would on campus," McLaughlin says. "Say administrators thought a student might be organizing an in-school protest. They could enforce a locker search for any materials, for example."
McLaughlin is buoyed by what he sees from students engaging in recent protests. "Don't we want our young people to engage in civil disobedience or First Amendment activities? These kids who can't vote—how else can they express their views?" he says. "And what we're seeing here is schools and administrations encouraging the behavior." 
He cites schools like MIT, Harvard, Yale and Columbia that make up a group of nearly 200 higher education institutions identifying themselves as #NeverAgain colleges, which pledge not to penalize applicants who face disciplinary action as a result of engaging in a peaceful protest. 
"Times are changing," he says. 
For more information on this area of law, see our civil rights overview.
What do I do next?
Enter your location below to get connected with a qualified attorney today.
Additional Civil Rights articles
Attorney directory searches
Find top lawyers with confidence
The Super Lawyers patented selection process is peer influenced and research driven, selecting the top 5% of attorneys to the Super Lawyers lists each year. We know lawyers and make it easy to connect with them.
Find a lawyer near you