What Constitutes Police Misconduct?
When can you file suit against law enforcement in North Carolina
By S.M. Oliva | Last updated on January 12, 2023
Use these links to jump to different sections:
Misconduct versus Qualified Immunity
There are two critical—and often seemingly contradictory—legal principles involved with respect to police misconduct. The first is a federal statute, known as Section 1983, which states that any person acting under the "color of" law may be held liable for violating the "rights, privileges, or immunities secured by the Constitution" of any other person. Typically, victims rely on Section 1983 to bring police misconduct claims in court.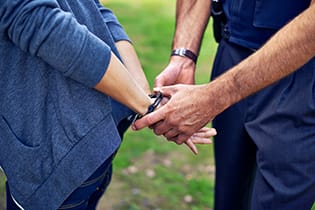 However, judges will dismiss such lawsuits if they find law enforcement officers enjoyed "qualified immunity." This is the second legal principle involved in the majority of police misconduct cases. Qualified immunity basically means a government official or employee cannot be sued in their personal capacity unless they violated a "clearly established" legal or constitutional right. The idea behind qualified immunity is that judges or juries should not second-guess the discretionary actions of government officials unless it involves conduct that any "reasonable person" would find unconstitutional or illegal. "Immunity can be very confusing to
lawyers
, let alone laypeople," says S. Luke Largess, an employment and civil rights attorney at Tin Fulton Walker & Owen in Charlotte. "It's a quagmire intellectually and analytically. It's hard to keep it simple." A big reason for this is that different principles are at play depending on which court system you're in, and that dictates what party and capacity you can sue. "In the state system, you can't sue a police officer for being negligent unless the town or city has waived it," Largess says. But you may be able to sue the employing municipality. "In both federal and state court, you sue the officer by their capacity, so you can sue them as an official of an employer, but you can also sue them as an individual for conduct that is more than negligent. So in a false arrest case, if he acts with malice or acts corrupt or exceeds the scope of his lawful authority, then you can sue them as a private citizen." Under federal law and in the federal system, Largess continues, "You can only sue the employer if the conduct is pursuant to some policy of the town. That could come up, for example, if a town insists on using tasers they know are defective, an officer uses it and injures someone." The best way around qualified immunity, Largess says, is if you can show that an officer has been trained and had knowledge of the law, so they knew that their actions were unlawful.
4 Common Categories of Police Misconduct
What this means in practice is that victims of police misconduct need to build the strongest possible case before filing a lawsuit. Here are some of the more common examples of police misconduct and how they are dealt with by the courts:
False arrest – It is not necessarily police misconduct when you are arrested for a crime that you did not commit, or for which you were later found "not guilty" at trial. But if you can prove the police lacked probable cause to suspect you in the first place—and the police simply targeted you out of malice—then you may have a claim for false arrest.
Excessive force – Because of qualified immunity, police officers tend to have broad discretion when deciding when and how much force to apply when arresting a suspect. Yet there are cases where the amount of force used is excessive by any reasonable standard. Excessive force claims often arise when the victim is seriously injured or killed as the result of police actions.
Harassment – When police officers engage in a pattern of harassing or threatening conduct towards an innocent person, that may qualify as a civil rights violation. Keep in mind, however, that there needs to be a pattern. An isolated incident is generally not enough to prove harassment.
Brutality – Again, police have broad discretion to interrogate people suspected of criminal acts. What the police may not do, however, is beat, threaten, or coerce a confession out of someone. Law enforcement must follow certain procedures when dealing with any individual in their custody. Failure to follow these procedures may help make the case for police misconduct in court.
The most challenging aspect of these cases is the fact each lawsuit needs to be evaluated on its own merits. The line between "aggressive" policing and misconduct is often difficult to distinguish. That is why it is important to contact a law firm and seek legal advice from
a qualified North Carolina civil rights attorney
before rushing to bring a police misconduct lawsuit. For more information on this area of law, see our
civil rights overview
.
What do I do next?
Enter your location below to get connected with a qualified attorney today.
Attorney directory searches
Helpful links
Find top lawyers with confidence
The Super Lawyers patented selection process is peer influenced and research driven, selecting the top 5% of attorneys to the Super Lawyers lists each year. We know lawyers and make it easy to connect with them.
Find a lawyer near you