Protesting is a Right, But What's Legal and What's Not?
Civil rights attorneys' legal advice on this foundational American exercise
By Nancy Henderson | Last updated on August 4, 2022
Use these links to jump to different sections:
Long before May 25, 2020, when a Minneapolis law enforcement officer knelt on George Floyd's neck for nearly nine minutes, resulting in his death, civil rights attorneys like Mari Newman had been representing families of suspects killed by police and pushing legislatures to hold officers accountable. But it took the ensuing global protests against police brutality to prod Colorado lawmakers to pass a sweeping criminal justice reform package that, among other things, requires officers to intervene when a colleague uses unnecessary physical force, eliminates "qualified immunity" as a defense for unlawful actions, and prohibits chokeholds. Colorado Gov. Jared Polis signed the landmark bill one month after Floyd's death.
"It's just a really potent example, for me, of how protest influences lawmakers," says Newman, of Killmer, Lane & Newman. "We were able to work with people across the aisle and push through this very expansive bill because the lawmakers were listening to protesters outside the [state] Capitol every day."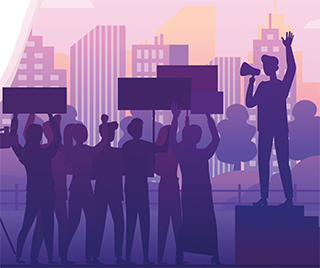 Protesting is nothing new. The country was built on it, dating back to the 1773 Boston Tea Party, when colonists dumped 342 chests of tea into the Boston Harbor. Since then, protests have played a major role in shifting both policy and public opinion about women's suffrage, abortion, the Vietnam War, civil rights, LGBTQ issues, elections, climate change, economic inequality, the Tea Party and, more recently, the #MeToo and Black Lives Matter movements.
"It used to be that we'd have these discussions in the public square and you'd get up on your soapbox, literally, and start talking about what was wrong. This is really the same thing, but in a little different twist, where citizens are trying to do it together," says Rod Chapel, a Missouri trial lawyer and the state's NAACP president, who has represented hundreds of protesters, including the Medicaid 23, a group of religious leaders arrested after they sang hymns and prayed in the state Senate gallery in 2014 to demand equitable health care. (All were convicted of misdemeanor trespassing charges, but former Gov. Jay Nixon pardoned 16 of them.)
Jasmine Rand is a civil rights litigator in Miami who represents the families of Trayvon Martin, the 17-year-old Black high school student fatally shot by a neighborhood watch coordinator in 2012, and Michael Brown, the 18-year-old Black man killed by a Ferguson, Missouri, police officer in 2014. She also serves as a national strategist for the George Floyd legal team. 
"Protesting is a very American ideal. It's visionary, and it's necessary, because protesting often leads to the progress of a nation," Rand says. "Protest is often that unheard voice of the masses, fighting for change."
But when it comes to shouting your truths in the street, or merely hoisting a sign in silence to show your support for a cause, what are you actually allowed to do? What might get you in legal hot water?
Know Your Rights: The What and Where
Remember that protests take many forms, from candlelight vigils to rallies and marches. Then there's civil disobedience, which intentionally breaks a lesser law to highlight a graver injustice. Think Rosa Parks refusing to move when a white man demanded her bus seat in Montgomery, Alabama in 1955.
Wylie Stecklow, a civil rights litigator in New York City, defended more than 100 Occupy Wall Street protesters and now represents 30 people arrested in a Bronx demonstration against police violence and systemic racism in June 2020. As a recent example of civil disobedience, he cites the protesters who in 2017 unfurled a white banner in U.S. Bank Stadium in Minneapolis during a Vikings game to speak against the Dakota Access oil pipeline. "The act of climbing and dropping that banner is unlawful," Stecklow says. "It is clearly a trespass, at a bare minimum."
In general, you're allowed to demonstrate in public spaces—a sidewalk, park, or the grounds of a government building—as long as you don't block traffic or access to buildings or streets. In some cities' public places, you'll need a permit to amplify sound with a megaphone or microphone.
Protesting on private property is another matter. For that, you must get the property owner's consent. As for public sidewalks and public streets, which are public forums, you cannot interrupt or obstruct normal pedestrian traffic and you may be asked to keep moving.
Check local ordinances to see where and what types of protests are allowed. Consider consulting with an attorney beforehand to learn more about your legal rights. And depending on the relationship between law enforcement and the community, you might want to schedule a meeting with representatives from the local police department to pinpoint the parameters and defuse tensions.
Stecklow recently reached out to a local community affairs officer on behalf of protestors seeking permission to tether an oversized balloon float at an event. "I got word back later that day that, 'Everything's fine. No problems,'" he says. "That, to me, was a success story about how you can sometimes work with the police ahead of time."
Free Speech Rights: The Who and When
There are other ways to safeguard yourself while exercising your First Amendment rights, attorneys say. Find out who else is going to be there. Are you joining a known group, like the NAACP, or a scattershot assembly of people with varying motives? Be prepared to report police misconduct, such as violence or destruction of property, and record the event with your cellphone camera. Stecklow recommends memorizing the number of a lawyer or National Lawyers Guild representative, or write it on your arm in indelible ink. 
Consider assembling during the day, before dusk. "People who are not associated with the protest itself, who just want to cause trouble—many times those people come out at night," says Chapel. "In St. Louis during the Ferguson uprising, there were lots of armed people who did not live in the area who were counter-protesters. They would come out there in their bulletproof gear and with automatic rifles."
Guns have become a regular sight at protests over COVID safety regulations, election results, and more. As a result, Chapel says, their message was not well-received.
"While there is certainly a Second Amendment right to bear arms, and in some states open carry is allowed, there's got to be some thought as to how we want to communicate that message, and do that in a way that's most effective," he adds. "We want to make sure everybody makes it home safely, but that we get our message across."
If you're the one organizing the protest, reach out to the National Lawyers Guild, which may be able to dispatch legal observers to stand watch. "The way in which a protest transpires is really incumbent on the leaders," says Rand. "It's important to have a core group of leaders that have training, that know how to protest within the confines of the law and that make it known that it is a peaceful protest and discourages violence." 
Some recent protests, however, have risen "organically," says Rand, which makes them harder to control if things get out of hand. 
So what happens if matters do escalate? And what constitutes crossing the line? 
Criminal Activity: If Things Get Heated
While it may be legal to publicly criticize government officials and members of law enforcement, even in the heat of the moment—"criticism of the government and of police officers is not just allowable, but is really fundamental to what it means to be American," Newman says—you can't, under any circumstances, assault someone. 
"You can't do anything in a protest that you cannot otherwise do in society," says Rand. "You can't scream at somebody. You can't get in their face in a very physically aggressive way." Speech like this may be construed as a form of assault—that is, physically threatening or putting someone in imminent fear.
If you ignore such rules, be prepared for the consequences. "You need to think about what an arrest record is going to mean for the rest of your life," Rand adds. "If you're charged with a felony, in some places that can interfere with your right to vote, your access to employment, to education."
If you are charged with a crime, you may have to do community service or spend a night in jail, pending arraignment. Free legal representation may be available through the American Civil Liberties Union (ACLU) or NAACP, or a private attorney who takes your case pro bono. Or you may need to hire a good civil rights attorney to try to get the charges dropped, record expunged, or monetary damages and injunctive relief for the violation of your rights. Look for one with a proven track record of litigating First Amendment cases. 
"Somebody who has not been doing this kind of work but is passing around their business card at a protest is somebody to be wary of," says Newman.
Keep in mind that you can also be fired from your job for joining a protest, especially if you miss work or get arrested. But if you're simply engaging in a lawful, off-duty demonstration, your employer would not be justified in termination, Newman says. 
And if you think your right to protest has been violated—by a city refusing to issue a permit or a police officer using excessive force—again, you'll want to talk to an attorney.
The Protest Generation
Misconceptions about protests—for example, that they always lead to rioting, looting or property destruction—are rampant, the attorneys agree. And often, Newman says, the participants who are causing trouble are not part of the actual protest.
"This misconception that Black Lives Matter protesters, or protesters against police brutality, are engaging in violence is not just false, but it's actually the opposite of the truth," Newman says. "And I think it's being used to perpetuate racist stereotypes that benefit those in power."
Still, says Rand, "The biggest misconception about protesting is that it's un-American. Protesting is really a fundamental part of what it means to be American."
Many civil rights lawyers believe the current uptick in protesting will be around for a while.
"The issues will change; the groups of people who are taking to the streets and the sidewalks will change; but the right to protest in this country should never end, because once it ends, so ends our republic as a democratic, free society," Stecklow says.
Rand puts it this way: "Recent protests have really galvanized a generation of young people to understand their right to protest what's happening in our nation to try to create critical social change. And the advent of social media has lent itself to further protest in a way that spreads faster across the country and throughout the world than we've ever seen before.
"I think we've raised a generation of people that are comfortable and adept at protesting, so I think that we will increasingly have more protests," she adds. "For people who don't understand protesting, it's something that can be confusing. I do believe that even though we're in the middle of a time that seems uncertain and a little scary and intimidating, we're on the brink of incredible progress."
What do I do next?
Enter your location below to get connected with a qualified attorney today.
State Civil Rights articles
Related topics
Award-winning journalism
2022
First Place Award in the social issues writing category of the National Federation of Press Women's at-large member contest.
Honorable Mention in the social issues writing category of the National Federation of Press Women's National Communications Contest.
View more award-winning journalism
Attorney directory searches
Helpful links
Find top lawyers with confidence
The Super Lawyers patented selection process is peer influenced and research driven, selecting the top 5% of attorneys to the Super Lawyers lists each year. We know lawyers and make it easy to connect with them.
Find a lawyer near you