Can Students Walk Out Without Punishment?
What is and isn't protected speech in Texas public schools
By Andrew Brandt | Last updated on January 12, 2023
Use these links to jump to different sections: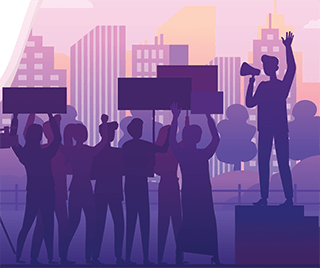 In both a social media post and a letter sent out to school families, he wrote, "Please be advised that the Needville ISD will not allow a student demonstration during school hours for any type of protest or awareness!!" Rhodes further noted that students who chose to protest would be suspended from school for three days.
Polarized reactions resulted, but Rhodes' stance brought up a bigger question: Does a school district have the right to silence its students' political speech?
Tinker v. Des Moines
Student rights as we know them stem from a Supreme Court case called Tinker v. Des Moines Independent Community School District. In 1965, Mary Beth Tinker was part of a group of junior high school students that wore black armbands to school in protest of the Vietnam War—even though the school board had already banned them from doing so. Along with four other students, Tinker was suspended; though they refused to return to school until the armbands were allowed, they eventually came back in all-black clothing instead.
Four years later, in 1969, the Supreme Court sided with Tinker, ruling that public school students don't "shed their constitutional rights to freedom of speech or expression at the schoolhouse gate."
Preserving Their Mission
Thanks to
Tinker
, students have the right to speak on political matters in a school setting without schools regulating the content of that speech. "But," says
Kelly Sandill
, a civil litigator at Andrews Kurth Kenyon in Houston, "what schools can always do is preserve their mission, which is to educate students." In order to protect a disruption of a school's mission, schools have the right to place reasonable restrictions on speech related to its time, place and manner. For example, if a student wanted to hand out leaflets on a political issue on a school's grounds, the school may decide he or she can do it between 7:45 a.m. and 8:15 a.m., while students are gathering before the first bell. But what if the political speech is more intense than handing out leaflets? What if students want to walkout over a political issue? "A walkout is certainly disruptive," says
Jeff Nobles
, an appellate attorney at Smith Haley Nobles in Houston who represents newspapers on First Amendment issues. "I don't think a district is legally required to [allow one]." "A walkout isn't really protected speech," agrees Sandill. "It's so inherently disruptive that you don't necessarily have the right to it." In fact, school districts in Texas often make their own codes of conduct, and will regularly mark sit-ins and walkouts as the kinds of disruptive activities that warrant disciplinary action. Nobles further argues that if a district allows its students to walkout without consequences, they may be setting a precedent wherein they need to allow future walkouts for other political issues. This slippery-slope argument makes it difficult for districts to ever approve walkouts.
Facing the Consequences
If a suspension is handed out for a walkout, parents are always notified, and the students will have an opportunity to meet with the school to explain their reasoning. The suspension must also be reasonable; "Not just any punishment is constitutional," says Nobles. The law states the maximum length a suspension can be is three days, and Sandill notes that most districts start with the shortest possible sentencing first, which is usually half a day in length.
Coming to a Compromise
However, both Nobles and Sandill agree there is room for compromise between students and a district—especially if the political issue at hand is a high-profile, national affair. "Just because the code of conduct says you can suspend a student for a walkout, doesn't mean you have to," says Sandill. "A district could decide that a protest has its own independent educational value such that a school administrator could work with the students to help figure out how those opportunities can be pursued in a way that is not going to be overly disruptive to the school." "The First Amendment is such a strong right that, as an advocate, I hardly ever agree that there should be limits to its expression," adds Nobles. "In the real world, I think a sensitive school district may want to make a compromise." If you're a Texas public school student who is planning a walkout, thinking about joining one or been recently suspended for participating in one, it may be in your favor to sit down with a
civil rights attorney
who can work with you and your school district to make a compromise. For more information on free speech and first amendment rights (free speech rights, freedom of expression), and student expression (students' free speech rights), see our
civil rights overview
.
What do I do next?
Enter your location below to get connected with a qualified attorney today.
Additional Civil Rights articles
Attorney directory searches
Helpful links
Find top lawyers with confidence
The Super Lawyers patented selection process is peer influenced and research driven, selecting the top 5% of attorneys to the Super Lawyers lists each year. We know lawyers and make it easy to connect with them.
Find a lawyer near you