What Speech Isn't Protected?
Fighting words, inciting violence and hate speech
By Trevor Kupfer | Last updated on January 12, 2023
Use these links to jump to different sections: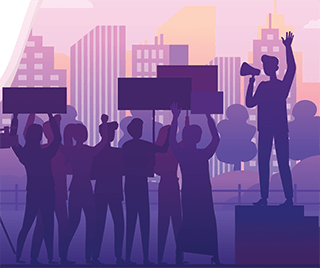 With the recent rise of protests, marches and rallies also come increased questions about the First Amendment. The line between what is and isn't protected speech is anything but clear. "It's a complicated area of the law, and people shouldn't make too many assumptions," says Lisa B. Shelkrot, a criminal defense attorney at Langrock Sperry & Wool in Burlington who has handled several civil rights cases. "It can be very fact-specific and very dependent on intricacies. So if you have concerns, get in touch with a lawyer—if possible, as early as you can so you can determine where you stand."
Don't Tread on My First Amendment Rights
One of the biggest misconceptions is that freedom of speech is absolute, Shelkrot says. "The First Amendment and similar state provisions prevent the government from restricting your expression. Private restrictions are not constitutionally protected, so when people say, 'It's a free country, I can say what I want,' it doesn't apply to your school, your employer, or your landlord, for example." Even when your message has First Amendment protection, the time, place and manner in which you deliver it may not. "You can hold up a banner criticizing the government, but you can't necessarily do it in the middle of Main Street during rush hour," Shelkrot notes. Blocking traffic or screaming in a megaphone in the middle of the night will likely get you ticketed—at the very least. And while some may consider shopping malls modern-day public squares, such private real estate developments might ask police to escort you out.
Them's Fightin' Words
There are other free speech restrictions that try to address issues of physical harm. "Words can really hurt people," says Shannah Kurland, a civil rights attorney in Providence. "Sticks and stones may break your bones, but words can also hurt us. So it's not as simple as 'free speech means you can say whatever you want.'" Kurland, who primarily handles police misconduct and criminal defense cases, cites the 1942 case of
Chaplinsky v. New Hampshire
, which helped establish a common exception to the First Amendment after a verbal attack of a town marshal. A more modern example is
State v. McKenna
, where police took three youths into custody for throwing rocks, and the sister of one of the offenders used profanity toward the officers. "One of the things she said was that she was going to 'blow their fucking heads off,'" Kurland says. "They arrested her and charged her with disorderly conduct, but Rhode Island Supreme Court said it wasn't fighting words because it wasn't a specific threat to an individual—it was a generic statement to all of them." These kinds of grey areas are the defining characteristic of unprotected speech. Kurland thinks of white nationalist marches and protests like in Charlottesville, Virginia. "Taking off my lawyer hat and speaking as a person who's part of a social justice movement, I don't want Nazis saying ugly, racist things in my community. So, as an individual, I would challenge that," she says. Such events often result in arrests for disorderly conduct, and the question later becomes: Did the message from one or multiple sides invoke violence? Kurland once had to pose the question to herself, when she was arrested for citing case law as police illegally ordered homeless residents to move. "I was arrested for blocking a 16-foot wide sidewalk," Kurland says with a laugh, "and it included the section of disorderly conduct that involved fighting words—as if paraphrasing a Supreme Court opinion could be considered that." A judge ultimately issued a not-guilty filing in Kurland's case. If you're ever in that position, it can't hurt to reach out to
a civil rights attorney
to review your case. As with most grey areas of the law, it all depends on the facts involved. "What was the level of aggression? Was there a specific threat? Was there any physical activity? Assault doesn't necessarily mean physical contact; you're putting them in imminent fear if you come at them in some form, along with your words," Kurland says.
The Content of Your Speech
The grey area largely depends on how the speech is interpreted, but "a good rule of thumb is that the closer something is to political speech, the greater the protections," Shelkrot says. "There are categories that are generally unprotected: speech that is overtly physically threatening, extortion, fraud—crimes where the speech itself is the crime," Shelkrot says, citing things like slander,
defamation
and obscenity. There is likewise grey area in politics, as some political beliefs can intersect with restricted speech. "There have been, over the last few decades, a number of jurisdictions passing laws that punish crimes more severely when they are motivated by racism or other discrimination—what we call hate crime," Shelkrot says. "Interestingly, they have mostly been upheld in constitutional challenges. It's not settled law, though, and might be subject to more litigation. Viewpoint discrimination is pretty carefully scrutinized." And that scrutiny isn't showing any signs of slowing, in Kurland's opinion. "I think folks are more vigilant now. The violence and hate that's always been there is more in your face now, so the vigilance is a response to that." For more information on this area of law regarding free speech rights and freedom of expression, see our
civil rights overview
.
What do I do next?
Enter your location below to get connected with a qualified attorney today.
Attorney directory searches
Helpful links
Find top lawyers with confidence
The Super Lawyers patented selection process is peer influenced and research driven, selecting the top 5% of attorneys to the Super Lawyers lists each year. We know lawyers and make it easy to connect with them.
Find a lawyer near you