5 Common Questions About Defending a Class Action
A brief legal guide with answers from attorneys who know
By Trevor Kupfer | Last updated on January 12, 2023
Use these links to jump to different sections:
Brian L. Moffet
likens class actions to being "cases within cases."
Dwight W. Stone
agrees, saying "they're a different kind of animal." Both are consumer class action defense attorneys at Miles & Stockbridge in Baltimore, representing myriad companies and businesses and "being their guide to avoid the pitfalls and get the best resolution," Stone says. "Class actions are, of course, more dangerous to a client than individual actions," he continues. "There is a lot that companies need to do and should do when defending themselves against class actions." Here are some of the big considerations their clients have when they face a class action: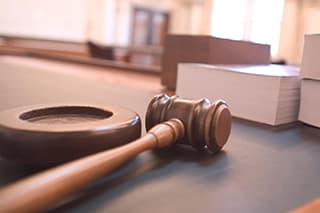 Can I Just Settle and Get Rid of the Case?
Maybe. Stone says there are cases where they will work with the opposing counsel early on to negotiate a possible settlement and avoid hefty defense costs. But depending on the case, that may not be the best way to go. "Probably the most common question we get is, 'Can I just settle with the named plaintiff and get rid of the lawsuit?'" Moffet says. "This sounds a lot easier than it sometimes is. There are a lot of considerations. For instance, depending on the merits of the claim, a company may want to settle on a class basis to bring in as many people as you can into the settlement to avoid a second class action on the same issue." Other approaches that may resolve your case early are a dispositive motion—a motion to dismiss or a motion for summary judgment—and challenging class certification. "If we look at the case and think it doesn't fit as a class action because there are way too many individual, factual issues that have to be decided for purposes of every class member's claim, in those cases we will often vigorously contest class certification because the law is on our side," Stone says. "Even if a client intends to vigorously defend, if the class then becomes certified, that's often the point that they may at least consider settlement options more seriously if a reasonable resolution is possible." "If you defeat class certification, the claim is reduced to a named plaintiff's claim and it's usually in both parties' best interest to resolve it instead of having a trial over a few thousand dollars," Moffet adds.
Should We Mediate or Litigate?
That's ultimately up to you, and depends on the best course of action given your circumstances. Mediation is how the vast majority of class actions are resolved, however. "Very few get tried in court because of the exposure it opens up to businesses," Moffet says. As to what that means and when to do it, refer to
this story
.
Is There a Silver Bullet in Class Action Lawsuits?
Depending on your case, there may be several potential "silver bullets" that may quickly end the claim against you. A common one is arbitration provisions. "If there is a binding arbitration agreement [in contracts between the parties], chances are the plaintiff won't be able to pursue a claim on a class basis," Moffet says. You'd probably still be subject to an individual action by that plaintiff, but the class action option may be gone. "Arbitration can be the first battleground in any punitive class action." "It's not always that straightforward," Stone adds, "because plaintiff's counsel have come up with several arguments to try to avoid those provisions, either by arguing that they don't precisely apply to the controversy at issue or that they're unconscionable or otherwise unenforceable under state law, so it is imperative for a defense counsel to know all of the evolving law to enforce arbitration provisions." There's another potential silver bullet that won't typically kill a class action claim, but could heavily restrict it. That is the class definition. "Most times there will be a proposed definition of the class in the complaint itself, and there is always one in the motion for class certification. This is what the plaintiff's counsel proposes to the court to certify," Stone says. "It's critical for defendants and their lawyers to scrutinize that and sometimes challenge the class definition as being either factually or legally defective. The court can sometimes certify a class with a modified definition for settlement purposes or otherwise, which can impact the size of the class, categories of people in the class, statute of limitations issues and, ultimately, the size of the settlement if the case resolves."
How Much Does Defending Class Actions Cost?
By far the biggest issue negotiated in these cases is the monetary amount, Moffet says. "That being said, there are cases where the crux of the issue isn't necessarily how much you'll pay consumers, but what you'll do to correct the alleged conduct. They may want the business to modify its practices going forward." Obviously litigation carries the most risk in terms of cost, and as such the vast majority of these cases settle if they cannot be disposed of via dispositive motion. "Very often the claim at issue could be worth several thousand dollars and, if it was an individual claim, most companies would settle for near that amount instead of paying legal fees that could dwarf that cost—even if they believe they did no wrong and the consumer claim is suspect," Moffet says. "However, in a class action, that thousand dollars gets multiplied by hundreds of class members and, as a result, a variety of different considerations come into play." It's impossible to say with any accuracy what a class action case will cost, but
an experienced attorney
can walk you through the best options given your particular circumstances.
Can This Be Resolved Confidentially?
Sort of. Under federal and state rules, the terms of class action settlements are a matter of public record. "All class action settlements have to be approved by the court, and in that process, the settlement agreements have to be put in the court file to be ruled on," Stone says. "That's not to say you put trade secrets or other confidential business information in there—you keep that out of the settlement agreement. So there are ways to address confidentiality concerns," but the settlement terms will largely be public. For more information on this area of law, see our overview of
class action and mass torts
.
What do I do next?
Enter your location below to get connected with a qualified attorney today.
Additional class action/mass torts articles
Attorney directory searches
Find top lawyers with confidence
The Super Lawyers patented selection process is peer influenced and research driven, selecting the top 5% of attorneys to the Super Lawyers lists each year. We know lawyers and make it easy to connect with them.
Find a lawyer near you