Should You Join a Class Action in Texas?
Houston attorney Kevin Parker explains how they work
By Beth Taylor | Last updated on January 12, 2023
Use these links to jump to different sections:
What Is a Class Action?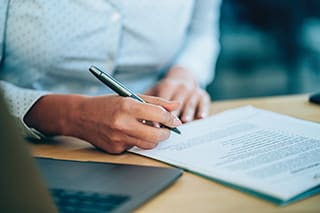 But how does a class action suit work?
Kevin Parker
, who handles personal injury appeals at
The Lanier Law Firm
in Houston, explains. "A class action is when the court allows one plaintiff or a small group of plaintiffs to act on behalf of a larger group," he says. "Sort of the same thing has happened to them. The paint on their house is defective, or there's something wrong with their car and they're trying to fix it across the board so that the remedy helps solve the problem for everybody in the class." In a case with possibly thousands of plaintiffs, it would be very expensive for each one to have to hire an attorney and separately do all the research and preparation necessary to take on a big corporation with an individual claim. Also, the court's dockets would be jammed with so many individual cases. "With a class action, you can adjudicate in one proceeding: 'OK, is this paint defective?' or 'Was this bank charging a rate that's too high?' You can adjudicate that one time for everybody," says Parker. "There's an efficiency there where you don't have thousands of people seeking the same small remedy for the same thing that went wrong."
The Payout
In most class actions, claimants aren't likely to get rich. The class action settlement is divided among so many people that the per-person payout is usually low. "The whole premise of class actions," Parker says, "is somebody is doing something illegal that's costing a lot of people a small amount of money. So the defendant who's doing that is making a lot of money from it, but it's not coming from one person. It's coming from a lot of people. And the amount is so small per individual person, it's not worth it for anybody to go hire a lawyer to sue the insurance company for not refunding $150 or something. But if they're doing it across a class of their customers, now the $150 multiplied by 10,000 is more money, and it becomes perhaps worth it." So if you get that letter, Parker says it's usually best to join the class. "In most class situations," he says, "they didn't even know it was going on until they got the letter, and so it's not going to be a moneymaker for this class," he explains. "If they opt out of the class, then going it alone requires them to find a lawyer, they need to pursue that case, and it's generally not going to be worth more than a few hundred dollars."
When To Get Your Own Attorney
There is an exception: when a larger amount of money is involved. Perhaps you had higher than average damage from the defective product. "Then it might be worth it talking to a lawyer and have your lawyer talk to the class lawyers to get you involved as a class representative," Parker says. That's assuming it's early enough in the case that a settlement hasn't already been reached. If you've already received a letter, the settlement has likely been negotiated. Parker gives an example of a situation in which it might be better to get your own
experienced plaintiff's personal injury attorney
. "I worked on some cases 15 or 20 years ago involving siding to your home that was defective. Well, now you're talking a higher amount of money. And in that kind of situation, you may want to get your own lawyer, because this is my home and it's going to cost me $30,000 or something. Maybe worth pursuing."
Making Change
But there's another advantage to class actions: They grab corporations' attention and often change behavior. "From the plaintiff's standpoint," says Parker, "class actions are used to fix things that need to be fixed, and that often wouldn't be fixed if you didn't have a class of people bringing the suit. "That is the big advantage. If you get a class certified, even if you settle it, sometimes the settlement is, 'You're going to change your actions. You're not going to do it this way anymore.' In fact, there's a whole lot of sort of public interest class-action litigation involving employment discrimination where the defendant agrees, 'OK, we're going to change the way we're doing this.' There's not a lot of money involved, but 'we acknowledge that we haven't been doing it right. We can do it better. We're going to change this.'" If you have questions, consider reaching out to an
experienced class action attorney
. For more information on this area of law, see our overview of
class action and mass torts
.
What do I do next?
Enter your location below to get connected with a qualified attorney today.
Attorney directory searches
Find top lawyers with confidence
The Super Lawyers patented selection process is peer influenced and research driven, selecting the top 5% of attorneys to the Super Lawyers lists each year. We know lawyers and make it easy to connect with them.
Find a lawyer near you