What Do Fraudulent and Abusive Debt-Collection Practices Look Like?
Your first line of defense against debt-collection scams is knowing your debt top to bottom 
By Amy White | Last updated on August 5, 2022
Use these links to jump to different sections: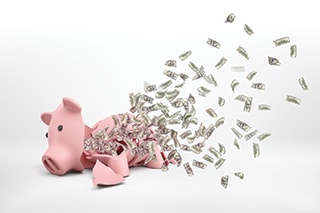 When New York State Attorney General Letitia James went after debt-collection agencies who were using abusive and fraudulent practices to collect debt in September 2020, it was part of a national effort, spearheaded by the Federal Trade Commission, to protect consumers.  
But what should you know to ensure you do not fall victim to the kind of malpractice the FTC seeks to protect you against? 
Fraudulent and Abusive Debt Collector Tactics
"Very broadly, using false, deceptive or misleading tactics in connection with collecting debt is unlawful," says Gregory Zini, a business litigation attorney with Barclay Damon law firm in Buffalo. "What you see in the cases that AG James brought is people doing exactly that." 
One such tactic, says Zini, is "spoofing" phone numbers. "It will appear on your phone that someone is calling you from a court house, county sheriff or clerk's office," Zini says. "Voice mail messages from these numbers may say that your wages are about to be garnished for non-payment of debt."
But, he notes, unless you have pending lawsuits against you, no legitimate debt collector calls should come from such entities. If they do, he suggests you make a note of the phone calls and what was communicated to you.  
Another concern is when a debt-collection company calls you demanding an amount of debt that is incorrect. "Let's say you owe $15,000, and an agency calls and say, 'You owe $25,000, but, you know what, we're willing to settle for just $15,000,'" he says. "Obviously, this is unlawful."
Zini suggests knowing your debt, top to bottom, as being informed is your first line of defense against fake debt collectors. "You should readily be able to say if a debt is fact vs. fiction," he says. He also says it's helpful to know how the process is supposed to work.
"Within 30 days of an initial phone call on a valid debt, a collection agency is required to send a notice in the mail stating the name of the original creditor, the amount of debt, the day the debt was incurred—basic information like that so the debtor can go to her records and say, 'Yes, I do have this debt with X company," Zini says. "Sometimes collection agencies fail to do this out of human error, or an old address, etc. But if the omission is a result of an agency employing someone who is not using proper tactics, understanding how the process should work could help you later down the line if a problem arises."
One last tip: "Keep in mind the older the debt, the shadier the tactics," says Zini. After a debt has been continuously re-sold to new agencies for less than pennies on the dollar of the original debt, whichever agency is left holding it has the least risk. "At that point, for the collector, it's little risk and all reward," Zini says. "So they are sometimes tempted to use unfair and misleading tactics to try to collect."
As for those those old debts, "Be aware of the statute of limitations on collecting a debt," Zini says. "If we're talking about a JC Penny credit account from 2006 that someone is still trying to collect on in 2020, they have no legal right, as they are well outside of the statute of limitations."
When to Take Legal Action
At what point do you call a lawyer? 
"It really depends on the circumstances," Zini says. "If someone were to call me today and say, 'Gregory, you owe creditors $1000,' and I went through my records and saw I do, I'd just pay it," he says. "But If I were in more dire circumstances and unsure of this particular debt, I might call a lawyer right away, and that attorney might advise me to start recording the phone conversations and start making certain requests of the agency to ensure they're complying with the law."
If you have questions or concerns about your consumer rights in terms of debt collection, a New York creditor debtor rights attorney can help. For more information on this area of law, see our overviews of consumer law and debt collections.
What do I do next?
Enter your location below to get connected with a qualified attorney today.
Attorney directory searches
Helpful links
Find top lawyers with confidence
The Super Lawyers patented selection process is peer influenced and research driven, selecting the top 5% of attorneys to the Super Lawyers lists each year. We know lawyers and make it easy to connect with them.
Find a lawyer near you