Fighting Off Debt Collection Abuse
Five tips for Ohioans dealing with collectors
By Judy Malmon, J.D. | Last updated on January 12, 2023
Use these links to jump to different sections:
Debt collection scams have become a pervasive threat, with new schemes popping up all the time. Recently, the Federal Trade Commission cracked down on an operation in North Carolina in which scammers contacted people claiming to be attorneys, citing a nefarious case number and threatening imminent legal action if immediate payment was not made on a purported outstanding debt. When faced with one of these calls, it's easy to become flustered and uncertain about past debt. Scammers know they can harangue unwitting targets into paying debts they do not in fact owe, while the fraudsters pocket the money.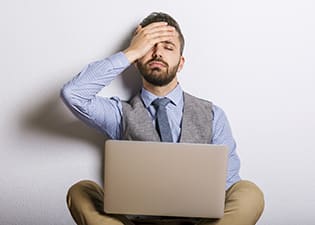 Frankly, it's best to take a defensive approach to anyone coming to you with a collection matter. The federal Fair Debt Collection Practices Act (FDCPA) is a federal law that establishes rules, guidelines and penalties regarding the way debt collectors can attempt to collect from consumers. However, collectors run afoul of this law on a regular basis, and it's important to protect yourself by knowing what collectors may and may not do, as well as strategies for avoiding being scammed.
Know the Law for Collection Agencies
The FDCPA states that debt collection agencies may not:
Contact you before 8 a.m., after 9 p.m., or at work if you tell them you can't receive phone calls there
Pretend to be anyone else (like a lawyer or government agency representative)
Make any sort of threat (though they may reference legal action if actually taken)
Contact you if you send them a certified letter telling them not to contact you (a legitimate collector may then sue you to recover the debt)
Contact others regarding your debt other than to obtain your contact information
Harass you with repeated calls or profane language
Make any false statements or misrepresentations
Ask for Verification
Request the caller's name and the name, address, phone number and license number of the company they're calling from (Ohio state law requires one). Also, ask them to provide the name and address of the individual they're trying to reach, as well as the name of the original creditor on the debt. If the caller stumbles on any of these points, suggests you contact the creditor yourself, or requests any additional information from you, this is an indication that the collection is not authentic.
Ask for a Validation Notice
Collectors are required to provide written notice of a debt being collected, including the amount owed and the name of the original creditor, plus notice of your rights, within five days of a validation request. You may ask not to be contacted until a debt validation letter has been provided. Do not provide any personal information without validation.
Report Them
If a debt collector makes a threat, hang up and report them. A threat can be anything that is designed to make you feel fear, such as legal action like arrest or a lawsuit, garnishment of your wages, damage to your credit, or even deportation. Preying on your fear is what makes scam collection effective, but be aware that it is illegal.
If you suspect a scam, hang up and don't answer any further calls from that number. Report it to one or more of the following agencies:
Federal Trade Commission
Consumer Financial Protection Bureau
The state attorney general's office
Be Aware of Common Fraud Techniques
Many scammers rely on identifiable strategies:
Requesting payment through unusual means, such as a payment card, wire transfer or debit card, and demanding payment be made immediately
Using a fake payday lender website or other fake website to obtain sensitive personal information—never provide your personal financial information to an unverified source
Callers posing as representatives of government officials, law enforcement or attorneys and threatening legal action
In the case of collection fraud, Cleveland consumer law attorney
Dan Myers
states that many of these operations are "complete fraud—if they were caught, they'd be in jail. But there's not much that you can do, other than alerting your attorney general, the police. You're not going to be able to track these people down or sue them; they're just going to change phone numbers."
Talk to a Lawyer
Myers advises that if you don't remember what a debt is about, you should talk to a lawyer immediately. "If someone gets any sort of threatening communication, especially saying, 'You owe us attorney's fees'—anything more than what the debt actually is—they should talk to a lawyer. Also, if it starts getting abusive, like multiple calls a day, or someone's talking to their employer. If they're starting to feel like this is more than just someone trying to get their money, it's worth it to meet with an attorney right off the bat, and they'll tell you if you've got a dispute or not. Most attorneys in this area look to recover from the debt collector, either in a settlement or a judgment, so we're not looking for money from our client."
What do I do next?
Enter your location below to get connected with a qualified attorney today.
Additional Collections articles
Attorney directory searches
Helpful links
Find top lawyers with confidence
The Super Lawyers patented selection process is peer influenced and research driven, selecting the top 5% of attorneys to the Super Lawyers lists each year. We know lawyers and make it easy to connect with them.
Find a lawyer near you