How Can a Mechanic's Lien Help an Illinois Contractor Get Paid?
It's a legal remedy to ensure you're compensated for completed work in Illinois
By Super Lawyers staff | Reviewed by Canaan Suitt, J.D. | Last updated on May 4, 2023 Featuring practical insights from contributing attorney Mark B. Grzymala
Use these links to jump to different sections:
If you work as a contractor, you know that one of the biggest hassles of your job can be getting clients to actually pay you.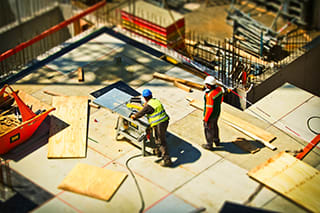 Even when you have a written contract, a client may still try to dispute your charges for completing the job. And in some cases, the client simply refuses to pay, possibly because they do not have the money. Whatever the reason for non-payment, as a contractor you do have certain legal rights. The most important right is to file a mechanic's lien.
"When a client comes to us, they have usually already tried collection," says Mark B. Grzymala, a construction litigator in Skokie.
"So, we'll send a demand letter to the debtor and owner. More often than not, the attorney's letter will wake up the debtor, and the client will receive payment. Or, if there are issues with our client's work or issues with payment upstream, the debtor will let us know. Usually in the demand letter, we state, 'If our client is not paid in X amount of time, we will file a mechanic's lien against the property.'"
What Is a Mechanic's Lien?
This is a type of legal claim filed against the property itself. It functions in a similar manner to a mortgage. Essentially, the property itself serves as a form of security to ensure that the contractors who provide materials and labor towards its construction get paid.
Mechanic's lien laws are strictly governed by Illinois law. That said, the law is fairly inclusive when it comes to who may actually file a mechanic's lien.
Basically, anyone who furnishes work or materials to "improve" a property can seek protection. This includes not just contractors, but also architects, engineers, land surveyors, and interior designers, among other professionals. The critical condition is that the person's work or materials is part of the actual construction of the property in question.
"Mechanic's liens are an incredible tool because you are recording a lien against the property and accordingly against title to the property. Mechanic's liens are clouds on title. So, once the lien is there, it often holds up payments on a project. The owner also can't sell the property, refinance or usually take out any other financing until that lien is resolved," Grzymala says.
The Process of Filing and Enforcing a Mechanic's Lien
So how do you actually file a mechanic's lien in Illinois?
Well, first you need to determine if you are required to send advance notice to the owner. Illinois does not require such notice for general contractors. But anyone not directly hired by the property owner (or homeowner), such as a subcontractor or supplier, does have to send a "Notice of Intent to Lien" or "Notice of Claim" within 90 days after they last provided labor or materials to the project in question.
"So, if a subcontractor client calls us and it is having payment issues, and it has been 80 days or so since the last date of furnishing, then there is really not enough time to send a demand letter and flesh out the issues. We have to just go ahead with sending out the lien notice," says Grzymala. "We don't want to miss those deadlines, because they are very strict. If you miss it by even one day, it really prejudices your rights."
As to the lien itself, it must contain certain basic information related to your claim. You also need to sign the lien documents before a notary public. This is critical, because it means that the lien is signed under penalty of perjury.
"The process of preparing a lien claim starts with the client providing us its information about the project, its contract, invoices, change orders and confirmation regarding the balance that it is owed," Grzymala says.
"Once we have the information and documents from the client, we order title work. The title report shows us who the owner of the subject property is, any mortgagees, and then the legal description of the property. The title work can take a couple of days, and then we prepare the lien claim."
A mechanic's lien is normally recorded with the Recorder of Deeds for the county where the property is located. It is important to note this when you file lien matters. If the lien is recorded within 4 months of the last date work or furnishing at the property, the lien is enforceable against not only the current property owner, but any subsequent purchasers as well as mortgagees. However, if the lien is recorded after the 4-month deadline expires, but recorded within 2 years, it can only be enforced against the original owner.
"The sooner a lien claimant comes to us, the more likely we are able to proceed with the best strategy. It is not a good practice to wait until the last minute because the title for a property might be complicated, which may cause delays," Grzymala adds.
How Much Does a Mechanic's Lien Cost?
"Generally speaking, a lien claim has attorney's fees, title fees, title report fees, recording fees and postage fees, and all of that is usually less than $1,000—around $600, $700, or $800, depending on the complexity of the property," Grzymala says.
Once filed, an Illinois mechanic's lien is valid for up to 2 years. If the contractor's client pays up during this time, the contractor must release the lien. But, if you, as the contractor, still haven't received your payment, then you have the right to initiate a foreclosure action.
Alternatively, your client can actually send you a letter demanding you sue them to enforce the lien. If you receive such a letter, you only have 30 days to file such a lawsuit, otherwise you will lose your lien rights.
"Both general contractors and subcontractors have two years from the last date of work or furnishing to file their lawsuits to enforce their lien claims. After that, their liens are no longer enforceable. Additionally, contrary to some belief, this two-year period cannot be extended," Grzymala says.
"The biggest issue that comes up in these disputes and in litigation is change orders. Most construction contracts have provisions that say all change orders must be in writing and signed by the subcontractor, the general contractor, or the owner, or something along those lines. But often these change orders are done via email or text, because many contractors become really casual on projects. However, when push comes to shove, debtors often say, 'Well, we didn't have a written change order, so we're not going to pay you for this.' Having that proper documentation really goes a long way."
A law firm's construction lawyer may be able to assist you with legal advice if you have questions. For more information on construction attorneys, preliminary notices, construction law, construction projects, lenders, breach of contracts, time frames and how mechanic's liens work, see our construction litigation overview.
What do I do next?
Enter your location below to get connected with a qualified attorney today.
Attorney directory searches
Helpful links
Find top lawyers with confidence
The Super Lawyers patented selection process is peer influenced and research driven, selecting the top 5% of attorneys to the Super Lawyers lists each year. We know lawyers and make it easy to connect with them.
Find a lawyer near you