Gym Waivers and the Law
Who wins in the pound-for-pound legal battle with our favorite New Year's resolution?
on January 3, 2018
Updated on January 12, 2023

As we roll into the holidays on a buffet of sweets and heaping dinners, we often find ourselves staring back at the choices we've made over the past year and realize that some of those choices have stuck around—literally. Health clubs, crossfit gyms, fitness centers and yoga studios all know that the biggest time of the year—their "black Friday"—is January 1.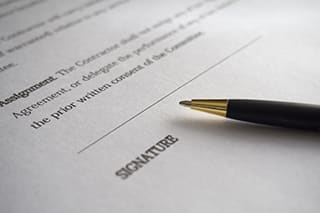 But when droves of people arrive at gyms, they are ostensibly greeted with a piece of paper full of legal gobbledygook. What does it all mean? What happens if you're injured? Are you signing your life away?
What Is the Law on Waivers?
No one wants to sign away their rights, but there are inherent risks in any exercise. In Colorado, there is a three-prong test to determine if the waiver is enforceable. The fitness facility must prove each prong to be protected from a personal injury lawsuit.
Prong 1: What is the situation?
There are a number of situations where liability cannot be waived. If the injury claim involved a minor, took place on a mode of transport (a bus, an elevator, etc.), or involved willful or wanton misconduct, for example, the waiver would not be valid protection from a suit.
Prong 2: Was the waiver clear?                                                                                                                                                    The fitness facility must show it performs an important and essential service to the public in this prong. But more importantly, it must prove the contract was entered into fairly. For example, if you were given little time to sign it, the font of disclaimers was unreasonably small, if there were undue pressures to sign, the intention of the waiver was unclear, or the language was ambiguous, those could be arguments to invalidate the waiver.
Prong 3: Was the waiver understood?
Similar to Prong 2, this essentially asks how the waiver was formed and could be interpreted. Did all the parties involved understand the terms of the waiver?
Should I Sign It?
In signing a waiver there is always some acknowledgment of risk. These waivers are enforceable in Colorado, but they are subject to a wide variety of defenses and challenges.
As you might expect, Prongs 2 and 3 are open to interpretation and courts sometimes strike down waivers and allow people to file injury lawsuits. After all, laws like this are built to protect consumers.
It can help to have a reputable personal injury attorney review the contract, depending on your circumstance. And, if a court rules in your favor, seek help for your injury lawsuit. In the meantime, you can rest a bit easier about your gym waiver.
For more information on this area of law, contact a personal injury lawyer for legal advice, or see our overview of consumer law and contract law.
Other Featured Articles
Keeping the marketplace for consumers