Get Buff, Not Burned: The Protections in Gym Waivers
What a California health club should include in a release to protect itself
By Benjy Schirm, J.D. | Last updated on September 7, 2022
Those desiring to get fit dutifully trudge their way to their fitness center of choice and sign all of the documents required, pay their fees, and hope for the best. Often their only concern going forward is the number of calories burned, not the thought of getting burned by the liability waiver they signed.
"In California, they enforce releases almost entirely, unless signed by a minor," says Los Angeles attorney Anthony J. Ellrod. "In most states there are statutory schemes regulating what must be included in a health club contract."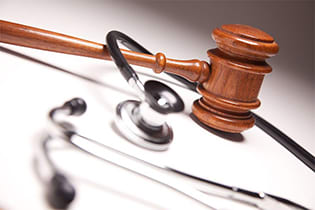 If the contract fails to apply the controlling law, the release of liability will not occur. "Most gym owners, and many attorneys, don't even know that these codes exist unless they have counsel, so I see non-conforming contracts all the time," Ellrod continues. "Not only are they exposed to class actions for not conforming with the code, if someone is injured in your gym and you try to enforce the contract, a non-conforming release will be seen as void. We address this all the time."
The Health Studio Act is the controlling code. It details nine sections and sub-sections, and a right-to-cancel disclaimer that must all be included in a gym waiver for it to be enforceable. If any part of these sections is missing or ambiguous, there is a decent chance the courts will find it void in California.
"California courts are pretty favorable to sports clubs and other risky activities," says Ellrod. "Certainly, with respect to written release and waivers, which are litigated a lot right now, they must be clear, unambiguous, and conspicuous. And you cannot release intentional acts or gross negligence."
Contract law is the driving force, but often gym claims aren't contractual disputes, but personal injury claims, Ellrod says. If someone is injured as a result of a risk that's inherent in the activity, they are barred from making a claim under the primary assumption of risk doctrine.
If someone is injured on a piece of equipment produced, designed, sold or marketed by a manufacturer and a defect is found, often people can sue all the way up that chain, based on a premises liability claim or a defective product claim. The manufacturers, designers and sellers may be held strictly liable for placing that dangerous machine in use.
"We also see health clubs being sued under a products liability theory," says Elrod. "There are some pretty good cases in California that say health clubs don't place machines into the stream of commerce, but that they are offering them ancillary to the main service they are providing. Courts have found that health clubs are not strictly liable in these instances."
People were claiming that health clubs were essentially leasing the equipment to their members, but courts have dispelled this argument, Ellrod says. "The courts decided that the health club isn't leasing the equipment any more than the tiles and water in the showers. Health clubs are offering an experience," says Ellrod.
The advantage of a release is to help defer the costs of litigation. But often the claim of gross negligence is proffered as a question of fact, which only a jury can decide. "Every time there is a claim against a health club, they claim there's gross negligence even when there is not. The court has ruled that judges have the ability to rule on whether it's a question of law or not. Many judges will decide to stay out of the argument and allow it to go to trial."
There is an interesting balancing act that needs to happen in the area of waivers and releases. On one hand, someone is injured because they engaged in an activity offered by a business, and others could be injured doing the same thing, so the business should assume that may be the cost of doing business. On the other hand, if the costs of doing business become too high because of lawsuits, then business owners will leave the market and we won't have anything fun to do because everything could be too risky under a certain lens.
"The law as it presently stands says you should be able to release ordinary negligence," Ellrod says. "Health clubs pay a lot in insurance, and prices are based on releases being enforced and insurance companies expecting litigation to only get so far. If you do away with this thought, most health clubs wouldn't exist because the cost of business would be too high. From a public policy standpoint, and for the interest of the public if gross negligence is shown, businesses should be held liable. No one should be able to release that."
No matter what side of a gym injury you are on, be certain to find an experienced and reputable attorney that can offer legal advice to you on whether the waiver is sound, and whether or not the actions of the company rise to gross negligence. Be safe, get fit and protect yourself on all sides. For more information on this area, see our overview of contract law.
What do I do next?
Enter your location below to get connected with a qualified attorney today.
Related topics
Attorney directory searches
Helpful links
Find top lawyers with confidence
The Super Lawyers patented selection process is peer influenced and research driven, selecting the top 5% of attorneys to the Super Lawyers lists each year. We know lawyers and make it easy to connect with them.
Find a lawyer near you