Making Sure Business Contracts Work for You
A contract law primer for Northern California businesses
By Steph Weber | Last updated on October 19, 2022
When a local bakery owner asked Daniel Blomgren to review a new commercial lease, a seemingly innocuous word caught his attention. "There was a section about a step up in rent, and it said 'and' instead of 'or,'" says Blomgren, who represents entrepreneurs and small business owners at Coepio Legal in San Francisco.
"I calculated the difference in cost over the course of the lease due to that one single word, and it was tens of thousands of dollars," he says. "A bad commercial lease can sink your business very quickly."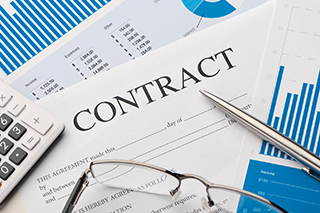 Blomgren revised the wording so that his client avoided the expensive rent hike. Ambiguous or incorrect written contract wording is a common issue, especially when people use generic online templates. "These are the things that we're trained to catch," Blomgren says, adding that a good contract "will be a main pillar of your business moving forward."
Clarity should be a contract's top goal. "People think it needs to include a lot of legalese or confusing words," says Blomgren. "In fact, it's probably better if it is an easier to understand contract and has the basic terms nicely laid out, so that anybody, including a jury, could pick it up and understand what's supposed to happen."
Business operations can be extremely vulnerable to unexpected outside factors—even in non-pandemic times. If written agreements are not carefully constructed, breaches and legal issues may result, exposing owners to fines, litigation and a bevy of negative publicity.
"We've been paying more attention to force majeure, or 'act of God,' clauses in our contract reviews and adding [verbiage for] epidemics or pandemics," says Bruce N. Furukawa, a founding partner at Furukawa Castles in Burlingame whose clients include architects and engineers. "A lot of people use the American Institute of Architects' standard form contracts, and there is no force majeure clause, so we have to add it as a special term."
That clause should address the scope of possible business interruptions. It should also extend protections to all parties, says Furukawa. In most construction contracts, there is explicit language forgiving contractors for delays outside of their control, but other important parties are not mentioned.
"We've had situations where the building department is closed because someone got COVID, so the permit can't be approved, or drawings that used to take six weeks to get reviewed now take 12 weeks or more because people are working from home and huge rolls of drawings have to be physically moved to houses," says Furukawa. "This has become more of an issue since the pandemic, so we're building in nonperformance protections for architects, engineers and other consultants on a construction project."
The limitation of liability clause deserves a second look, too. "It might say, 'You can only sue me for up to whatever you paid me in fees,'" says Furukawa. "That's a protective clause for the person who's doing the work, but the other party has essentially limited themselves to a very small amount of money that they could claim for damages."
Employment contracts can be helpful, but care must be taken in writing them. The at-will nature of employment could be jeopardized by promises made in an employment contract and employee benefits, says Blomgren.
"You need to make sure you're drafting correctly so you're not giving up anything you don't intend to."
California's AB5 imposed more of an employment-type relationship on many workers who may have previously been classified as independent contractors. The recent passage of California's Proposition 22 allowed certain industries to get out of that system statutorily. "Because of [AB5], small-business owners who thought they were hiring contractors were hiring those who may be properly classified as employees," says Blomgren. "That can lead to a not-so-pleasant outcome."
Spending the time to make sure you have a good independent contractor agreement is worth the trouble, says Blomgren. "Make sure that you're protecting yourself and your business," he says, "especially if it's something as important as intellectual property or a high-dollar-value contract." Even a low dollar-value contract, he notes, can expose you to liability.
For more information, see our overview of contract law.
What do I do next?
Enter your location below to get connected with a qualified attorney today.
Related topics
Attorney directory searches
Helpful links
Find top lawyers with confidence
The Super Lawyers patented selection process is peer influenced and research driven, selecting the top 5% of attorneys to the Super Lawyers lists each year. We know lawyers and make it easy to connect with them.
Find a lawyer near you