What Attorney-Client Privilege Means in Kentucky
The attorney-client relationship consists of confidential communications
By Benjy Schirm, J.D. | Reviewed by Canaan Suitt, J.D. | Last updated on May 1, 2023
Use these links to jump to different sections:
Being charged with a crime is incredibly stressful, and it's hard to know who to trust when it comes to legal advice. Most of the people a defendant encounters after being arrested are not looking out for their best interests. But a defense attorney, and their legal services, can be the exception.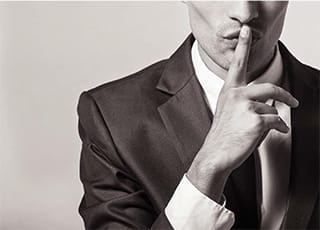 Christie A. Moore is one such lawyer—at Dentons Bingham Greenebaum in Louisville—who handles white collar criminal matters, sometimes for clients from abroad.
"There are some specific concerns where women may not be provided the same equality that is offered in our country. Difficulties have come with removing a male spouse in order to speak to my client because it is difficult culturally for them to do so," she says.
What is Attorney-Client Privilege?
Attorney-client privilege is an ethical obligation imposed upon attorneys by law and by the rules that govern how attorneys must act when communicating with their clients.
This privilege is a trust between the client and the attorney that demands that the attorney keep the conversations that they have with their clients as confidential information. In other words, attorney-client communications are confidential.
This is important because justice demands that defendants have the right to council, and an attorney needs all the information to build the best possible defense and properly advise a client.
What an attorney can also do with these facts is make that truth sound and seem better. Better yet, they know the ways in which the law works that allows the truth to be worded in a defendant's favor. Armed with the truth, an attorney is more likely to get you the best deal possible from the prosecutor before a defendant is even in front of a judge.
When Does Lawyer-Client Privilege Start and End?
The privilege begins, or "attaches," once a defendant is represented by an attorney. This is usually when someone requests an attorney during a police interrogation. Invoking one's right to council prevents the government from continuing to speak with a defendant.
The actual talks between an attorney and their client become privileged communications once a relationship has been formed. This relationship is from the perspective of the client. So, if a defendant thinks this privilege is in place, it is in place. If possible, when hiring an attorney, be certain to get this relationship, and this privilege, in writing before speaking freely.
There are also "many conversations that do not implicate privileged conversation," Moore says. "Explaining what the charges are, the court processes, who the players are, and background conversations that are factually based don't implicate the attorney-client privilege."
Is the Privilege Absolute?
Unfortunately, this confidentiality is not absolute. As a general rule, make sure that the conversation is in a secluded space and only between the defendant and the attorney. While one may want family or friends to hear what is happening or to help in this stressful time, this can break the confidential nature of the conversation and deny any attempt to invoke this privilege.
"In the white collar crime area, clients typically want to keep their spouse up to speed on what is happening. And I encourage that, but it gets very tricky when they want to have their spouse in an attorney-client conversation. It's one thing to talk logistics and what to expect from the justice system, but it's another to talk strategy and provide advice to a client," Moore says. "Prosecutors are looking for information from every possible avenue and they will go to the spouse, the kids or the neighbors."
The other thing that can break the privilege are communications by a client that attempt to use the lawyer's services to commit or cover up a crime or fraud. A lawyer cannot aid criminal actions; they are obligated to bring this type of communication to the court. This often means an attorney will remove themselves as council based on ethical obligations to the court.
Moore says it comes down to "respecting the cultures and respecting the relationships of clients, but at the same time making it clear that attorneys have communication with their clients without risking the attorney-client privilege… It is so complicated because the initial thought is that everything you talk about with your attorney is privileged information, but it's not. The wisdom of practicing law is when you realize the difference," Moore says.
Be sure to hire a reputable and experienced attorney to help you in any court proceeding—be it the Supreme Court, a circuit court or a district court. For more information on this legal area and the practice of law, see our overview of criminal defense.
What do I do next?
Enter your location below to get connected with a qualified attorney today.
Attorney directory searches
Helpful links
Find top lawyers with confidence
The Super Lawyers patented selection process is peer influenced and research driven, selecting the top 5% of attorneys to the Super Lawyers lists each year. We know lawyers and make it easy to connect with them.
Find a lawyer near you