What Kansas Courts Want in a Parenting Plan
A family law attorney's tips for a solid child custody arrangement
By Super Lawyers staff | Reviewed by Canaan Suitt, J.D. | Last updated on May 1, 2023 Featuring practical insights from contributing attorney Dana L. Parks
Use these links to jump to different sections:
Over the past several decades, the American family has changed. While it is entirely normal for parents to separate, doing so can still be challenging. The good news is that there are steps that parents can take after a divorce or separation to make the process much easier. Creating a detailed parenting plan is a sensible and practical step.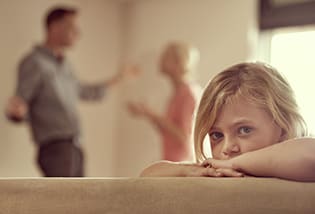 "There are a lot of families who agree on things, but for those who tend not to agree, it's important to have those points of contention spelled out," says Dana L. Parks, a family law attorney with ParksClevenger in Overland Park. Often parenting plans are customized by attorneys to the needs of a specific family. "Every family is different, and so are the parenting plans," Parks says.
"It used to be people who got along well would say, 'We'll share time with the kids as we go, and have a great life.' Obviously, if a material change occurred, that didn't work all the time, and people would head to court to argue over the plan. That's why, now, the court wants to see specific things in a permanent parenting plan," she adds.
Here are some of those things.
A Detailed Parenting Schedule
As a starting point, you should be sure to include a schedule within your parenting plan. The schedule will create the fundamental basis for your shared parenting relationship. There should not be any questions about when each parent will get their time with the child. By crafting a clear and detailed schedule, you can do a lot to reduce the risk of conflict. Notably, an effective parenting plan schedule will address more than just day-to-day issues—summer vacation, holidays, and other events must all be considered.
"It's important to get everything down because the holidays often lead to a bazillion phone calls in the days leading up to Christmas, Thanksgiving, Easter and other big holidays. They can be a source of contention if they're not spelled out well," Parks says.
Structured Communication Between Parents
Effective co-parenting requires strong communication. You will not be able to predict everything in advance. You and your former partner must be able to communicate openly with each other. It is often a good idea to discuss how exactly this communication will occur. In other words, what information will be shared and how will it be shared? Limiting surprises can help to facilitate smooth shared parenting.
For example, a parenting plan may dictate that one parent will notify the other parent of an appointment within 24 hours of scheduling them. "Make them specific, so people will know what their obligations are under the plan. Activities, appointments, school events and those kinds of things are all important to spell out," Parks says.
Instructions for How Important Decisions Will Be Made
An effective parenting plan should have clear, well-articulated guidelines for decision-making.
"Under Kansas law, joint legal custody is the preference, so that means the parties are supposed to confer with each other and that each party has equal rights to make decisions about the child—things like where the child will go to school, what extracurriculars to enroll in, who their doctor should be, all those things the parents have to communicate about," Parks says.
A Process for Resolving Conflicts
"Most parenting plans build in a provision that, in the case that they can't agree, they should try to resolve it by an alternative dispute resolution method," Parks adds.
The simple fact is that some level of conflict will eventually occur. It happens to every couple. Your parenting plan should help to ensure that conflicts are resolved quickly and painlessly. To be clear, you do not always need to seek formal conflict resolution. A pre-agreement to have a calm, open discussion about the issue can be useful. Of course, there are cases in which conflicts may need to be escalated.
"[The plan] builds in a layer of, 'OK, we couldn't figure it out between the two of us; let's sit down with a neutral third party to give us some parameters and guidelines to work through it,'" Parks says. "If parties have significant conflict, they may also have a case manager for assistance."
Some people, Parks adds, may be able to craft a parenting plan on their own. "There are some resources online like the Kansas Bar Association and Johnson County Bar Association that have sample plans. Some people who fill those out thoroughly might make a decent plan that works fine, but they are check-the-box or fill-in-the-blank style plans; they aren't as personalized as you might want or need. People who aren't collaborative or don't have great cooperation would not do well with the do-it-yourself approach."
As far as cost is concerned, Parks says it varies wildly based on the family. Those that are cooperative will pull a plan together quickly and cheaply; those that have conflict can lead to court hearings. "If the judge has to do the parenting plan, you're looking at extensive litigation eight months down the road. Whereas if attorneys and parents are sitting down at a table to work it out, it may take an hour or two."
If you want legal advice or help drafting a parenting plan, believe your rights are being violated by another parent, or need help resolving a conflict, seek a law firm with an experienced Kansas child custody attorney. Your lawyer will be able to help you take the proper steps to protect your rights and resolve the matter.
If you'd like more general information about this area of the law, see our custody and visitation law overview.
What do I do next?
Enter your location below to get connected with a qualified attorney today.
Attorney directory searches
Find top lawyers with confidence
The Super Lawyers patented selection process is peer influenced and research driven, selecting the top 5% of attorneys to the Super Lawyers lists each year. We know lawyers and make it easy to connect with them.
Find a lawyer near you