Do I Need a Family Lawyer?
The pros and cons of DIY divorce proceedings
By Judy Malmon, J.D. | Reviewed by Canaan Suitt, J.D. | Last updated on March 31, 2023
Use these links to jump to different sections:
People love to hate on lawyers, and to some degree this is earned rancor. Lawyers can be notorious for putting up hurdles where seemingly none existed, costing clients unnecessary time, expense and distress.
But dealing with legal intricacies can be complicated, and sometimes you need to pay for good legal counsel to get the outcome you want. That said, do you have to hire a lawyer to help with a divorce case if you and your ex are amicable and can agree on all the issues?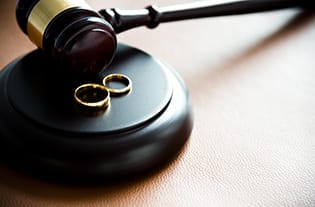 No: There are plenty of divorcing couples who have handled their own legal documents and conflict resolution, and lawyers were not needed. 
However, there are also plenty of divorcing couples who thought they could handle their own divorce, only to find themselves in a deeper mess than had they just hired a law firm for representation.
Before you proceed on your own, make sure you know which category you are in. Here are some things to consider while you assess your needs: 
What is the Nature of the Marriage and Estate?
The easiest dissolutions to handle on your own are the simplest.
That is, shorter marriages, with no real estate, no children, no special needs and limited assets or debt. To the extent that you have few issues to sort out, it will be relatively easy to divide things up on your own. Conversely, as your situation moves down the continuum toward complexity, it becomes much harder to handle things without a family law firm or family law attorney.
If you are looking to dissolve a same-sex marriage, even a relatively brief one with no children, it is advisable to talk to a lawyer, who handles family law matters, about your legal issues. Nationwide law now requires states to recognize same-sex marriages that took place in other states. But there may still be complications regarding recognition of civil union or domestic partnership that predated the marriage, and local practice may gum up of the legal process.
Do You Have Children?
It's not impossible to resolve all issues regarding child custody and child support without the involvement of legal services from a family law attorney, but it can be considerably more complicated than one without.
Even if you choose not to work with a lawyer, it is advisable to get help from other professionals, such as a therapist or a mediator. For one thing, no matter how much we try to make it otherwise, divorce is very hard on children. The more you can leverage the experience of others to help you anticipate your child's needs and ensure their security, the better it will be for them.
There are also often issues related to parenting, including realistic projections of financial needs and details of a parenting plan, that can be very difficult to calculate and plan for on your own. Heightened emotions between former spouses throughout the process can cloud thinking about what is best for your children.
The more you can work with your ex to make decisions in their best interests, the better it will be for your kids. Sometimes you can do this with just one another, but if you can't, it's important to work with professionals.
Are You in Agreement, or Just Trying to Get it Done Quickly?
Sometimes you just need to be done, and you may be willing to make sacrifices for the sake of closure.
You can't know how you'll look back, after the dust has settled, on a decision to divorce quickly. You may learn that you gave up something you were otherwise entitled to.
If there is any part of you that thinks your proposed agreement is less than fair, or you suspect deception and you don't feel you can address this with your spouse, divorcing without a lawyer can backfire.
Are You Familiar with the Bureaucracy, Technology and Laws Involved?
Every state allows people to handle their divorce pro se (unrepresented), and many jurisdictions have self-help clinics and legal aid attorneys to answer questions.
In every case, the process of filing for your own divorce will involve the completion of paperwork (possibly online) and adhering to specific instructions. In some cases, the details can be fairly onerous and mistakes punishing; the process itself lengthy and confusing.
Perhaps most importantly, if you're proceeding without a lawyer, you need to know the law as it pertains to your circumstances.
You should understand the implications of dividing property (e.g. a house, bank accounts, retirement and investment assets and debt), as well as how the laws in your state view pre-marital property, taxes, insurance and inheritance.
If you have children, be sure that you understand custody, child support and alimony, how to write a parenting plan, and the impact of your settlement agreement, as well as how you can seek to change it if needed.
Pro se clinics in most courts will be able to give some basic guidance on completion and submission of paperwork, but will not provide any legal advice.
What About Collaborative Divorce or Mediation?
If you're looking to avoid the potential divisiveness and expense of a contested divorce, an option you may want to consider is collaborative divorce.
In collaboration, parties each have an attorney who helps negotiate a resolution that avoids litigation. If agreement cannot be reached, the parties must find new attorneys, eliminating any financial incentive to the attorneys of litigation.
Mediation can also be a helpful option. Enlisting a mediator who facilitates negotiation on the necessary issues between you and your ex, but doesn't represent either side, can be a helpful way to take advantage of the mediator's knowledge of the issues while allowing you to keep making the decisions.
Ultimately, some people can handle a divorce on their own, but there are risks depending on each situation.
If you want to see whether or not you need a lawyer, or obtain an assessment of the complexity of your situation, many family law attorneys and divorce lawyers offer a free consultation. Also, you can ask for a referral for other matters, such as personal injury, estate planning or other practice areas.
For more information on this area, see our overviews of family law, divorce, and mediation and collaborative law.
What do I do next?
Enter your location below to get connected with a qualified attorney today.
State Divorce articles
Related topics
Attorney directory searches
Helpful links
Find top lawyers with confidence
The Super Lawyers patented selection process is peer influenced and research driven, selecting the top 5% of attorneys to the Super Lawyers lists each year. We know lawyers and make it easy to connect with them.
Find a lawyer near you