Is Mediation or a Trial Best for My Divorce?
When to go to court in a Michigan family law dispute
By Super Lawyers staff | Reviewed by Canaan Suitt, J.D. | Last updated on May 2, 2023 Featuring practical insights from contributing attorney Carol F. Breitmeyer
Use these links to jump to different sections:
Michigan law encourages divorce mediation, as it can relieve both the parties and the courts of the burden of conducting a full-scale trial in the court system.
How Mediation Works in Michigan
Mediation is not the same thing as arbitration, which is another form of alternative dispute resolution (ADR). Arbitration means a third party hears and decides a dispute after holding a trial-like proceeding.
In mediation, instead, the role of the third party is merely to facilitate discussion and a settlement agreement between the parties.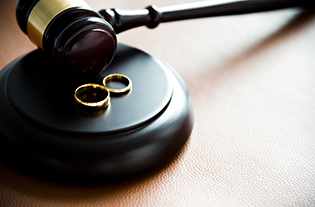 Although divorce is a term that often conjures up images of embittered spouses battling each other in court for months, or even years, in reality most marriages come to an end in a far less dramatic fashion. Indeed, in many divorce processes the parties resolve their outstanding issues through alternative dispute resolution, such as mediation.
"When I mediate, the parties and their counsel are in separate rooms, and I go back and forth," says Carol Breitmeyer, a family law attorney who has offices in Detroit and Bloomfield Hills. "I listen carefully in each room. They typically provide a summary of their issues and little bit of a background, and then I go back and forth and see if I can find a place where everyone can agree."
The magic, she says, is seeing two parties come to an agreement that they accept for different reasons through successful mediation. "They have different focuses, and so it's always fascinating. The parties wouldn't know what's in the other one's mind, I don't think, and the mediator doesn't ever disclose this. So that's kind of cool, if you have two parties who are quite OK with the settlement and for completely different reasons."
The mediator can either be appointed by joint agreement between the divorcing couple or appointed by a Michigan judge through the courts' Office of Dispute Resolution.
The mediator will assist the parties in setting the agenda for the mediation sessions. They identify those issues that need to be addressed before the divorce may become final, such as child custody, division of property, and whether either spouse will need to pay alimony. The mediator is there to guide the parties in their discussions but not to make decisions for them.
Mediators can fill different roles. "There's early stage mediation, late stage mediation, facilitative mediation, and evaluative mediation," Breitmeyer says. "Each county kind of has its customs and traditions. In the metropolitan Detroit area, it tends to be later stage mediation, where the mediator is chosen or selected by the attorneys in the case."
There is a rule that subjects domestic relations cases to mediation. In those cases, a mediator typically gets involved after discovery. Earlier mediation may sometimes be appropriate, however. "Sometimes people will call and say, 'Can you get involved now? We've got problems with discovery; we've got problems with evidence. Can you just get involved and see if we can kind of cut to the chase and avoid a bunch of cost in litigation?'"
If your divorce involves a family-owned business, mediation may be an ideal option. "It can be incredibly helpful in cases where there's complex business issues," Breitmeyer notes.
Generally, the mediation process can be completed much quicker than litigation. When mediation is successful, the parties will have a negotiated agreement they can then present to the court for approval. But since the divorce does not require a trial, the parties can avoid "airing their dirty laundry" in a public forum.
"[Mediation is] confidential in that nothing the parties say or consider could ever be shared with the court," Breitmeyer says. "It's confidential within the room as well." And, she adds, "as a mediator, you can't be compelled to talk about what happened in mediation except under a couple of super limited circumstances." That confidentiality, she notes, allows parties to be creative and take positions they might not take at trial.
When Mediation Is Not the Answer
Mediation is "a good option in almost every kind of case, except where there's been a significant or serious domestic violence," Breitmeyer says. If one of the parties has previously committed (or threatened) acts spousal or child abuse, mediation is usually not appropriate.
Another scenario where mediation is unlikely to succeed is when either spouse is caught hiding assets or debts from the other. Even though the parties are seeking a divorce, the mediation process requires a certain level of trust and safety to exist between the parties.
"I don't think any lawyer would say litigation is going to be the preferred option," Breitmeyer says. "It's just sometimes, when one of the parties or one of the lawyers takes an unreasonable position, you're going to be forced into litigation."
Mediation Agreements Are Legally Binding
If mediation does not work, the attempt can still afford both sides an opportunity to clear the air and possibly resolve some of their issues, even if there are other questions that ultimately need to go before a judge. Again, the mediator will not make any decisions for you. Nor will the mediator advise the judge on a course of action. The only function of the mediator is to assist you in reaching a settlement when possible.
"Once the parties have come to an agreement and it's reduced to writing and signed by the parties and counsel, that is legally binding on the parties," Breitmeyer notes. Another way of finalizing an agreement is through recorded virtual meetings, where names, dates, issues and agreements are read aloud. At the end, the parties are asked if they heard it, if they understand and agree with it. "At that point, if there is agreement, it's done. It is also a legally binding, enforceable resolution."
That's why it's important to consider hiring your own attorney even if you intend to settle your divorce through mediation. A mediator is a neutral third party, but a lawyer will act in your best interest. "I think the best thing a lawyer can bring is not only advocacy, but an understanding of the law and the parameters of what the reasonable outcomes look like," Breitmeyer says.
Overall, mediation tends to be a good option to resolve disputes without going to trial. It has the potential to save a lot of money and a large amount of time. "It has been highly successful. Very, very few cases are tried in the three counties which constitute the metropolitan area—more or less—of Detroit."
If you have additional questions about the mediation process and whether it might be the best option for your pending divorce case, you should contact a qualified Michigan family law attorney as soon as possible. You can ask about attorney's fees and mediator's fees and the pros and cons of a mediated divorce versus a litigated divorce. An experienced attorney can give you advice throughout the attorney-client relationship, ensuring the best divorce settlement possible for your situation.
For more information about this and related areas of law, read our overview articles on family law, divorce, custody & visitation, and mediation & collaborative law.
What do I do next?
Enter your location below to get connected with a qualified attorney today.
Attorney directory searches
Helpful links
Find top lawyers with confidence
The Super Lawyers patented selection process is peer influenced and research driven, selecting the top 5% of attorneys to the Super Lawyers lists each year. We know lawyers and make it easy to connect with them.
Find a lawyer near you