How to Make the Divorce Process Easier in Texas
Splitting up does not mean there needs to be a lengthy court fight
By S.M. Oliva | Reviewed by Canaan Suitt, J.D. | Last updated on May 2, 2023
Use these links to jump to different sections:
Divorce often conjures up images of embittered spouses fighting over every last detail of their property settlement or using their children as pawns in a custody battle. But many divorces are handled in a calm, respectful, and even amicable manner.
The key to making the divorce process easier is expressing a willingness to work through as many issues as possible without resorting to an open courtroom fight.
Uncontested Divorces
Like most states, Texas has a process for "uncontested" divorce. This can mean either that the parties have already reached an agreement about the terms of their divorce before filing any paperwork with the court, or that one spouse simply does not answer a divorce lawsuit filed by the other. The latter is also known as a "default divorce."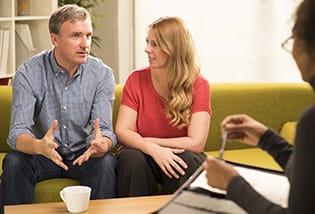 A divorce is only uncontested if one party defaults or the couple agrees on all terms of their settlement (also known as a collaborative divorce or amicable divorce).
If there are any unresolved issues, a judge may have to hold a trial to decide which spouse should prevail. Keep in mind, a divorce trial is a matter of public record in Texas, so if a couple wants to keep their situation private—especially to protect any children—it behooves them to settle as many issues out of court as possible.
Mediation Is Less Time-Consuming
Many Texas divorce cases are in fact resolved through mediation. A mediator is a neutral third party who meets with the parties and works to reach an agreement that divorcing couples can live with.
"Obviously family law is very personal, and people tend to make decisions based on emotions as opposed to the objective facts," says Jeffrey H. Uzick, a civil and family law mediator in Houston.
"Most people have no idea how the family court system works—what judges do, don't do, and why. And it's human nature for people to believe what they think, whether they know the area or not. So, the role of the mediator is one of complete objectivity in the evaluation of the facts and the law."
Family law attorneys will sometimes pursue what their client wants them to, and rarely steps in to inform them that it may not be the best route, Uzick says. Such opinions, and emotions, are thrown out the window in a mediation.
Mediator versus Arbitrator
A mediator should not be confused with an arbitrator, who is a private judge hired to resolve disputes through a legally binding process.
A mediator will not take sides or compel the spouses to do anything. Unrepresented parties sometimes reach out to Uzick for a mediation, but he cautions that "these can be very difficult because a mediator cannot give legal advice. Often the litigants will ask questions that necessitate a legal opinion. I can point them to section of the family code, but I can't tell them."
Mediation Can Save a Lot of Money
Mediation can save the amount of time and money in a divorce compared to the traditional legal process, but the cost varies wildly depending on the circumstances of your case.
If you've worked everything out that you can in advance, which Uzick recommends, and your qualms can be sorted out amicably, it could cost as little as $500 for a half-day session. If you fight, have complicated estates or custody issues, and it requires weeks or months of sessions, you could be looking at $1,000 an hour.
As with everything, it depends.
In the event parties can't come to an agreement or compromise, the case goes before a judge and, in Texas, they will order a mediation to take place. If the mediation likewise isn't fruitful, the judge will make a decision—and has broad discretion in doing so—that both parties may hate. When Uzick informs parties of this, he says they often come to an agreement.
"Mediation does resolve the overwhelming majority of cases," he says.
Reaching a Mediated Settlement Agreement
After a successful divorce mediation, the parties can then sign what is known as a mediated settlement agreement. This becomes a binding contract between the parties. Paperwork must then be drafted, often by each spouse's divorce attorney, to present the agreement to a judge for approval.
Obviously, there are still some situations where mediation or out-of-court resolution is ineffective or even inappropriate. For example, if one spouse has alleged domestic violence on the part of the other, mediation may not be helpful, and you may need to seek legal advice from a divorce lawyer.
And once again, it must be emphasized that if there are any unresolved issues—even a disagreement over a small piece of property—a trial may be necessary. But where it is possible to settle a divorce through mediation or voluntary negotiation between the parties and their attorneys, it is generally better for all concerned.
For more information on this area, see our overviews of family law, divorce law, and mediation and collaborative law.
What do I do next?
Enter your location below to get connected with a qualified attorney today.
Related topics
Attorney directory searches
Helpful links
Find top lawyers with confidence
The Super Lawyers patented selection process is peer influenced and research driven, selecting the top 5% of attorneys to the Super Lawyers lists each year. We know lawyers and make it easy to connect with them.
Find a lawyer near you