New York's Weed Laws are Lenient ... To a Point
Getting blunt about marijuana laws
By Bob Sullivan | Last updated on April 6, 2022
If you are confused by New York's marijuana laws, don't feel bad: Even the city's best lawyers have trouble explaining the convoluted cannabis legal landscape—and more confusion is probably on the way.
First, the legal basics. Back in 1977, New York state law decriminalized simple possession. That means New Yorkers who are caught with less than 25 grams of marijuana in a non-public place generally don't end up with a criminal record; they are issued a $100 fine. For the first offense.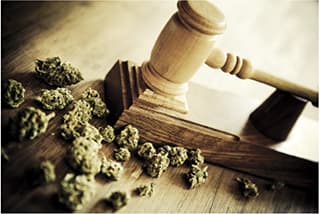 "Everyone gets one built-in mulligan for weed, and that includes sale of a small amount," says criminal defense attorney Gary Kaufman. "Someone who never had an offense before, and they are carrying a relatively small amount, the worst thing that's going to happen is they have to stay out of trouble for a year."
If offenders do stay out of trouble, their records are wiped clean. If there's a second non-public possession offense, the penalty goes up to $200. Then the staircase of potential consequences climbs fairly quickly. On a third offense, the violator faces up to 15 days in jail. 
Meanwhile, getting caught with even a small amount of pot in a public place—say a park—is a Class B misdemeanor, punishable by up to three months in jail. Someone caught with more than 2 ounces faces a Class A misdemeanor, carrying up to a year in jail. Getting caught with 8 ounces or more can be a felony.
Selling it, of course, is a more serious matter. Fewer than 25 grams is a misdemeanor; anything more is a felony.
New York is one of 46 states with exceptions for medical use. Back in 2014, New York's state Legislature passed a law permitting medical marijuana use, but Regina Kiperman of RK Law, an estate planner and estate litigation attorney who represents elderly clients, says the rules are still restrictive. While chronic pain was added as a qualifying condition in 2017, the list of accepted conditions, she feels, is still too limited.
"From my perspective … [marijuana] is a way of making people comfortable when they are in pain," says Kiperman, who joined the New York State Bar Association's Committee on Cannabis Law in part to help find ways to expand availability for the elderly and disabled. 
On the medical side, only limited forms of pot—like vape oil or liquids—are permitted. Smoking and edibles are not legal for medical use.
Those are the rules. But as with many legal situations, there's the law, and there's enforcement of the law. In plenty of New York neighborhoods, the waft of pot hangs over public spaces and no one seems to mind. Both the Brooklyn and Manhattan district attorneys have announced they would essentially stop prosecuting low-level pot cases.
"New York City is overwhelmed with narcotics," says Jeffrey H. Lichtman, a criminal defense attorney. "All [pot cases] do is gum up the system, slow things down in court and waste time that should otherwise be used on much more serious drug cases."
Prosecutors in smaller New York towns, Lichtman adds, are more likely to enforce the letter of the law. "I consider upstate New York no different than if I was litigating in Iowa," he says. 
People of color don't have to leave the city to encounter this enforcement disparity. According to NYPD statistics, more than 86 percent of the nearly 17,000 people arrested for pot in the city during 2017 were African-American or Hispanic. Less than 9 percent were white. Uproar over the findings led Manhattan District Attorney Cyrus Vance Jr. to announce in May that his office would soon decline to prosecute simple possession cases.
This whole not-legal-but-not-criminal situation might come to an end soon, says Michael Hiller. He recently represented five plaintiffs in a high-profile federal lawsuit to declare the Schedule I classification of cannabis under the Controlled Substances Act as unconstitutional. The suit was dismissed in February and is pending appeal.
He believes full legalization in New York state for recreational use—"adult use" is the preferred term in the industry—is coming. Nine states and the District of Columbia have already legalized pot, and polls show 62 percent of New Yorkers favor full legalization. If New Jersey's legalization efforts are successful, that would likely force the state Legislature's hand. If New York residents can cross a bridge and legally buy pot, it will be hard for lawmakers to watch all that tax revenue drift across the Hudson River.
"I do think it's a matter of inevitability," Hiller says. "If cannabis isn't legal [in New York] by 2020, I would be the most surprised person in the room." 
For more information on this area of law, see our overviews of drug and alcohol violations.
What do I do next?
Enter your location below to get connected with a qualified attorney today.
Additional drug & alcohol violations articles
Related topics
Attorney directory searches
Find top lawyers with confidence
The Super Lawyers patented selection process is peer influenced and research driven, selecting the top 5% of attorneys to the Super Lawyers lists each year. We know lawyers and make it easy to connect with them.
Find a lawyer near you