Can I Get a Drunk Driving Charge on a Bicycle?
Beers and Bikes: DUI Laws in Georgia
By Benjy Schirm, J.D. | Last updated on July 22, 2022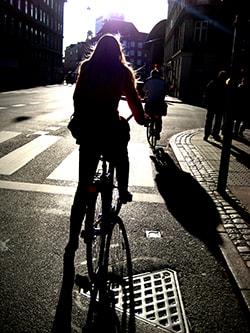 Under Georgia law, you can get a DUI on a bicycle. In some states, lawmakers draft the laws to include only motor vehicles, but Georgia's are written in a way that includes bikes in its definition of "vehicle."
The same blood alcohol concentration (BAC) applies for all moving vehicles. That's 0.08 percent for those over 21 years of age; 0.04 percent for those driving commercial vehicles; and 0.02 percent for those under 21.
The penalties for a DUI in Georgia can be steep:
Fines of no less than $300 and up to $1,000
No less than 10 days in jail and up to 12 months (which can be stayed by a judge)
No less than 40 hours of community service
A mandatory DUI Alcohol or Drug Use Risk Reduction Program
The penalties for biking under the influence are not the same as those of getting a DUI in a car. Both are considered misdemeanors, but you do not face the revocation of driving privileges if you are caught biking drunk.
Despite any positives to biking home rather than driving home, a misdemeanor charge can negatively impact the rest of your life. Every job you apply for may ask about it, any professional or graduate school may investigate it, and it will be a mark on your permanent record.
There are other ways to stay out of trouble as a bicyclist. At night, for example, the law requires that a cyclist have a red flashing light facing behind you and a white light that extends in front. The bike laws only require people under the age of 16 to wear a helmet. Riding your bike on the sidewalk is also illegal. Follow all traffic laws when biking, and be safe.
Obviously, it's best not to bike and booze, but if you find yourself in the unfortunate circumstance of being arrested with a bicycle DUI, there are a few things you should know. There are many defenses available to fight the alleged offense of a DUI. Breathalyzers and field sobriety tests are often challenged for their accuracy, as is the handling of blood tests at labs. Don't give up without a fight. Whatever you do, don't take a plea to a DUI charge thinking a misdemeanor isn't important without contacting a law firm and talking to a reputable and experienced criminal defense DUI attorney for legal advice. Protect your future and make good choices. If you don't, be sure to call someone who can walk you through the process and will fight for you.
If you'd like more general information about this area of the law, see our DUI/DWI law overview.
What do I do next?
Enter your location below to get connected with a qualified attorney today.
Attorney directory searches
Helpful links
Find top lawyers with confidence
The Super Lawyers patented selection process is peer influenced and research driven, selecting the top 5% of attorneys to the Super Lawyers lists each year. We know lawyers and make it easy to connect with them.
Find a lawyer near you