Refuse a Breath Test in Missouri, You Might Lose Your License
Missouri's implied consent law and other DWI misconceptions for first-timers
By Andrew Brandt | Last updated on August 11, 2022
In Missouri, there are many ways to get charged with a DWI, and numerous fines and penalties you can accrue from them. For example, you can get a DWI on private property, in a parking lot and in a drive-thru. You can even get one if you're sleeping in a motor vehicle that's in park.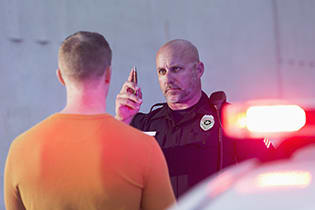 But it's the state's implied consent law—which asserts that, should the accused refuse a breath or blood test, they lose their license for one year—is not as black and white.
"A lot of the information the officer gives them is, basically, 'If you don't take this, you're going to lose your license immediately,'" says Matt Fry, a DWI attorney at Rosenblum Schwartz & Fry in St. Louis. "And that sticks in their head; it's their biggest fear: 'I need to drive to work, to get the kids.'"
In actuality, Fry says this claim isn't totally true. Even if you refuse a test, "you get a piece of paper that allows you to drive for 15 days while you hire an attorney." And that attorney can often get you even more time to drive while the case is being litigated.
Before you decide whether to blow or not, however, there's an even more crucial question you should ask—out loud: Can I get a lawyer?
"If you say 'lawyer' at any point once they've read the implied consent [notice], they have to give you 20 minutes to contact one," says Fry. "Then you can decide whether or not you're going to take a chemical test."
Both Fry and John Schleiffarth, a DWI attorney at JCS Law in St. Louis, have had cases thrown out because officers did not follow proper protocols in either allowing the 20-minute window or administering tests.
"I've had clients who have blown a high BAC [blood alcohol content], according to the test. But because we excluded the test—because there were problems with the way the officer did the test—we ended up getting the DWI charge reduced to careless driving instead," says Schleiffarth. "Never assume you can't get a good result because you had a high breath test."
Or a poor performance on a field sobriety test.
"What kind of medical conditions does this person have? Are they overweight? Are they over 65?" Schleiffarth continues. "It may actually be something we can flip and use to their benefit: 'This guy has two bulging discs in his back, of course he couldn't stand on one leg.'"
Attorneys can further help potential clients by gathering audio and video from cameras near the scene of the incident. "I check the scene, look at the shoulder where they allegedly took the field sobriety test," says Fry. "I get all the reports and dissect them, look for legal issues, improper investigations. I bring the officers into court for a cross-examination and for administrative hearings so I can get to the root of what happened that night. There's a lot that a lawyer can do that a pro se litigant can't."
"The most important thing is that the client calls me early, so we can help them while there's still time," adds Schleiffarth. "I've had good cases … where they waited too long and lost their driver's licenses. We were able to get their licenses reinstated later, but they wouldn't have lost them if they would've acted more quickly."
According to Fry, attorney fees for a first-time DWI can range anywhere between $5,000 and $10,000. Schleiffarth notes that, for a first-timer, the legal process can take four to six months. With the exception of the last court date, attorneys can most likely appear in place of their client.
"That takes some pressure off," he says. "They know they won't have to miss work to attend court. And in the end, if they do choose to go to trial, they'll only have to take a couple of days of work off."
Though first-timers may think DWIs operate like speeding tickets, and they may in turn attempt to represent themselves, Fry discourages the notion.
"I understand that they can only afford a certain amount of money, but they can find someone who they trust and are comfortable with and can afford," he says. "You just can't navigate this on your own. … Everyone has the right to represent themselves, but you know the old saying: He who represents himself has a fool for a client."
If you'd like more general information on the revocation of driving privileges, breathalyzer tests, drunk driving, Missouri DWIs, criminal defense, and DWI defense,, see our DUI/DWI law overview.
What do I do next?
Enter your location below to get connected with a qualified attorney today.
Additional DUI/DWI articles
Attorney directory searches
Helpful links
Find top lawyers with confidence
The Super Lawyers patented selection process is peer influenced and research driven, selecting the top 5% of attorneys to the Super Lawyers lists each year. We know lawyers and make it easy to connect with them.
Find a lawyer near you