Pulled Over for Pot
The state laws for driving under the influence of marijuana
By Trevor Kupfer | Last updated on January 19, 2023
Use these links to jump to different sections:
Anna Goykhman
, a criminal defense attorney in Everett who has handled several DUI cases.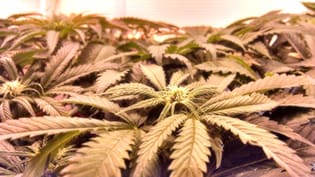 In Washington, the legal limit for active THC while driving is five nanograms per 100 milliliters of blood. As to what that means, in layman's terms, is hard to say. Because of the inability to judge impairment and the lack of a portable, affordable system to test one's self, it's nearly impossible for a marijuana user to know if they're breaking the law. A good guideline, Goykhman says, is to give yourself at least 12 hours to metabolize marijuana before driving. However, unlike alcohol, which has a fairly accurate mathematical formula for deciphering one's metabolism, cannabis is far more difficult. "With THC, there's different forms of consumption—eating, vaping, smoking—and there are different strengths of THC in products," says
William M. Kirk
, a DUI attorney at Cowan Kirk Kattenhorn in Kirkland. "People need to use it in the same responsible fashion that we use alcohol. So if you're planning to go out and use it, arrange a safe ride. That's the DUI defense that works every time."
Under Suspicion
Police officers need a lawful reason to pull a driver over, but "it doesn't have to be any particular infraction like speeding or a broken taillight," Goykhman says. The probable cause or reasonable suspicion could be as simple as a few observations that lead an officer to believe the driver may be intoxicated. "They can describe ways in which your driving is different from everyone else," she says. "So if you're pausing at stoplights too long, weaving within your own lane, or often it's driving under the speed limit or driving too carefully, in the officer's opinion. It's very subjective and can be difficult to challenge." During the traffic stop the law enforcement officer will look for signs of marijuana ingestion or ask the driver for an admission. If there's an odor, for example, it doesn't matter if it's coming from an amount in the car that is lawful to carry or from one of the passengers. "You'll still be under suspicion," Goykhman says. At that point, a series of field sobriety tests may take place at the side of the road—much like with alcohol. "The tests have only been scientifically validated by the National Highway Traffic Safety Administration to detect the likelihood for a person being over the legal limit for alcohol. But law enforcement uses them for all forms of DUI," Kirk says. This fact combined with the driver's increased stress levels make judging marijuana impairment unreliable, Kirk adds.
Even More Tests
If an officer feels they have reason to believe you're impaired, they will take the alleged offender to the station. There they may request a D.R.E., or drug recognition expert, to conduct more specialized examination of the driver. "It's a 12-step process. They check blood pressure, pulse rate, oral and nasal cavities, pupils in different kinds of light. It's a very thorough process," Kirk says. "Mostly they do those types of tests for other drugs, like central nervous system depressants," Goykhman adds. At this point, the officer may request a blood test. It is your right to refuse, but Goykhman advises against it. A refusal means a one-year suspension of your license, regardless of your guilt. Additionally, the police can easily get a search warrant and do the blood test
anyway
. "Some people will decline because they're mad. 'I didn't do anything wrong; I don't need to take any test,'" she adds. "But that will have consequences to your license, and you're getting poked with a needle regardless." "There are plenty of systems in place for law enforcement to get a search warrant—even at odd hours of the night or weekends," Kirk adds. When the sample is drawn, the analysis involves looking for two things:
Active THC. "That's the stuff that's actually psychoactive at the time of the blood draw and would impair a person's ability to drive a car," says Kirk.
Carboxy-THC. "That's metabolized THC that's no longer psychoactive, but remains in the body for weeks. You can't tell when it was metabolized—a week ago or between the time of driving and blood draw."
If the blood test is culpatory, you'd have to challenge an error in how the blood was drawn, stored, transported, or analyzed, the attorneys agree. There have been several scandals involving falsified drug tests, Goykhman notes—
most recently
a state chemist in Massachusetts whose admission of guilt now calls into question the convictions of nearly 20,000 test results. Even if a blood test comes back completely clean, you might not be in the clear. Goykhman is aware of at least one instance where that was the case, but the testee admitted to smoking marijuana and the prosecution argued that it must have been spice, a synthetic cannabis that does not show up in the test. So, in short, it's best to comply with police but not admit to anything and, if the time comes to challenge the legality of a charge,
reach out to an experienced DUI attorney
. If you'd like more general information about this area of the law, see our
DUI/DWI law overview
.
What do I do next?
Enter your location below to get connected with a qualified attorney today.
Additional DUI/DWI articles
Attorney directory searches
Helpful links
Find top lawyers with confidence
The Super Lawyers patented selection process is peer influenced and research driven, selecting the top 5% of attorneys to the Super Lawyers lists each year. We know lawyers and make it easy to connect with them.
Find a lawyer near you