What If I Suspect Elder Abuse?
If a senior suffers from Alzheimer's or dementia, a trial can be complicated
By Andrew Brandt | Last updated on August 11, 2022
According to the National Council on Aging (NCOA), approximately one in 10 seniors aged 60 or older experiences some form of elder abuse.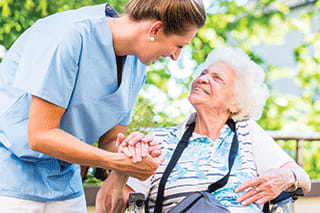 Anne Marie Murphy, a trial attorney focusing on elder abuse matters at Cotchett, Pitre & McCarthy in Northern California, notes that a hallmark of elder abuse cases is the victim having a diminished capacity—be it dementia or Alzheimer's. Further, she notes that physical elder abuse (physical abuse) typically takes place in a nursing-home setting, whereas financial elder abuse (financial abuse) "can run the gamut of every type of financial scam or scheme you could imagine."
Often, the first contact Murphy will get regarding an elder abuse claim will be from a son or daughter worried about a parent. "I'd want to find out if that parent is willing and able to speak to me at some point," she says. "We want to be taking the case that's going to benefit the elder, as opposed to one part of feuding siblings."
A common occurrence Murphy sees is the 'broken-wing syndrome'—wherein an adult child continues to live with an elderly parent, leading the other siblings to believe said child may be taking advantage of their mother or father. She does add, however, that the ideal situation is when everyone is aligned, and the abuse is coming from outside of the nuclear family.
Regardless of the scenario, Murphy watches for the following red flags:
Is the son or daughter talking about what they are owed, while the parent is still alive?
Has the senior's estate plan changed over time?
Does the elder have a sizeable amount of money, yet isn't receiving adequate care?
Were changes to the estate plan documents made at a time when the elder had questionable capacity, or after a diagnosis of Alzheimer's or dementia?
After Murphy takes the first call, she'll sketch out a family tree and investigate who gives financial and emotional support to the senior. "You're always going to see surprises in these types of cases, but you want to limit the number of surprises," she says. "We're trying to support what is best for the senior, and what they wanted when they had capacity."
She'll then look to speak with the elder. If the senior can't speak for themselves, Murphy will check their estate plan and see if they had a power of attorney in place. If the senior is deceased, she will most likely speak to their estate planning attorney about their interactions with the senior.
Of course, there may be ethical issues that arise when you're representing a senior with capacity issues. "We make a decision right from the beginning whether somebody needs to stand in the senior's shoes and act as a guardian ad litem," Murphy says. "When you file your complaint, you file for a guardian ad litem to be appointed when you know that the senior cannot handle the stress of being the main litigant."
Often, elder abuse happens behind closed doors, meaning the case is going to focus on circumstantial evidence—relying on testimony and depositions from family members, bankers, estate planning attorneys and medical personnel.
In the mid-2010s, Murphy's firm took on Shook v. LaFarre. Murphy represented the family of Rudy Cook—though the family's name was Shook. They had realized that Cook's neighbor, an out-of-work prison nurse had convinced Cook to change his long-held estate plan to leave his estate to him. At one point in the case, Murphy realized that the attorney who amended the estate plan may not have even spoken to Cook.
"Mr. Cook had a voice box that was extremely distinct; it sounded like an old-fashioned computer talking to you," she says. "And the estate planning attorney actually did not remember ever having a conversation with Mr. Cook wherein he thought his voice was unusual." The team also recreated the final days of Cook's life by getting testimony and depositions from neighbors, as well as health care and hospice workers. In turn, the San Mateo County jury found, unanimously, that there was financial elder abuse that led to an estate plan being changed.
If you believe you or an elderly loved one is being financially or physically abused, reach out to an experienced elder abuse attorney. If the senior is alive, under a California statute, they may be entitled to a fast trial—specifically, one will be set within 120 days of the request. "There's a recognition that seniors should be able to benefit from the results of a trial while they still have the ability to enjoy the results," Murphy says, noting that if the elder is deceased, trials can take more than two years.
"I am very blunt with people," she adds. "As long as an elder is alive, nobody has a right to their estate. And, as long as an elder has capacity, they can do absolutely anything they choose with their money."
For more information on suspected abuse of older adults or elderly persons at an assisted living facility or provider, and adult protective services, see our overview of elder law.
What do I do next?
Enter your location below to get connected with a qualified attorney today.
Additional Elder Law articles
Attorney directory searches
Helpful links
Find top lawyers with confidence
The Super Lawyers patented selection process is peer influenced and research driven, selecting the top 5% of attorneys to the Super Lawyers lists each year. We know lawyers and make it easy to connect with them.
Find a lawyer near you