How to Write Nondisclosure Agreements That Work
Legal tips for the NDA process
By Andrew Brandt | Last updated on March 22, 2022
Use these links to jump to different sections:
Though they may seem like similar tools to meet a similar end, noncompete agreements and nondisclosure agreements (NDAs) are very different. While noncompetes have to meet a number of standards to be upheld as legal, that isn't necessarily the case for NDAs.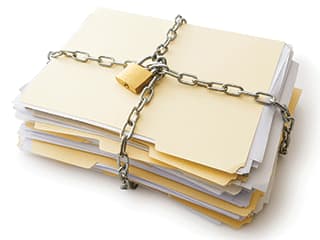 "An NDA is often overlooked in favor of a noncompete, but I think a well-drafted one can be just as valuable," says Jason Shinn, an employment attorney at Shinn Legal in Keego Harbor. "I've seen business-court judges look at them differently and say that, while they don't think the terms of a noncompete are reasonable and may not be enforceable, the NDA is a separate provision in the contract and could still be enforceable. The value of the [confidential] information doesn't change with respect to whether it's used in Wayne County or Oakland County."
"In terms of the rigorousness, NDAs still have a reasonableness standard [in court], but it's not as complex as the one for noncompetes," adds Kaitlin A. Brown, an employment attorney at Maddin, Hauser, Roth & Heller in Southfield.
When the Legal Document is Used and the Intellectual Property It Protects
Though there are a handful of scenarios in which an employer may want to use an NDA, they're most commonly used for employee or independent contractor agreements. 
"If an employee is going to have access to confidential information, I'd always recommend the employer have this nondisclosure agreement as a part of the employment agreement," says Brown. "The employee shouldn't be able to take everything they've learned, go across the street and set up their own shop."
For clients seeking help with employee NDAs, Shinn breaks the process down into three questions:
What is the confidential information? 
What advantage does it provide? 
How damaging would it be if the information got out?
"Once you've identified those buckets, it's just a matter of looking at the employees who should have access to it," he says. "A sales representative who has access to pricing strategies and profit margins—certainly it makes sense to have an NDA for that individual. It may not make sense for the employee on the shop floor, who doesn't have access to that information."
Legal Advice to Write a Nondisclosure Agreement
Many attorneys have templates and inserts for NDAs on file, and they help draft agreements from scratch or modify existing ones. "Often, it's more economical to start with a template we have on file than to update one that's already in existence and not compliant," says Brown.
"I think, once an employer maps out the what and the who, I can come up with a document—or at least contract inserts—that will probably cover 80 to 90 percent of the hires a company is going to do," Shinn says. "For the 10 to 15 percent outside that area, a quick phone call [to counsel] will suffice."
So how do you make sure an NDA is enforceable? 
"It's important to be as specific as possible, but not to the point where you're excluding future developments or changes in the business," says Shinn. "Be broad, but specific; it's like the old analogy to pornography: 'I can't tell you what it is, but I can tell you when I see it.'"
"I would tailor it to capture the employer's interest," adds Brown. "Focus on the proprietary—or confidential—information you're trying to protect. You're not trying to prevent an accountant from doing their job, but you're trying to prevent the accountant from learning everything about your operation and disclosing it to a competitor."
Shinn says making sure an NDA coincides with an employee's responsibilities also means that if he or she makes a lateral or upward move, you'll want to be certain their NDA is still applicable. And if you really want your NDA to be enforceable, you need to treat the confidential information as such—both internally and externally. "If your independent contractors or strategic partners are getting this information, and there's no watermarks or other indication that it's confidential, you're putting yourself behind the eight ball," he says.
According to Brown, a final key is making sure your NDA excludes any information a prospective employee knew before joining the company, as well as any information in the public domain. "And make an exception that the employee may have to disclose confidential information as part of a governmental agency investigation, or if they file a charge with an agency like the EEOC," she adds. 
"If you make exceptions that are capturing those protected rights of the employee, then that will also make the NDA more reasonable." 
For more information about this area, see our overviews on labor law and employment law for employers, or reach out to a law firm that drafts legal documents for entrepreneurs.
What do I do next?
Enter your location below to get connected with a qualified attorney today.
Attorney directory searches
Find top lawyers with confidence
The Super Lawyers patented selection process is peer influenced and research driven, selecting the top 5% of attorneys to the Super Lawyers lists each year. We know lawyers and make it easy to connect with them.
Find a lawyer near you