What to Do When Facing a Workplace Violation
Fighting discrimination, retaliation and harassment in New York
By Andrew Brandt | Last updated on February 8, 2021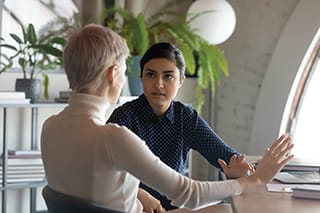 Awareness of civil rights in the workplace—especially when it comes to sexual harassment—has grown exponentially in the wake of the #MeToo movement. In fiscal 2018, the U.S. Equal Employment Commission filed 41 lawsuits containing sexual-harassment allegations—a 50 percent jump from the year before.
In the U.S., everyone has the right to equal treatment in settings including work, school, housing and public buildings. So what do you do if you feel harassed or discriminated against on the job?
"First and foremost, how offended are you by the violation, and how hurt are you?" asks Mariann Wang, a civil rights and employment attorney at Cuti Hecker Wang. "If it didn't hurt you much, you might want to first address it with the person—use your common sense.
"If the violation is serious—your health is impacted or you can't do your work because of it—then you need to make a complaint to the appropriate person," she continues. In most cases, this means human resources. "There are times when the violation is so severe that you immediately have a claim you can pursue, but the vast majority of cases are a little subtler."
If you make a complaint, use terms such as "discrimination" and "harassment," and put everything in writing. "If you don't articulate it as a complaint and hear those keywords," Wang says, "it gets difficult later to prove that you made a complaint."
Between your workplace HR, the EEOC and local human rights commission, it can be hard to know where to turn at each step. That's where an attorney can come in handy.
"We can best analyze what your options are, given the facts and circumstances of your case, and knowing what relevant laws and remedies you have," says Zoe Salzman, a civil rights and employment attorney at Emery Celli Brinckerhoff & Abady. "Calling a lawyer as soon as it happened is going to give you the best understanding of whether you were wronged and, if you were, what your options are.
"I'm not the right lawyer to call if you're trying to get help with unemployment benefits, or you think you didn't get the right pension payment. But anything involving discrimination or harassment—or even failure to pay overtime—I think of as a civil rights violation."
Wang and Salzman ask potential clients to run through the facts: What happened, where and when? Who witnessed it? Was the harm physical or emotional? Is there video, photo or text evidence?
"Usually, when clients are coming to me," says Wang, "it's because the system was so broken in their employment situation that there's no way they can get any answer for what they suffered by reaching out to that institution."
Often, employment discrimination takes place over a period of months or years. For Salzman, having clients make timelines is an enormous help—especially as it pertains to retaliation, which companies sometimes disguise as legitimate employment action. "If there's a bad performance review, or letter that sets forth the reasons for firing—any record like that—we want to see it sooner rather than later," she says.
Salzman recently completed an arbitration with a large company. Her client claimed she was fired in retaliation for complaining to a manager about harassment from her boss, often through text messages. "We did a forensic cull and retrieval from her phone," Salzman notes. This revealed harassing text message evidence that, along with live testimony, helped them get a favorable result in arbitration.
Unfortunately for employees, arbitration agreements in contracts are becoming increasingly common. "Generally speaking, the agreement is a tool for the company to ensure they don't face any public scrutiny," Salzman says. "That is, generally, not good for plaintiffs or the public."
The New York City Human Rights Law actually gives workers in the city's five boroughs greater protections than they have under federal law. The standards required for a plaintiff are much lower, Wang says, and there are no caps on damages. "If a supervisor harasses you," she adds, "there's essentially automatic liability to the employer."
For both attorneys, the statute of limitations is a big concern. "If you're going to bring a claim of employment discrimination under federal law, those usually have to be filed within 300 days of the incident. It's a very strange number," Salzman says. "The rule of thumb is: Go see a lawyer as soon as possible." 
For more information about this area, see our overviews on employment law for employees, discrimination and sexual harassment.
What do I do next?
Enter your location below to get connected with a qualified attorney today.
Additional Employment Law - Employee articles
Related topics
Attorney directory searches
Find top lawyers with confidence
The Super Lawyers patented selection process is peer influenced and research driven, selecting the top 5% of attorneys to the Super Lawyers lists each year. We know lawyers and make it easy to connect with them.
Find a lawyer near you