When is Workplace Speech Protected and When Isn't It?
NYC lawyers speak out on speaking out
By Amy White | Last updated on May 3, 2022
You're an employee who happens to live in America, with its First Amendment rights to free speech. So if you want to flip the bird to the presidential motorcade—even if the image is captured and dominates national headlines—it's all good when it comes to your employer, right?
Not exactly.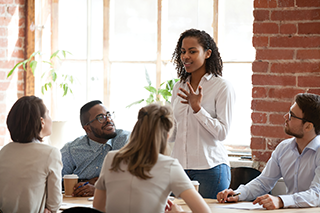 "What is and isn't protected speech is one of the most misunderstood areas of employment law and employee rights," says Dove Burns, of Obermayer Rebmann Maxwell & Hippel. "And it's become even more of a growing area in the last year. With the George Floyd protests and other current social justice issues, plus the pandemic, combined with the ease of information-sharing at the tip of your fingers, many people are in a position where they want to speak out and have an easy avenue to do so. But the truth is, the First Amendment does not extend to the private workplace."
That means unless you work in the public sector, your speech isn't as protected as you might think. But that doesn't mean there isn't any protection for private-sector employees. 
"The National Labor Relations Act does protect concerted activity, which would be an employee speaking out against an issue on behalf of a group of fellow employees in a manner that is jointly arranged, planned and discussed," Burns says, "which is quite different from a single employee who works for the federal government who wants to give the middle finger to the president."
Harvey S. Mars, proprietor of Manhattan's Law Office of Harvey S. Mars, says areas of concerted activity include speech about working conditions and safety, pay, time off, pension, vacation time and health care.
"To the extent that an employee engages in a grievance, if they raise some concern to the employer that involves more than just themselves—for example, issues arising from employees working overtime and not getting compensated for it—then that employee cannot be terminated for raising that issue," he says. "That's protected speech."
But is it protected outside the physical bounds of the workplace? 
If you're careful, Mars says.
"Regarding statements and free speech rights on the internet, the threshold is still the same: If you engaged in concerted activity for mutual aid and protection, and use social media to speak to those issues but do not denigrate the employer, you should be OK." 
That means if you want to hop on Facebook and say, "The working conditions at my place of work are terrible," that's protected, says Mars. "But posting something like, 'Hey! Don't buy food from my place of work because it sucks' is defamatory and not protected free speech."
And, Burns notes, you might double your trouble if your first foray into speaking out is on social media and not via internal channels. 
"The first thing to get an employee in trouble is if they fail to make any internal complaints and then use social media as a first place to air grievances," she says. "An employee may have the benefit of Sarbanes-Oxley, or a variety of other whistleblower statutes, but those would likely start with some sort of internal complaint being lodged. Jumping on Facebook first to talk about the way they're being treated might see you easily fall outside of federal First Amendment protection."
But, Mars adds, there is the option of filing a charge with the National Labor Relations Board. "Employees have the right to file a claim before the NLRB, as we saw recently with some Amazon workers who alleged unsafe pandemic protocols in certain warehouses," he says. "The NLRB has field offices that will answer your questions." 
Of course, both agree that no matter how careful you are, when it comes to speaking truth to power in the workplace, there's always a risk. "Be sure to consult with a lawyer regarding freedom of speech and your constitutional rights as a first line of defense," Mars says.
What do I do next?
Enter your location below to get connected with a qualified attorney today.
Additional employment law - employee articles
Related topics
Attorney directory searches
Find top lawyers with confidence
The Super Lawyers patented selection process is peer influenced and research driven, selecting the top 5% of attorneys to the Super Lawyers lists each year. We know lawyers and make it easy to connect with them.
Find a lawyer near you