Can Emojis Be Deemed Sexual Harassment?
Texting eggplants and winky faces might land you in trouble at work
By Benjy Schirm, J.D. | Last updated on August 17, 2022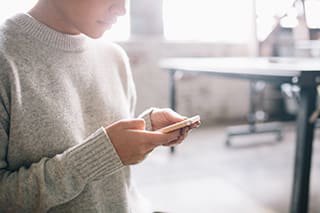 Words convey meaning, but in the modern lexicon, we're rapidly shifting toward truncated spellings of phrases and representational electronic communication like emojis that can convey a multitude of ideas. These pictures of emotions and objects are available on nearly every device and social media platform. Studies have shown that posting and reading an emoji elicits an emotional response equal to one a person has when having an in person conversation.
Communication of any kind can be laced with confusing signals, however. If one adds an entirely new symbolic language into the mix, things can get dicey—fast. And when things get dicey, litigation is often not far behind.
Unsurprisingly, the use of emojis have already made their way into courtrooms: A 12-year-old in Virginia is facing criminal charges for sending what has been deemed to be a threat via emojis; a will in New Zealand was upheld, despite it being sent in texts that contain emojis.
"It's very common, in my cases, to have an employer say something inappropriate—or sexually coming on—to an individual, who is shocked and unable to come up with a response. Often, they would put an emoji to try to diffuse the situation," says Debra S. Katz, an employment attorney in Washington, D.C. "I've seen cases where the defense has said, 'The behavior is not unwelcome—look at the emojis.' Instead of saying 'Stop this now,' they try to diffuse it by sending more friendly—or, at least, more neutral—symbols."
The interpretations of the intent behind the messaging during these uncomfortable employment interactions are up to the courts. "People understand that employees reasonably fear retaliation and this is not an unusual response to deflect and stay in the good graces," Katz says. "It's an effort to stay on good terms with supervisors."
The crux of a sexual harassment case, unfortunately, has become whether or not the advances were mutual in nature. If an emoji is used as a response to deflect, it can be interpreted in many ways. "Defense attorneys scour texts and emails to try to find anything that would contradict the allegations that the overtures were unwelcome," says Katz. "If they have emojis, they will run with them."
For example, a boss sends an employee a text saying, 'I'm at the bar come on down,' to which the employee replies, 'Can't, going to bed, sorry J.' A plaintiff's attorney could argue that's a rejection of sexual advances with an intent to stay friendly, but a defense attorney could argue interest in something more.
"Juries ultimately understand, because people do this in common parlance all the time," Katz says. "I would prefer that my client's response is 'No!,' but this is certainly understandable behavior. Responding with a smiley face is not an invitation for sexual harassment."
What can complicate court cases further, however, is the deletion of text messages, Katz says. No matter what you've texted, you should not delete messages because they can, and probably will, be found.
If a conversation with a supervisor has left you confused or uncomfortable, make sure to contact a law firm and hire a reputable and experienced attorney; they can work through the ambiguities, and defend your right to a safe workplace.
"This is a problem that will continue to arise in all of our cases," says Katz. "Even though text messages can be more cryptic, they are highly inculpatory communications."
For more information about this area of employment law, see our overviews on sexual harassment and employment litigation.
What do I do next?
Enter your location below to get connected with a qualified attorney today.
Attorney directory searches
Helpful links
Find top lawyers with confidence
The Super Lawyers patented selection process is peer influenced and research driven, selecting the top 5% of attorneys to the Super Lawyers lists each year. We know lawyers and make it easy to connect with them.
Find a lawyer near you