Am I Eligible for Veteran Benefits or Pension?
How veterans and survivors can apply through the VA
By Super Lawyers staff | Reviewed by Canaan Suitt, J.D. | Last updated on May 4, 2023 Featuring practical insights from contributing attorney Helena S. Mock
Use these links to jump to different sections:
To help compensate veterans for their services in the U.S. military, the federal government offers a number of different benefits. The U.S. Department of Veterans Affairs (VA) is responsible for administering most of these programs.
You may be wondering: Am I eligible?
The answer depends on many different factors. And even if you are, there may be other programs with better benefits, depending on your circumstances. Here's an overview of what to consider.
Eligibility for Veterans Benefits Programs
Working with the Virginia Department of Veterans Services (DVS), an applicant may be eligible for benefits if they are a "uniformed servicemember; veteran; or spouse, child, or parent of a deceased or disabled servicemember or veteran." Here are eligibility standards for the most common veterans benefits: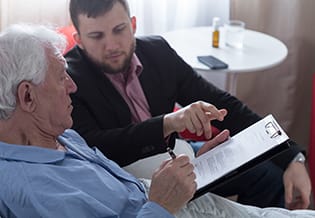 VA Health Care Benefits: The VA provides free health care benefits, covering medical expenses for all active duty servicemembers and retired veterans who have a service-connected injury, disability, illness, or medical condition.
VA Disability Benefits: You may be eligible for tax-free monetary compensation through the VA if you have a disability connected to your military service.
VA Pension Benefits: Veteran pension benefits are a monetary income supplement for wartime veterans who are disabled and impoverished. It is a monthly payment available only to the servicemember if they are living. After the servicemember's death, a surviving spouse can also qualify.
VA Retirement Benefits: VA pays need-based retirement benefits to veterans of a certain age or disability status.
VA Survivor Benefits: Through a type of VA benefit called Dependency and Indemnity Compensation (VA DIC), survivors of a military service member killed on duty or who died due to a service-related injury/medical condition may be entitled to monetary benefits.
This is far from a complete list. As a veteran, you may also be entitled to other benefits, including a federally backed mortgage, education benefits, and training benefits to cover college tuition, and more.
Legally, no one can charge a fee for helping you apply for these benefits, says Helena S. Mock, an estate planning attorney in Williamsburg, Virginia. A representative at the DVS or a veteran's service organization can hopefully help.
Application appeals and estate/retirement planning are more time consuming, and therefore more often have a cost. While you may find some attorneys willing to take your case pro bono, others may not. Mock says she provides her services on a flat-fee basis, as opposed to hourly, to make clients more comfortable. After she speaks to a client to fully understand their needs, she provides that estimate.
Why Might You Need an Attorney's Planning Help?
"For clients that are eligible, we do an analysis of whether it's best to go the VA pension route or go to Medicaid," Mock says. "The biggest decision is, if you're eligible for both, which is better for you?"
And that can be difficult to answer by yourself. "There are a lot of rules about eligibility and what it takes to qualify for certain benefits, and if you start doing things on your own, you may actually disqualify yourself from the one that would be best for you," Mock says.
An estate planning attorney with experience in this area should know the eligibility requirements (such as asset and income limits), help you evaluate the best option for you, and put together a plan that doesn't violate the rules. Sometimes it requires transfers, spend-down, and other tactics that a good attorney can advise you about.
"You can have both at the same time," Mock adds, "but that reduces your VA benefits to a negligible amount. There are instances where the VA pension is better—for instance, it's very good for people who want to stay in their homes, but it doesn't provide enough to cover nursing home costs in most cases, unlike Medicaid that can pay all those expenses when a person qualifies. Most people don't understand how limited parts of the VA pension are compared to Medicaid. The VA pension may work for some people fine, and they never need anything more. For others, it may be a stepping stone that works for a while, but then they need to go to Medicaid."
Appealing a Denial of Veterans Benefits
Unfortunately, some veterans (and survivors) struggle to get access to the benefits they deserve. Under federal law, you have the right to file an appeal for the denial of VA benefits. How exactly the appeals process workers depends on the type of benefits you are seeking. As an example, if your VA disability benefits were denied in Virginia, you actually have two options for appeal:
File a supplemental claim
Request a 'higher level' review
From there, you can escalate the matter even further by seeking a review before a Veterans Law Judge at the Board of Veterans' Appeals. The Lewis B. Puller, Jr. Veterans Benefits Clinic at William & Mary Law School is a good option if you need free assistance with your appeal, Mock says.
If your claim was denied or you have any specific questions about your eligibility, an experienced lawyer can help. For more information about this area of law, read our overview of estate planning and probate.
What do I do next?
Enter your location below to get connected with a qualified attorney today.
Attorney directory searches
Find top lawyers with confidence
The Super Lawyers patented selection process is peer influenced and research driven, selecting the top 5% of attorneys to the Super Lawyers lists each year. We know lawyers and make it easy to connect with them.
Find a lawyer near you